Hi gang, Todd here again. First, the good news: Anna is feeling much better and will probably be back tomorrow or the next day. It turns out, after a visit to the doctor's office twice and the ER at 3am on Saturday, that she has pneumonia. She's already up and around, and was well enough to make us dinner tonight!
Now for the not so good news: you are stuck with me for one more post, and I still can't cook or bake.
Going for as long as we did without Anna to cook for us, last night Fuzzy and I were running out of unique things to heat up. So, I did what any reasonable father would do and ordered pizza from Domino's at Fuzzy's suggestion. One of her friends really likes the lava cake they sell, so I agreed we could try that. At least I would have something to write about, was my reasoning at the time.
Now, I haven't ordered a pizza to be delivered in quite some time (Anna usually makes pizza, so we don't need to order out), but the Domino's online order experience was very cool. Go online, use the pizza configurator thingy to tell it what you want, and your pizza is on the way, all without interacting with another living human being. Let me point out that in the Ginsberg household, this is a HUGE plus as neither of us really likes using the phone. Once that part is done, you can watch your order progress through its various phases with their Pizza Tracker, also without interacting with real people. You can see the name of the person making it, how much bake time is left (for the pizza), and the name of the person on their way to deliver it. I don't want to spoil the ending, but the Pizza Tracker is easily the best part of the Domino's Pizza experience. Sadly, Domino's hasn't perfected a robotic delivery system, and an actual living breathing dude showed up with our pizza and lava cake. Don't get me wrong, he was perfectly nice, but a robot would have been so much cooler. If anybody from Domino's is reading, get on that, stat.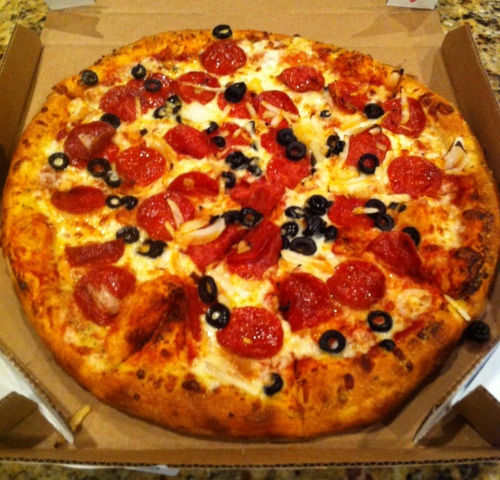 Here's the pizza we ended up getting – pepperoni, black olives, and onions. It was delivered quickly and was still nice and hot when it got here. Because Fuzzy kept talking about it, we also ordered lava cake, pictured here: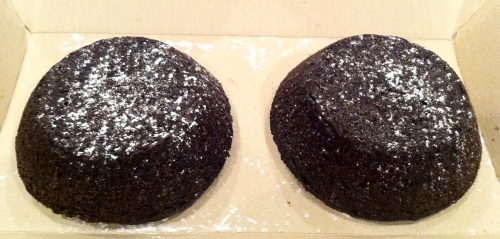 This isn't the greatest picture in the world of a Domino's lava cake, so I apologize. I also didn't get any good pictures of the actual lava parts flowing out, so I'm sorry for that as well. Here's the fun part of this lava cake review – after eating my pizza, I felt like I had swallowed a brick and lava cake was the last thing in the world I wanted inside me. Luckily for you, gentle reader, Fuzzy didn't have any problems like that and provided the following insightful review: It was awesome!
There you have it.  "But Todd", I can hear you saying, "tell us something about the cake!". Well, I hate to break it to you but I know nothing about how this cake was produced, what kind of oddball ingredient it almost certainly has, or what kind of fancy process was used to make it. I clicked a button on the internet and cake showed up. Seems straight forward to me. Seeing that I didn't get to eat mine, perhaps Anna will have it and write some kind of review for it .
Man, this blogging thing is so much harder than Anna makes it look. I'm going to go back to the relatively easy job of writing banking software for a living. So long!