It's been a while since I shared a chocolate lava cake recipe, but last night I came across a new recipe and couldn't resist!. What drew me in was that it was for gluten-free lava cakes made with oat flour. That, plus the original recipe is from Anna Olsen who created it for Quaker.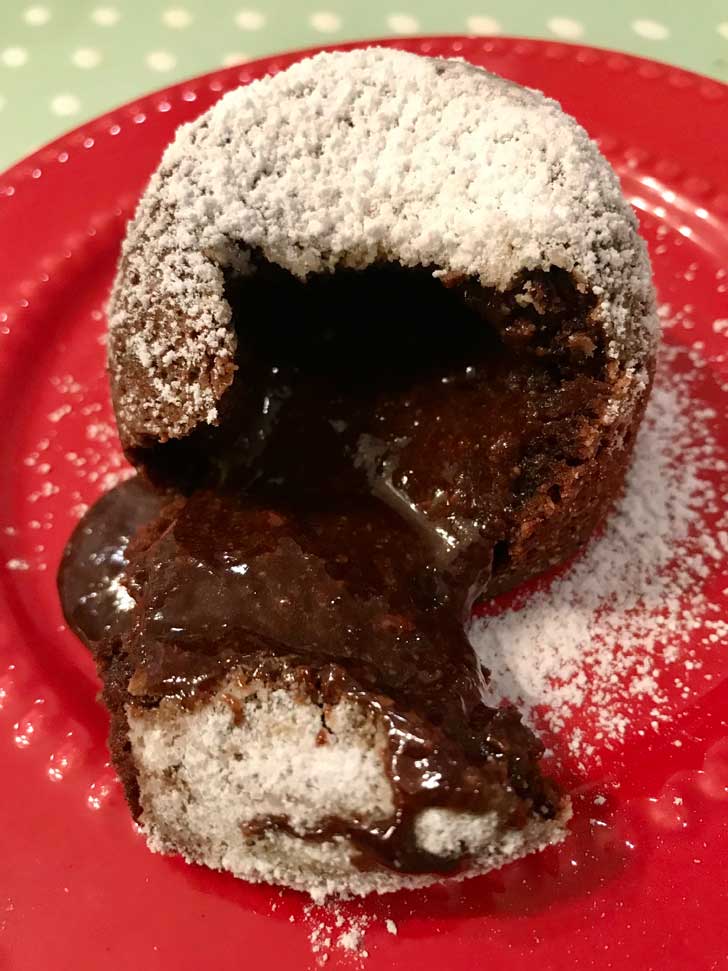 Anna Olsen is a Canadian chef and cookbook author and she always has interesting recipes. In fact, her chocolate chip cookie recipe is the first I ever saw with cornstarch. This was years before everyone started throwing it into cookies for chewiness, so I always associate her recipes with creativity and practicality. Gluten-Free Chocolate Lave Cakes fit that profile. As for Quaker, they want you to use their oat flour. I haven't bought oat flour in a while and didn't have any, but I did have a couple of canisters of Quaker oats and my trusy grinder. The store-bought oat flour is probably finer and softer, but my homemade standin worked just fine.
Ramekins or Custard Cups
The original recipe calls for 5-oz ramekins which look like this. My ramekins are scattered around the house right now, so I had to use what I could find which ended up being custard cups that look exactly like this (and below).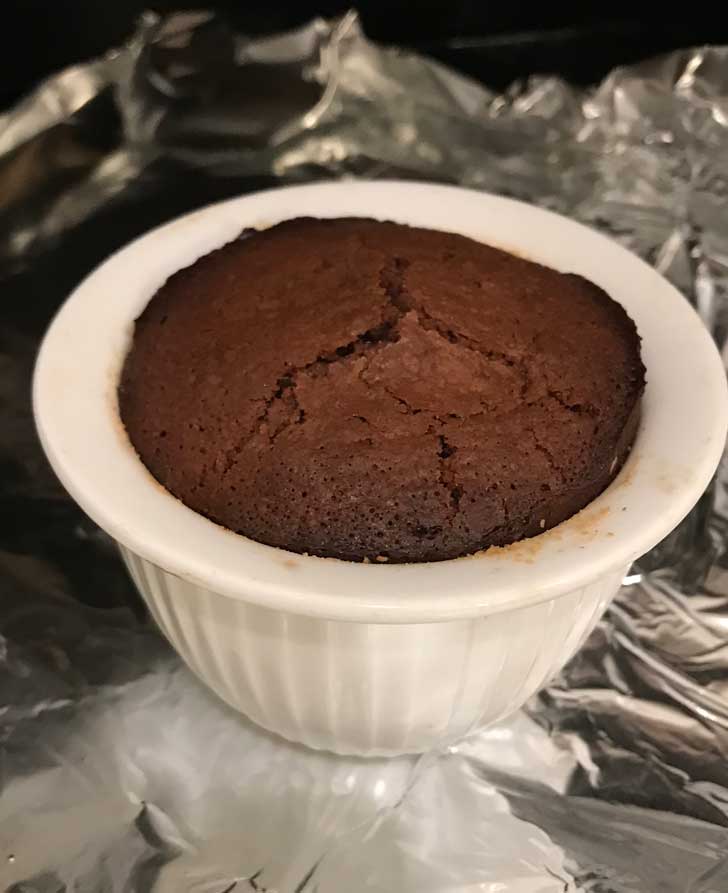 Small Batch Gluten-Free Lava Cakes
The yield is supposed to be 4 lava cakes, but I made ⅓ of the recipe and got 2 so if you make the whole batch you can make 4 big ones or 6 slightly smaller gluten-free lava cakes. The size and shape of your ramekins or custard cups will affect the overall baking time, so you may want to bake a sample lava cake as a test. My custard cup lava cakes took 13 to 15 minutes at 400 degrees in a Breville toaster oven. If making the original (yield of 4) bake time will most likely be 18 to 20 minutes.
An advantage to making just two is you can make the whole recipe in a microwave-safe 2-cup glass measure. Just melt the chocolate and butter together in the measuring cup, then stir in the other ingredients. If you make the full batch, you'll need an actual mixing bowl.
Overall Great Recipe!
These oat flour gluten-free lava cakes have more flavor than other lava cakes I've tried, and I plan on making them again, perhaps with a side of peppermint ice cream for Christmas. I love that these, like most lava cakes, can be prepared up to two days ahead of time and baked right before dessert. They are rich, so if you're already full from dinner you might want to just bake one to share, maybe add a little ice cream, and save the other for another night.
More Ingredient Notes
Dark or Semisweet Chocolate -- The original recipe calls for 5 oz semisweet chocolate. I used the equivalent Dove brand dark chocolate squares, which would be about 140 grams or 15 squares. Since I made ⅓ of the recipe, I used 5 squares.
Brown Sugar -- I used dark instead of light.
Unsalted Butter -- You'll need a little extra to generously grease the custard cups or ramekins.
3 large eggs -- I happened to use fancy organic eggs. Maybe that's part of why the lava cakes were so good?
Vanilla Extract -- Sonoma Syrups Vanilla Bean Crush (makes a great stocking stuffer, btw!)
Oat Flour -- You are supposed to use Quaker brand oat flour here. I used oat flour that I ground myself in a coffee grinder. It worked quite well even though my home-ground flour was probably a bit coarser.
Salt -- Just a pinch should it it if using something like Morton kosher.
Recipe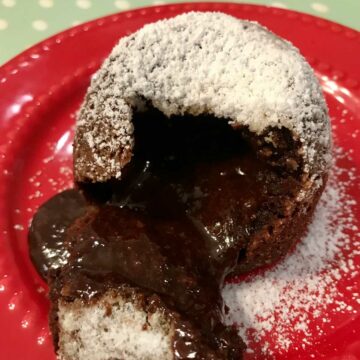 Gluten-Free Chocolate Lava Cake
A very easy make-ahead recipe for gluten-free chocolate lava cakes with oat flour.
Ingredients 
5

oz

dark chocolate or about 16 Dove dark squares

chopped (140 grams)

⅔

cup

packed light or dakr brown sugar

(140 grams)

½

cup

unsalted butter, plus extra for ramekins

(114 grams)

3

large

eggs

(150 grams)

1

tsp

vanilla extract

⅓

cup

oat flour (45 grams),

plus extra for dusting the ramekins

¼

tsp

fine salt or a big pinsh of regular Kosher salt

Confectioners' sugar

for dusting
Instructions 
Rub the insides of four 5-oz ramekins with softened and dust them with oat flour. If you don't have 5-oz ramekins, you can use four to six 6-oz custard cups. Whatever dish you use will most likely affect the baking time.

Combine the chocolate and butter in a microwave-safe mixing bowl and heat on high for 30 seconds. Stir. Repeat, heating on high for another 30 seconds, then stir. Repeat until mixture is melted and smooth.

Whisk in the brown sugar, then whisk in the eggs one at a time, followed by the vanilla, oat flour and salt.

Pour the batter into the ramekins and chill until ready to bake. This can be done up to two days in advance. If doing this far in advance, you should cover with a piece of plastic wrap. I made mine 2 hours in advance and didn't bother covering.

Preheat the oven to 400°F. Place the ramekins on a baking tray. If making 4 lava cakes and using the 5 oz ramekins, bake for 18- 20 minutes, or until the surface of the cakes has set. If using custard cups and making 6 lava cakes, pull the cakes at 13 to 15 minutes. They should appear set and may look overbaked at first.

Let the baked cakes rest for about 5 minutes.

Loosen around the edge of each ramekin and invert each onto a dessert plate. Sift powdered sugar over the tops and serve. Before serving, you can test one to make sure the lava is flowing. If overbaked, there will be no lava. If underbaked, there will just be a thinner shell and more lava. It's probably better to underbake than over-bake.