Most of the muffins I make are pretty sweet, but these cooked oatmeal muffins are not. They're perfect for serving with savory dishes, salads or soups; but would also be perfect for breakfast topped with some good preserves.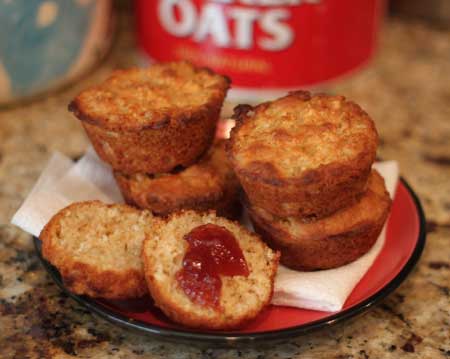 When I first pulled these out of the oven, I was disappointed to see the tops didn't crown much, however the texture and flavor of the cooked oats made up for the slightly flat tops. They were so good!
As for the source, the recipe is adapted from The Fanny Farmer Cookbook, but I updated it a little by using honey in place of sugar and swapping out the all-purpose flour for white whole wheat. If you don't have those things, you can always revert back to the original recipe and use all-purpose flour and sugar in place of honey.

Cooked Oatmeal Muffins
1 1/2 cups (6 oz) white whole wheat flour
4 teaspoons baking powder
1/2 teaspoon salt
1 large egg
1/2 cup milk
2 tablespoons melted butter
2 tablespoons honey
1 cup cooked oatmeal
Preheat oven to 400 degrees F. Grease 12 muffin cups thoroughly.
Mix the flour, baking powder and salt together in a bowl.
In a second bowl, beat together the egg, milk, butter and honey.
Pour the egg mixture into the flour mixture and stir until almost fully mixed, then stir in the cooked oatmeal. Divide equally among muffin cups and bake on center rack for about 18 minutes or until edges are lightly browned.
Makes 12 muffins