If you prefer your corn muffins slightly sweet yet not dessert-like and light enough to accompany chili or soup without being too filling, here's a recipe worth trying. I made these to serve alongside some really good vegetarian chili.

I used corn oil for moisture and color, honey for more moisture and sweetness, then added a dash of butter extract which was a gamble. Butter extract is kind of strange. On its own, it smells cloying artificial and somewhat obnoxious, but in certain baked goods its flavor blends nicely with the other flavors and actually tastes like butter. Notice how different the muffins look? I used cupcake liners for half, and rubbed the muffin tins with a little shortening for the other half. The shortening rubbed tins create a crispy-edged crater like thing (which is not a complaint, in this case), while the paper lined muffins rose with normal crowns.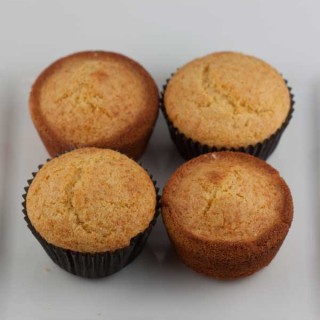 Light Corn Muffins
Light Corn Muffins with a touch of sweetness from honey.
Ingredients 
2

tablespoons

corn oil

1

extra-large egg

2 oz or try using egg substitute

1

cup

reduced fat milk

3

tablespoons

honey

¼

teaspoon

butter extract

optional

1

cup

all-purpose flour

4.5 oz, stir and aerate if no scale

1 1/4

cups

cornmeal

¼

cup

granulated sugar

1

tablespoon

baking powder

1/2

teaspoon

salt plus an extra pinch
Instructions 
Preheat oven to 400 degrees F. Line a 12 count muffin tin with paper liners.

Whisk together the oil, egg, milk and honey and set aside.

In a large mixing bowl, stir together flour, cornmeal, sugar, baking powder and salt. Make a well in the center and add the honey mixture. Stir just until mixed.

Divide batter between muffin cups (cups should be about ¾ full) and bake for about 15 minutes or until edges are brown.
Notes
Note: For a half batch, crack use half of all ingredients. To halve the egg, crack it into a little cup, mix with a fork and measure out two generous tablespoon or weigh out 1 oz.