Happy New Year!  To celebrate, here's a chocolate honey cake recipe to add to your ever-growing chocolate cake collection.
Jump to Recipe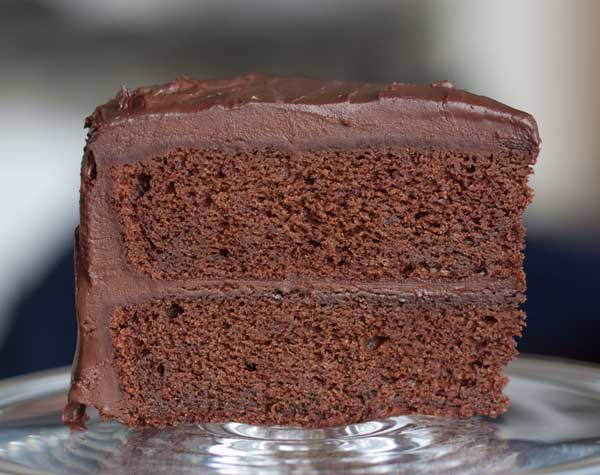 Why Chocolate Honey Cake Is So Good!
Adapted from a recipe in Fine Cooking Magazine, this chocolate honey cake is sweetened not only with honey, but two kinds of sugar.  In addition it includes a combination of oil and butter, plus sour cream for moisture.  All those things plus a fairly simple chocolate-honey ganache make it one of the best chocolate cakes we've ever tasted.
Pan Sizes
The original recipe was designed for two 10-inch round cake pans. My issue was I only own 6,8 and 9-inch round pans, so rather than make the whole recipe and bake some of the excess batter in cupcake cups, I scaled the recipe down to fit two 9x2 inch cake pans. It worked perfectly and we still had a pretty large cake.  In the future, I might cut Fine Cooking's original 10-inch version in half and bake it at a lower temperature in smaller pans or maybe even make a half batch in a loaf form, then split and ice with ganache. Either way, I'm already looking forward to making this one again and we haven't even finished it.
More Recipes With Honey
Recipe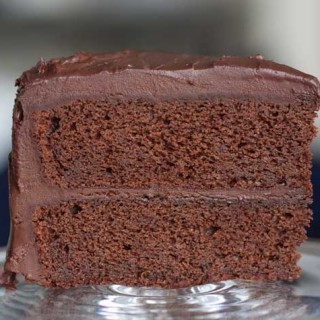 Chocolate Honey Cake
This cake is pretty simple, but since the ganache takes several hours to thicken, you may want to make the ganache first and then start the cake while the ganache sits.
Ingredients 
½

cup

natural unsweetened cocoa powder

(40 grams)

⅓

cup

Dutch-processed cocoa powder

(33 grams)

1

cup

plus 2 tablespoons hot

strong brewed coffee

¾

cup

mild honey

such as clover

2 ¼

cups

unbleached all-purpose flour

(290 grams or about 10.1 oz by weight)

1-⅛

tsp.

baking powder

1-⅛

tsp.

baking soda

¾

tsp.

kosher salt

the kind that measures like table salt

9

tablespoons

unsalted butter, softened

(4 ½ oz or about 128 grams)

½

cup

vegetable oil

¾

cup

packed dark brown sugar

(160 grams)

¾

cup

granulated sugar

(150 grams)

3

large

eggs

at room temperature

½

cup

sour cream

at room temperature

1 ½

tsp.

pure vanilla extract
Chocolate Honey Ganache
12

ounces

semisweet or bittersweet chocolate

60% cacao, finely chopped

1 ½

cups

12 ounces heavy cream

3

tablespoons

mild honey

such as clover

3

tablespoons

cold unsalted butter

cut into 4 pieces

¾

tsp.

pure vanilla extract
Instructions 
Preheat the oven to 350 degrees F. Grease two 9x2 inch round cake pans and line bottoms with parchment paper rounds. Dust sides with flour.

Sift cocoa powders into a medium bowl. Whisk in the hot coffee and then the honey. Let cool completely.

Sift the flour, baking powder, baking soda, and salt into a medium bowl.

With an electric mixer, beat the butter on medium speed until creamy. Gradually add the oil, beating until combined. Add the brown sugar and granulated sugar. Raise the mixer speed and beat until light and fluffy, about 3 minutes. Add the eggs one at a time, beating well on medium-high speed after each addition. Add the sour cream and vanilla and beat just until combined.

Using a heavy duty scraper for stirring (or the lowest speed of your mixer if using a stand mixer with paddle), add the flour mixture and cocoa mixture alternately, beginning and ending with the flour, scraping down sides as needed. Beat just until combined.

Divide the batter between the two pans, spreading evenly. Tap pans lightly before placing in the oven.

Bake on center and lower racks, rotating the pans halfway through, until a wooden skewer inserted in the center of each cake comes out with only a few moist crumbs clinging to it, 40 to 45 minutes (mine was done in 40). Cool the cakes in their pans on a rack for 10 to 15 minutes. Run a knife along the sides of the pans, invert the cakes onto the rack, and remove the pans and the parchment. Let cool completely. At this point, you may also wrap the cakes in plastic and freeze if desired.
Ganache
Put the chocolate in a large heatproof bowl.

Combine the heavy cream and honey in a 2-quart saucepan. Stir over medium-high heat until the honey dissolves into the cream, about 30 seconds. Just as the cream comes to a simmer, pour it over the chocolate. Let stand about 1 minute; then whisk until smooth. Stir in the butter, and vanilla until the butter is melted and the mixture is glossy.

Let ganache cool at room temperature for at least 8 hours. It will thicken as it cools. (The ganache can sit, covered, at room temperature for up to 24 hours.)
Frost the cake
Set one of the cake layers on a serving plate.

Spread about 1 cup ganache over the surface of the cake. Top with the second cake layer and spread a very thin layer of ganache over the top and sides of the cake to seal in any crumbs. Refrigerate for 5 to 10 minutes to allow the crumb coat to set.

Spread the remaining ganache evenly over the top and sides of the cake.
Notes
Note: Makes sure your cake pans are at least 2 inches high. For the chocolate, I used a mixture of Ghirardelli bittersweet chocolate bar and bittersweet chocolate chips and didn't have any issues. I also cheated a little and after the ganache had cooled, I chilled it just until it started to thicken. If you have time to let it cool at room temperature, that's probably the best way to go.