Today's recipe is an old family favorite and one I don't make often enough. It's called Millionaire Pie, and I first tried it years ago at a cafeteria here in Texas. I like to play around with the recipe and prepare it various ways, but today I made the traditional version with crushed pineapple, sweetened condensed milk, whipped topping and a sprinkling of pecans.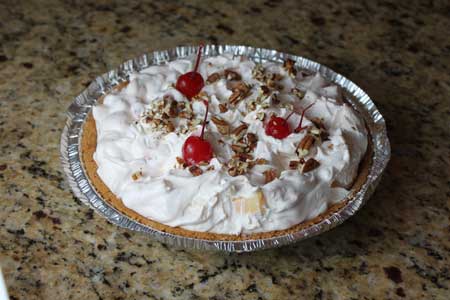 Truth be told, I did make one other tiny change and will have to amend this post after we cut into the pie. It's not a necessary step, as Millionaire Pie seems to hold together on its own, but for this pie I dissolved a teaspoon of plain gelatin in the lemon juice and pineapple. I'm not adding it to the recipe unless it really enhances the hold-together-ability of this pie.
UPDATE: The gelatin experiment worked perfectly! If you'd like to use gelatin in the pie for a stiffer pie, try this: Put the lemon juice and pineapple juice in a small custard cup. Sprinkle 1 teaspoon of gelatin over the top and let it sit for 5 minutes to soften. Microwave for about 20 seconds or *just* until the water starts to boil. Stir to dissolve the gelatin. Let it cool slightly. Stir the gelatin juice mixture into the condensed milk and proceed with recipe. If you're making two pies, use 2 teaspoons of gelatin.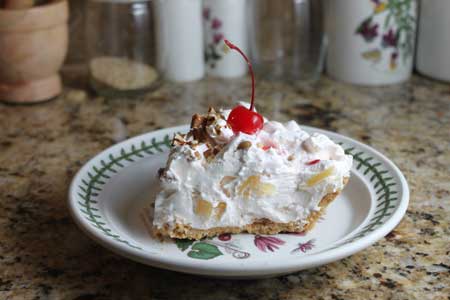 Millionaire Pie
1 store-bought pastry shell (such as a Keebler crust)
1 tablespoon lemon juice plus 1 tablespoon of pineapple juice
7 oz (half a 14 oz can) of sweetened condensed milk**
A little more than half of a drained 20 oz can of pineapple
1/4 cup drained, chopped, Maraschino cherries
Most of an 8 oz tub of Cool Whip, thawed**
Some toasted pecans and stemmed cherries for the top.
Prepare the pie shell as directed on the package.
In a bowl, mix together lemon juice, pineapple juice, condensed milk, pineapple, and chopped cherries. Fold in the whipped topping. Spoon it all into a pie shell and chill for at least 4 hours. Sprinkle with toasted pecans and if you have some, stemmed cherries.
**You can use the rest of the can to make Magic Cookie Bars!