Update: This is an older recipe, but I still use it to fill small pie crusts. For a large Millionaire Pie, I recommend the Frozen Millionaire Pie, which calls for some cream cheese. This version of Millionaire Pie does not have the cream cheese. I've also found that adding a teaspoon of gelatin powder helps it set up better, so I've added that to the recipe.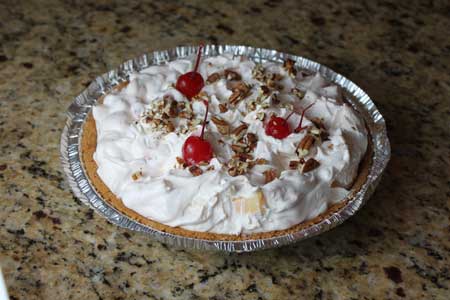 Gelatin in Millionaire Pie
If you'd like to use gelatin in the pie for a stiffer pie, try this: Put the lemon juice and pineapple juice in a small custard cup. Sprinkle 1 teaspoon of gelatin over the top and let it sit for 5 minutes to soften. Stir the gelatin/juice mixture (it will have congealed) into the condensed milk and proceed with recipe.
The filling will still be a little runny at first, but it will set if you leave the pie in the refrigerator for at least four hours. You can also freeze the pie. The gelatin will prevent the filling from getting chalky in the freezer, so you can freeze it and let it firm up, then let it thaw slightly before serving.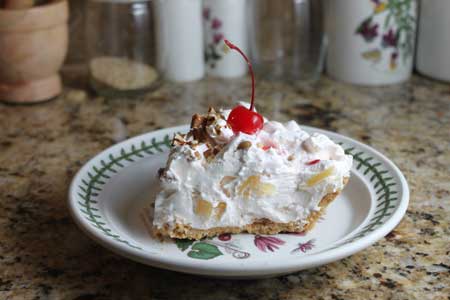 Small Millionaire Pie
1 store-bought pastry shell (such as a Keebler crust) 1 teaspoon of plain gelatin
1 tablespoon lemon juice
7 oz (half a 14 oz can) of sweetened condensed milk**
A little more than half of a drained 20 oz can of pineapple plus 1 T. juice
¼ cup drained, chopped, Maraschino cherries
Most of an 8 oz tub of Cool Whip, thawed**
Some toasted pecans and stemmed cherries for the top.
Prepare the pie shell as directed on the package.
Put the 1 tablespoon of lemon juice plus 1 tablespoon of pineapple juice from the can in a small custard cup. Sprinkle the gelatin over the juice and let soften. Stir. Let sit for 5 minutes.
In a mixing bowl, combine condensed milk, gelatin mixture and drained pineapple. Fold in the whipped topping.
Spoon a little of the filling into the pie shell and then sprinkle some of the cherries in (this helps keep the filling from turning pink from the cherry juice. Add remaining filling and cherries.
Chill for at least 4 hours or until firm or put in the freezer and freeze. Once set, spread a thin layer of whipped topping over the top and sprinkle pecans and more cherries over the whipped topping.
**You can use the rest of the can to make Magic Cookie Bars!