This pie was inspired by some strawberry yogurt we forgot about and which was about to expire. Rather than let the yogurt go, I went out and bought ingredients to make Strawberry Yogurt Pie. Great decision! This was a fun pie, plus I re-learned a few things I'd forgotten how to do.
Jump to Recipe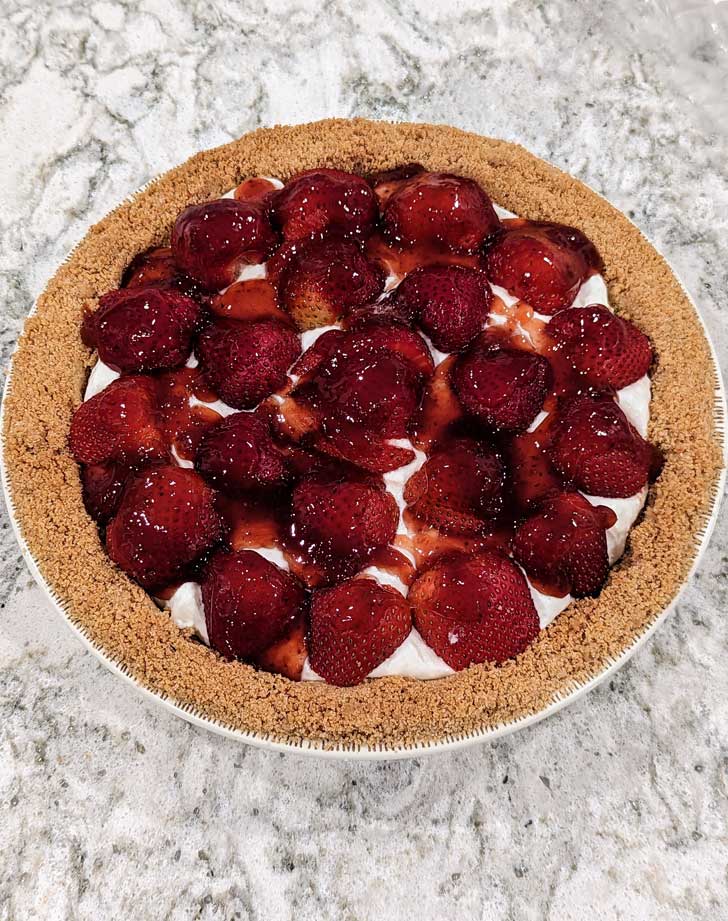 Texture and Flavor
While I'd been hoping to make a big, pink strawberry chiffon type pie, this pie was a good stand-in. It has a fluffy, slightly tart vanilla base and a topping of fresh strawberries brushed with strawberry jelly. You get a lot of different texture and flavors in each bite, and you can really showcase your strawberries.
Graham Cracker Crust
For the crust, you can use storebought or homemade. There are pros and cons to both. The storebought graham cracker crusts are the perfect size, very convenient and hold together well. Homemade crusts almost always taste better. For the first pie, I went the easy route and bought an inexpensive graham crust at Aldi. It was convenient and it held together, but I missed the flavor of homemade.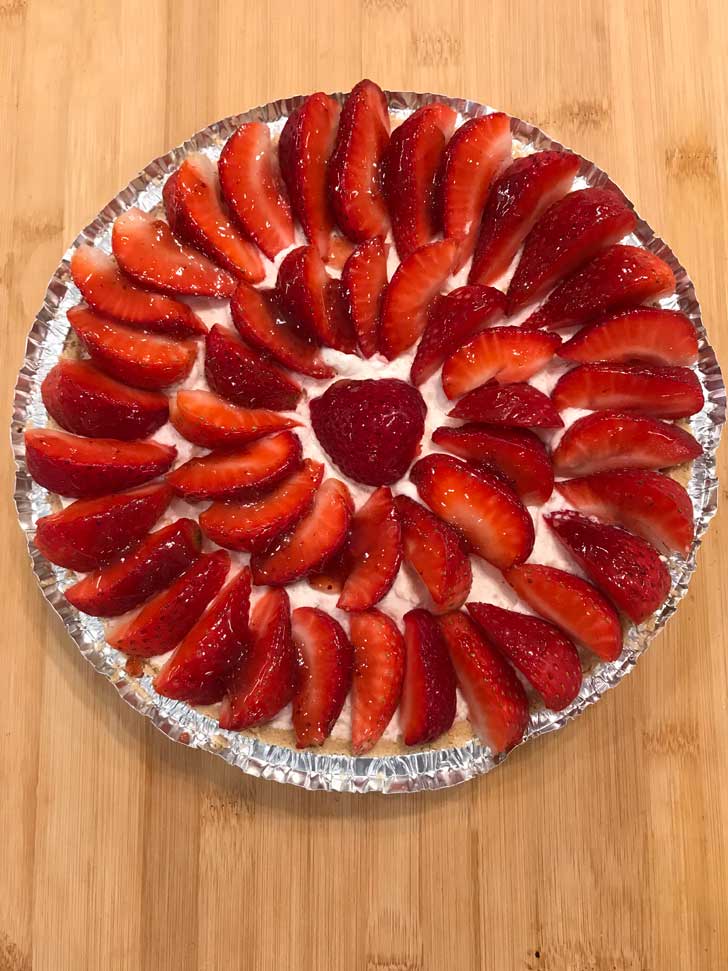 Strawberry Yogurt Pie Filling
For the filling all you need is plain gelatin, water, cream cheese, powdered sugar, yogurt, heavy whipping cream, fresh strawberries and some strawberry jelly. I made the first pie with the aforementioned strawberry flavored yogurt and kept thinking the filling wasn't sweet enough. I realized once it all came together that the jelly that goes on the strawberries drips down into the pie and adds just the right amount of sweetness and flavor. So the strawberry flavored yogurt was fine, but when I made the pie the second time I used plain yogurt and the pie was better because the plain yogurt added a smack of tartness that went well with the sweetness. So use plain yogurt if you can, but another flavor can stand in if necessary.
Mini Pies
This recipe is for a full size pie, but along the way I did some testing and made a small pie using some little ceramic casserole dishes. The mini pies were so cute! The pie below was made with about ⅕ of the ingredients, but you could alter the amount based on the size of your individual casserole dish. A benefit to making the minis is you can skip the gelatin entirely since the pie is eaten right out of the dish.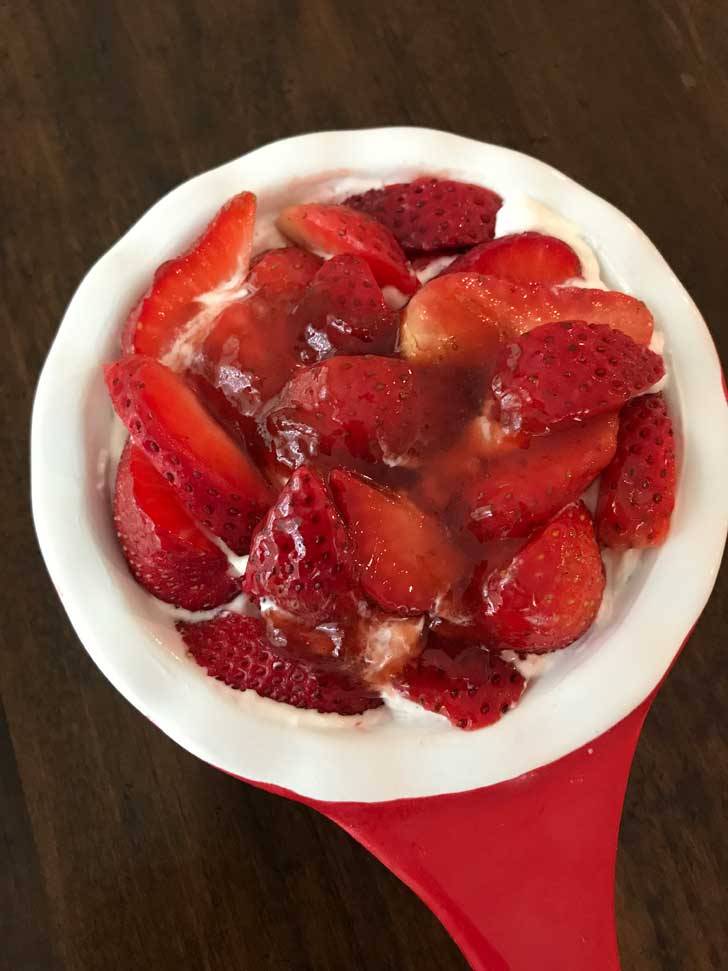 Steps for Making the Pie
One: Dissolve the gelatin in tap water. Just put the water in a small bowl or custard cup, sprinkle in one envelope, which is about 2 ½ teaspoons, and let the gelatin soften and swell. Don't add it directly to boiling water or it will gum up. Once it swells in the cool water, you then heat it gently by microwaving for 5 seconds or until it's just warm enough to dissolve the gelatin. If you boil it, you'll have to wait longer for it to cool. You could also do this in a very small saucepan and use gentle heat of the stove. Put gelatin in cool water, let sit, heat gently and stir to dissolve, then let cool.
Two: In a mixing bowl, beat the softened cream cheese, powdered sugar and vanilla until creamy.
Three: Add the whipping cream to the cream cheese mixture and beat with an electric mixer until the mixture forms soft peaks.
Four: Add the yogurt and the (mostly cooled, but can be lukewarm) dissolved gelatin and stir until blended.
Five: Cover and chill for about 4 hours or until set.
Six: Hull about a pound of strawberries, then halve them (or halve and cut into thirds). Arrange decoratively around the top of the pie. You can use any method you want for cutting the strawberries, but mine were all different sizes with some being very large. You can arrange in concentric circles or just scatter the sliced berries over the pie.
Seven: Melt some strawberry jelly by microwaving it for 5 to 10 seconds. No microwave? Melt gently in a saucepan over the stove. You can thin it with a little water or lemon juice if needed. Drizzle over the berries or use a pastry brush to brush it over the berries. Chill for another hour or until ready to serve.
Ingredients Rundown
Graham Crust -- The Keebler type is the perfect size, but I recommend making one from scratch. Use an 8 or 9-inch shallow pie tin or dish rather than a big 9 ½ or 10 -inch deep dish. A less sweet crust seems to work better.
Gelatin -- I used 2 ½ teaspoons of Knox plain gelatin.
Cream Cheese -- Make sure to soften it. Light cream cheese should work well too.
Powdered Sugar -- I didn't think ¼ cup was enough at first, but once the whole pie came together, the less-sweet filling worked well with the topping.
Vanilla -- Use the good stuff because the vanilla flavor stands out.
Heavy Whipping Cream -- Just pour it in and beat it with the filling, so no need to beat it separately. I tested my mini version using the equivalent weight of Cool Whip and it worked too. So if you want to try to lighten the pie by using light or sugar free Cool Whip, it should work. It definitely works for the mini version.
Yogurt -- I used Aldi strawberry flavored Greek yogurt for the first round and nonfat (bought nonfat by accident) plain for the second. Both worked, but the plain yogurt added the most flavor. Next time I'll use low fat or full fat, but the nonfat was fine.
Strawberries -- The best you can find. I was worried I wouldn't be able to make them look good, and while I know other are better at arranging fruit and basically any kind of decorating, I was less embarrassed than usual about my pie's appearance. I'd also forgotten how to hull strawberries because I'm a savage who just cuts off the tops, but there's much less waste when you hull, and it's so easy.
Strawberry Jelly -- I worried that the $1.50 strawberry spread I bought on sale at Lidl wouldn't be suitable for topping a pie, but it was great! Use the best preserves, jam or jelly you can afford/find and one you like, but the jelly melds with the juice released from the strawberries. You can also use less if your strawberries are sweet or if you just want less sweetness.
Recipe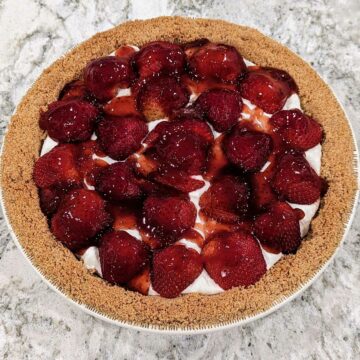 Strawberry Yogurt Pie
A light and refreshing strawberry pie made with yogurt.
Ingredients 
1

envelope

unflavored gelatin (about 2 ½ teaspoons)

¼

cup

cold water

3

oz

cream cheese, softened

¼ to ⅓

cup

powdered sugar

1

teaspoon

vanilla extract

1

cup

heavy whipping cream

1

carton

plain, vanilla or strawberry flavored yogurt (6 oz)

1

8 or 9-inch

store-bought or graham cracker crust

2

cups

strawberries, hulled and halved

2-3

tablespoons

strawberry jelly

melted
Instructions 
Put the water in a small microwave-safe bowl or custard cup. Sprinkle the gelatin over the water and let it stand for a minute or two to soften. The gelatin needs to swell a bit before it can be dissolved. Put the gelatin mixture in the microwave and heat for about 5 seconds or until it's just barely warm enough to dissolve the gelatin. Stir to dissolve gelatin, then let cool while you prepare the cream cheese mixture.

In a mixing bowl, beat together the softened cream cheese, sugar, and vanilla.

Add whipping cream and beat with an electric mixer until soft peaks form. Stir in the yogurt and the cooled down (if it's too hot it could melt the cream) gelatin mixture.

Spoon filling into graham cracker crust. Cover with a piece of wax paper and chill for 4 hours or until set.

Hull about a pound of strawberries and halve. If they are large, halve and slice them into thirds. Arrange decoratively on top of pie.

Soften strawberry jelly by heating it in the microwave for about 5 seconds and stirring. Drizzle over the strawberries or if you'd prefer, paint it on with a pastry brush. You can use the full ⅓ cup or less depending on how sweet your jelly is.
Notes
Not Too Sweet Basic Graham Cracker Crust:  1 ¾ cups graham cracker crumbs, 3 tablespoons sugar, 4 tablespoons melted unsalted butter, ⅛ teaspoon salt (omit if using salted butter).  Mix all ingredients, press into shallow pie dish, bake at 350F for about 10 minutes.