Here's a pie to celebrate the end of summer. Hooray! And you don't even have to worry about finding fresh raspberries because Raspberry Chiffon Pie calls for a 10 oz package of thawed frozen raspberries.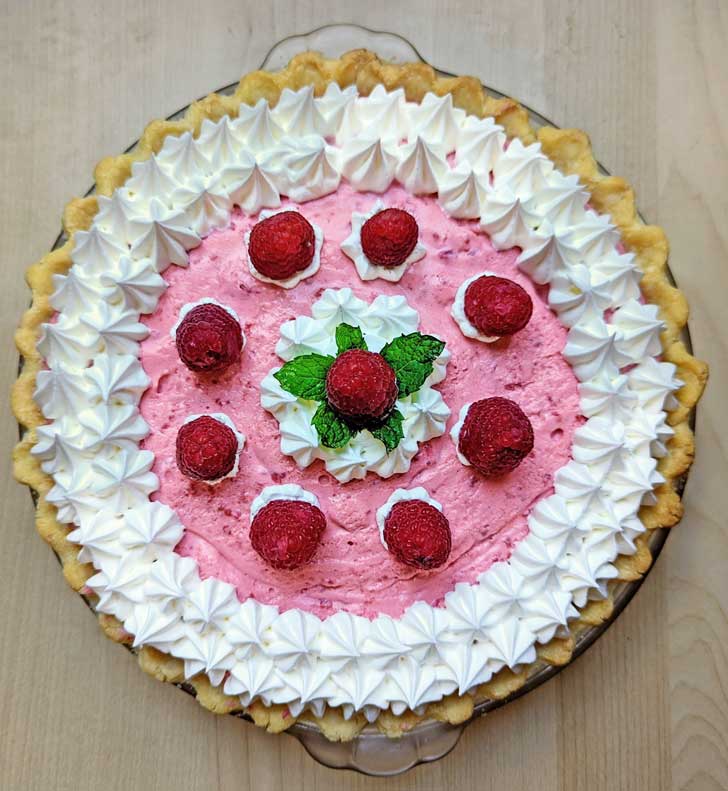 The recipe is an old one from Better Homes and Gardens. My daughter made it so I can't take credit, but I will say it was her first chiffon pie and she did a great job. And just so you know, it does call for raw egg whites. In the past I'd always go buy pasteurized, but we took a risk and used regular egg whites. We're fine. But if you're making this for company or a group, you might want to use the pasteurized type.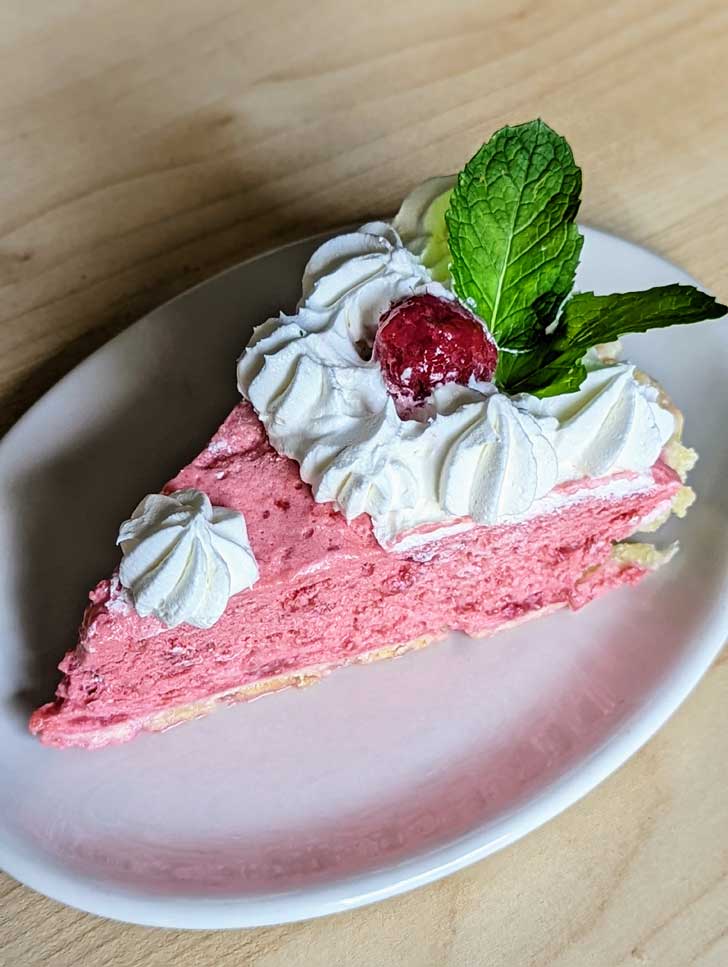 America's Test Kitchen Gluten-Free Pie Crust
Another confession. We chose this pie because had a baked an America's Test Kitchen's gluten-free pie crust and needed something creamy to fill it with. You can definitely use a regular Pillsbury type roll-and-bake or your own scratch crust, but if you are gluten-free the America's Test Kitchen gluten-free pastry crust recipe is pretty good! I haven't typed it up, so for now I'll link you to Melissa's version. Gluten-free crusts are a real challenge, but a fun one. And as a bonus, I think the texture of gluten-free crusts is actually beneficial for cream and chiffon pies because it doesn't get soggy. Or that's been our experience so far, at least.
Raspberry Chiffon Pie with Chocolate Pastry Crust
So we tested with a gluten-free pastry crust, but I think next time I'll go with the chocolate pastry crust from Erin McDowell and King Arthur. It would be terrific with the raspberry chiffon filling, and like the gluten-free crust, I'm sure it would stay firm. Here's the link to the chocolate pastry crust, which we've made before and which is good. I think a chocolate crumb crust might also work, but it might get a little too soggy under the chiffon.
More Tips
I don't have a lot to add about this pie because it's pretty simple. It does take a while, though, because you have to babysit the gelatin mixture until it's thick enough to fold in the beaten egg whites. And by that I mean you put it in the refrigerator and check it every 30 minutes. The raspberry gelatin does have the usual artificial raspberry flavor, but it's rather nice mixed with the frozen raspberries. Also, the pie is not super gelatinous. You can definitely tell there's gelatin in the chiffon, but it's not overly firm. The downside to that is the slices aren't gorgeous, but it does hold up. I'm actually really looking forward to making this one again myself.
Recipe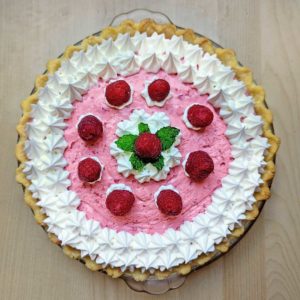 Raspberry Chiffon Pie
An easy chiffon pie made with thawed frozen raspberries.
Ingredients 
1

9 inch

pastry for a pie plate

10

oz

frozen raspberries, thawed

(280 grams)

1

package

(3 oz) raspberry flavored gelatin

(84 grams)

2

tablespoons

sugar

(25 grams)

2

tablespoons

lemon juice

(28 grams)
Egg White Mixture & Whipping Cream
2

large

egg whites

¼

cup

sugar

(50 grams)

1

cup

whipping cream
Instructions 
Prepare the pastry. You can use your preferred method of pre-baking a pie crust or use a packaged pie crust and follow the directions on the box for pre-baking.

Drain the thawed raspberries and reserve the syrup. Also, reserve at least 6 raspberries for garnish. If it's raspberry season, you might want to use some fresh raspberries for the garnish instead, but if it's not you can attempt to reserve some of the frozen berries for garnish. They get mushy, though!

Put the raspberry syrup in a measuring cup and add enough water to make 1 ½ cups total liquid.

In a saucpean, combine the raspberry gelatin powder and 2 tablespoons of sugar. Pour in the 1 ½ cups of rasbperry liquid and the 2 tablespoons of lemon juice. Heat over medium stirring constantly, until gelatin is dissolved. Let cool.

Combine the cooled gelatin and the drained raspberries in a bowl and chill until mixture is the consistency of corn syrup. For us, this took several hours, but I think my daughter put it in the refrigerator while still a little warm. So check the gelatin mixture periodically and don't let it get too firm.

Beat the egg whites until soft peaks start to form. Gradually add the ¼ cup of sugar and continute beating until stiff peaks form. Fold the egg whites into the slightly thickened raspberry gelatin mixture.

Next, whip the 1 cup of cream and fold it in with the egg whites and gelatin mixture. Chill the mixture until it forms mounds when spooned.

Turn the gelatin mixture into the baked crust and chill for at least 5 hours or overnight.

Garnish with raspberries. You can also garnish with sweetened whipped cream or whipped topping.