Tofu Peanut Butter Pie is from Recipe Club, my favorite food podcast. Every episode features one food plus a listener submitted recipe that calls for it. The hosts discuss the food, then interview with the person who submitted it. Next, they prepare the recipe in their home kitchens where they make substitutions and don't always use the right equipment. I listen to this show in the car, and if I'm anywhere near a grocery store I am inevitably inspired to stop and buy ingredients. Here's my experience with the Tofu Peanut Butter Pie from the Peanut Butter episode.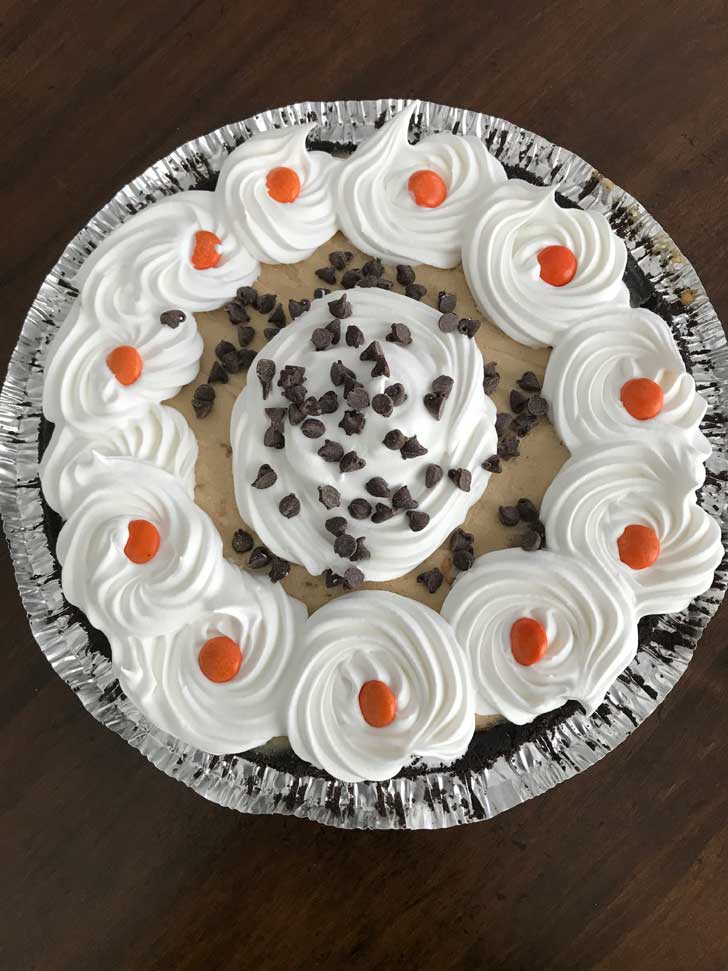 It's Supposed to be Vegan
The recipe was submitted by Joe F. who got it from a vegan ex-girlfriend. You can hear more about that on the Recipe Club podcast. Joe is no longer vegan, but I think he still keeps in touch with the friend who shared the recipe, so thanks to both of them. Anyway, I heard about Joe's pie and immediately thought of the old Butterfinger tofu pie recipe living a lonely life in the Cookie Madness basement. It's actually really good, but it's a weird recipe and my old pictures need a refresh. But based on the Butterfinger pie, I had high hopes for the peanut butter version, which is quite different.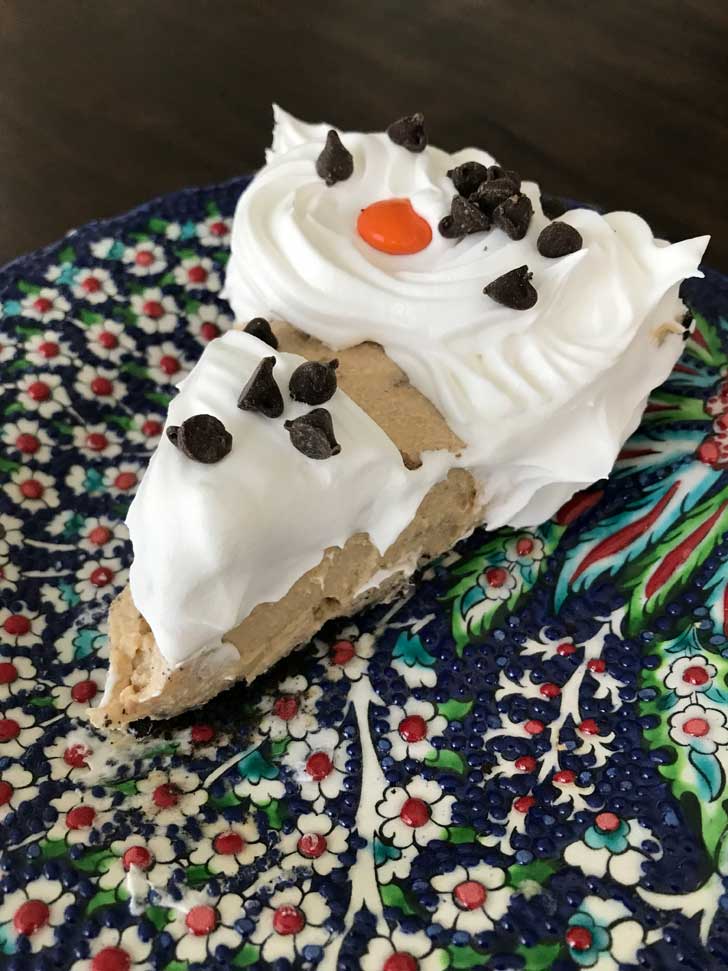 Tofu Peanut Butter Pie Ingredients
So I stopped at the Publix to buy ingredients, telling myself I probably shouldn't do this since I already have desserts. But I couldn't resist! Plus Fuzz and a friend were coming home for Spring Break and they are super honest taste testers.
How to Make Tofu Peanut Butter Pie
Here's the quick rundown. You start by buying or making an Oreo crust. Next, you process tofu, sugar, salt and vanilla in a food processor. Once smooth, mix in some peanut butter, scrape it into the crust and chill for 4 to 6 hours. The last part is optional, but makes all the difference in my opinion. Cover it with regular or some kind of vegan whipped cream. It needs some textural contrast, so don't forget the whipped cream even if you just buy the squeeze kind and put it on each piece.
Oreo Crust
First, I wasn't sure Publix would have the Oreo crust and was waffling on whether to buy or make it. In the end I chose convenience and shelled out about $3.50. In hindsight I should have just bought a bag of Oreos. I had to take the food processor out anyway, so why not make the crust? Well, there was one reason. The store-bought Oreo crusts saved a dish and was a little smaller than most of my pie plates so I knew the filling would be a little higher.
Peanut Butter
Second, I wasn't 100% sure what type of peanut butter to use. The Recipe Club tested with Wegmans Just Peanuts which is a stir peanut butter. However, they said not to use "natural", which I took to mean stir peanut butter like Smucker's Natural. But maybe they meant the sugar-added "naturals" like Jif and Skippy? Or maybe I just misheard since I gave one-sided hearing. I went with tasty Reese's brand and reduced the sugar from ⅔ to ½ cup. Update: Okay, I think they meant not to use Smucker's Natural. I tried it and the filling was runny.
Extra Firm Tofu
Third, I've always used Silken tofu for smooth desserts. The store only had Greenwise brand extra-firm, so that's what I used. It was definitely not as smooth as Silken brand, but it worked. One thing to note is the recipe calls for a pound of tofu but most packs are slightly less than that. Here's a photo of the filling, which looks as if it has a mashed potato texture. It was honestly much smoother once it had set.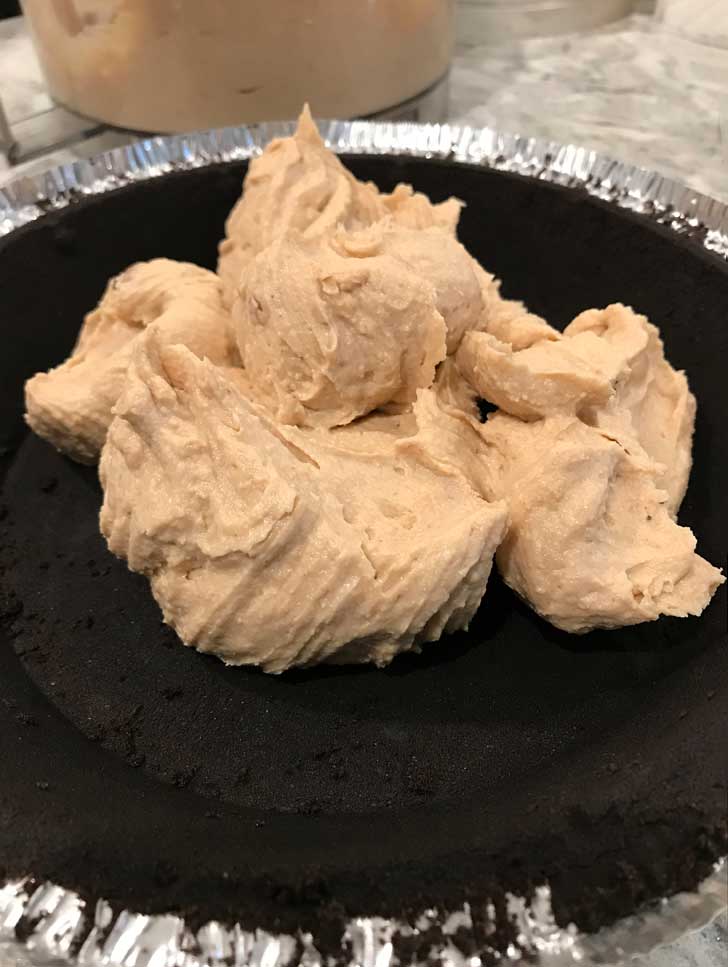 Salt
I added salt because they hosts said it needed it. I think they used a teaspoon, but they probably used Diamond brand which is less salty, so I used only ½ teaspoon of Morton kosher and it was fine.
Food Processor vs. Blender
The Recipe Club version has you blend or process the tofu, then add the peanut butter in after. One host put peanut butter in the blender with the tofu and almost ruined the blender trying to get it mixed, so it's important to blend the tofu first. I processed the tofu and other ingredients, then weighed the peanut butter and threw it in the food processor with the other ingredient. No issues.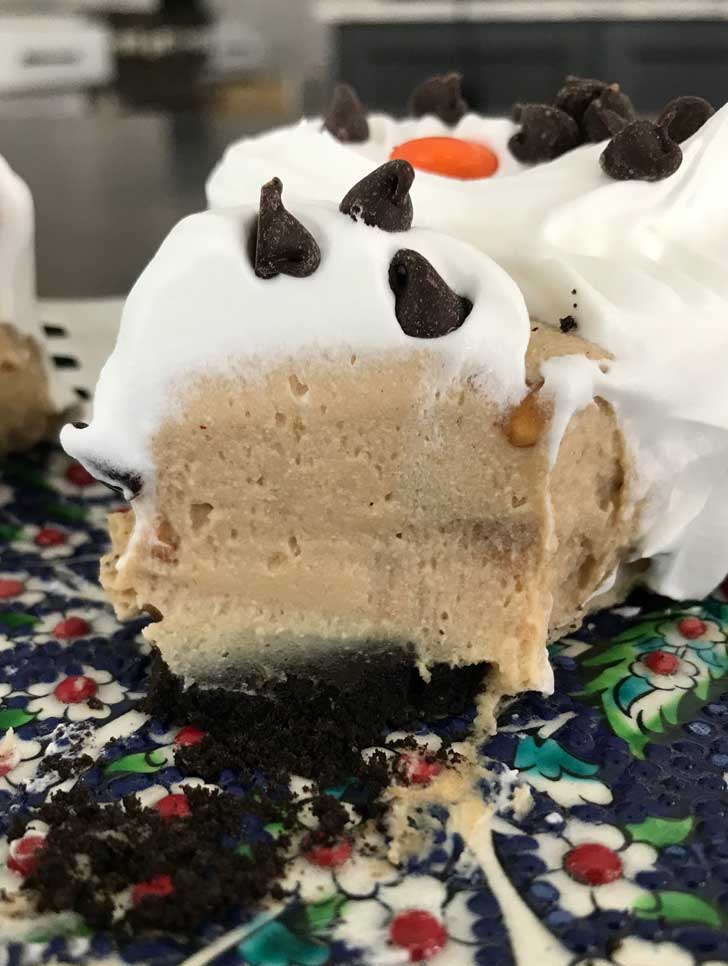 It was hard to stop sampling this filling, which is something you have to do to get it just right, but I felt a little better about sampling since it's not completely devoid of nutrition. The tofu was definitely detectable at this stage.
Results
The good news is that the tofu flavor diminished once the pie had chilled for a bit, and as mentioned, the texture seemed smoother. All of us loved it. Fuzz said she'd probably make it with a homemade Oreo crust just because she likes doing it and could use gluten-free Oreos. She thought the store bought crust was good, though. My husband, who doesn't love peanut butte, scarfed it down. So this was a hit. I'm going to try it again with a smoother brand of tofu and make a gluten-free Oreo crust. Meanwhile, I need to re-do the poor, sad, Butterfinger Chocolate version so I can take better photos.
Recipe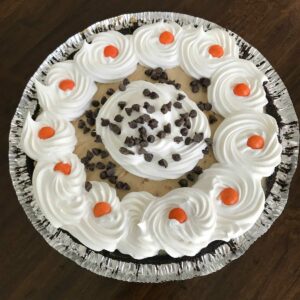 Tofu Peanut Butter Pie
A vegan peanut butter pie with a surprise ingredient!
Ingredients 
1

6 oz

Oreo brand pie crust

14

oz

extra firm tofu, drained

1

tablespoon

vegan or dairy milk

½ to ¾

cup

sugar

½

teaspoon

salt

1

teaspoon

vanilla extract

1

cup

peanut butter (half a container or 9 oz weight)**

(250 grams)

regular or vegan whipped topping for garnishing
Instructions 
Have ready an Oreo crust. You can use a packaged crust or make your own. To make your own (recipe in the notes).

Drain the tofu and cut or break it into large chunks. Put it in the food processor bowl with the sugar, milk, vanilla and salt. Process until smooth.

Scrape the tofu mixture into a bowl and stir in the peanut butter or just add the peanut butter to the food processor and process until smooth.

Put the filling in the crust. Cover with plastic wrap and chill for about 4 to 6 hours.

Cover the top with whipped topping (you can use regular or a non-dairy brand or homemade vegan

Makes 10 servings
Notes
**Recipe Club used Wegmans brand Just Nuts which I believe is unsweetened. I used Reese's brand, which is definitely sweetened.  If you are using a sweetened peanut butter, start with only ½ cup of sugar.  Also, use more or less peanut butter to taste. The original recipe just calls for half of a standard size package which is vague and package sizes change.  
For the Oreo crust, you can make the Recipe Club's version which uses 25 Oreos and 8 tablespoons of butter.  I'd probably cut the butter down to 6 tablespoons max.