Today's O' Henry bars were inspired by a candy bar introduced in the 1920s called Oh Henry! Made with peanuts, caramel and fudge, some say Oh Henry! was named for a boy who frequented the Williams Candy factory in Chicago, where the bar was invented. Nobody really knows, but claims that it was named after the author or the baseball player have been refuted.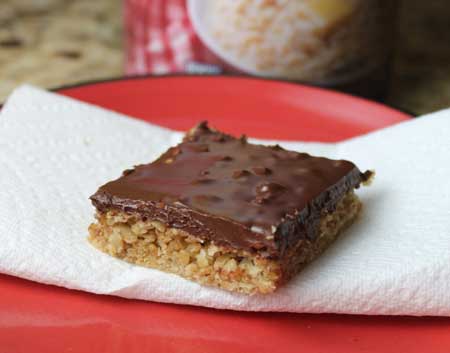 As for this cookie, based on the one Oh Henry! bar that I ate out of some car wash vending machine in an unknown town in the murky past, it's not really like the candy bar. Maybe the chewy texture of the oats and flavor of the peanut butter come together to mimic the flavors and texture of the bar? But this cookie is probably better. Plus there's another bonus. Like yesterday's cookie, it doesn't contain any flour and is gluten free
If making these gluten-free, double check all ingredient list and make sure every ingredients is listed as gluten-free.
O'Henry Bars
6 tablespoons unsalted butter, softened
¼ teaspoon salt
¼ cup brown sugar
¼ cup granulated sugar
¼ cup dark corn syrup (I had to use Golden)
2 teaspoons vanilla
2 cups quick cooking oats (old fashioned would probably be too grainy) -- Use gluten free if desired
½ cup semi-sweet or dark chocolate chips
⅓ cup good crunchy peanut butter
Preheat oven to 350ºF. Line inside of an 8 inch square metal baking pan with foil and spray foil with baking spray.
Cream the butter, salt and both sugars. Stir in the syrup, vanilla and the oats. Press mixture into the pan and bake for about 18 minutes or until edges are lightly browned. Let cool. It's best to let it cool completely, but I'll admit to putting the topping on while these were still warm.
Topping: put the chocolate chips and peanut butter in a small microwave-safe bowl. I like to use my 2 cup Pyrex measuring cup. Heat for 30 seconds. Stir until fully melted. Depending on the power of your microwave, you might need to heat for another 10-20 seconds to fully melt the chips. Pour the chocolate over the bars and forget about them until the chocolate sets. To speed things up, you can put them in the refrigerator. I thought these tasted better chilled. Lift from pan and cut into 16 squares. Makes 16