Last week Spice Islands emailed asking if I'd like to sample some of their spices. Hmm? I thought. Could I really use spices? Well, gee. I don't know. And vanilla? What would I do with that? Just kidding, of course. What I said was "Heck yes!" So Spice Islands sent some spices and I told them I just *might* find somewhere to put them.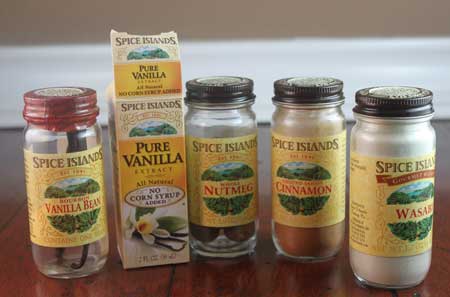 As it happens, I've used everything above except the wasabi. I keep thinking I'm going to make some wasabi flavored brownies, but I haven't felt like wasting the precious white powder in something uncertain when I know it can do its tasty sinus cleansing magic in so many savory dishes.
So I made some brownies with everything they sent, except the vanilla bean and the wasabi – though I did throw in some cayenne and I do hope the wasabi's feeling aren't hurt about that. It's just that I know and trust cayenne (and chipotle) with chocolate and wasabi is more of a sushi or turkey sandwich type thing.  Sorry, Wasabi.
Anyhow, I was impressed with the spices and not just because I'd gotten them for free.    I'd been buying spices out of the bulk bin (a real bargain), but these tasted fresher.  They probably ground them fresh at the factory just for me, no?  I also liked the vanilla, which frankly, I did not know Spice Islands even made until they told me.  It was light and flavorful, and Spice Islands is proud of the fact it doesn't have corn syrup in it.  I didn't know other vanilla did.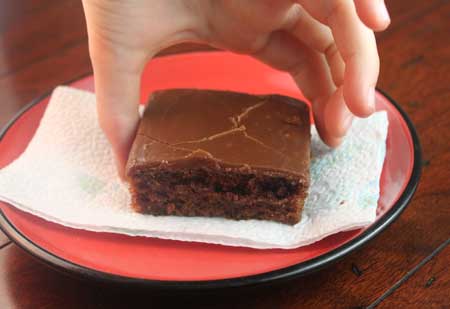 Now onto the brownies..
The recipe is actually from Spice Islands, but I halved it and added cayenne so I've re-typed it. I made it in a 9 inch square metal pan, but the full recipe is made in a big old 15x10 inch pan similar to what you'd use for a Texas Sheet Cake. But the Aztec Brownies were more interested than good old TSC. They were lightly spiced, not overly sweet (thank goodness) and were tight crumbed and fairly dense, even though they were of the soft and cakey variety. Overall, an excellent recipe. They were so easy to make that maybe I will try again with the wasabi. Maybe.
Spice Islands Aztec Brownies
1 cup (4.5 oz) all-purpose flour
¾ cup sugar
¼ cup brown sugar
2 tablespoons unsweetened natural cocoa powder
½ cup butter OR margarine (I used unsalted butter and added ¼ tsp. salt)
½ cup water
¼ cup buttermilk
1 large egg, beaten
½ teaspoon baking soda
½ teaspoon Spice Islands Cinnamon, Ground Saigon
⅛ teaspoon Spice Islands Nutmeg, Ground
½ teaspoon Spice Islands Vanilla Extract
¼ teaspoon cayenne pepper (optional)
¼ teaspoon almond extract
Icing
¼ cup butter OR margarine
3 tablespoons buttermilk
2 tablespoons cocoa powder
2 cups powdered sugar
½ teaspoon Spice Islands Vanilla Extract
¼ teaspoon almond extract
½ cup sliced OR slivered almonds (I skipped these)
Preheat oven to 350º F. Grease a 9 inch square pan or line it with non-stick foil.
Combine flour and sugars in a large mixing bowl. Set aside. Bring cocoa, butter and water to a boil in a small saucepan. Pour hot mixture over flour and sugar; stir to mix thoroughly. Mix buttermilk, egg, baking soda, spices and extracts in a smaller bowl. Add to chocolate batter and mix well. Pour into a greased 9 inch square metal pan, and bake for 20 to 25 minutes or until wooden pick inserted in center comes out clean.
To make the delicious icing:
Combine butter, buttermilk and cocoa in a medium saucepan; bring to a boil. Remove from heat and gradually stir in powdered sugar and extracts. Beat until smooth and spread over hot brownies. Sprinkle almonds evenly over top of icing.