Next time you have half a can of condensed milk to use up, consider this recipe. I tried it yesterday, and while the granola bars were not my personal favorite, they weren't awful. They taste better today, plus close to 462 people thought they were really swell.  It's probably just me, but I thought the condensed milk flavor was kind of strong and not as pleasant as it is in Hello Dollies, Dulce de Leche, Key Lime Pie and Macaroons.
I did change things a bit from the original, but not to the extent those changes would make the condensed milk flavor more prominent.  This is the half batch 8 inch pan version which I suggest you try before committing a whole can of condensed milk to this recipe.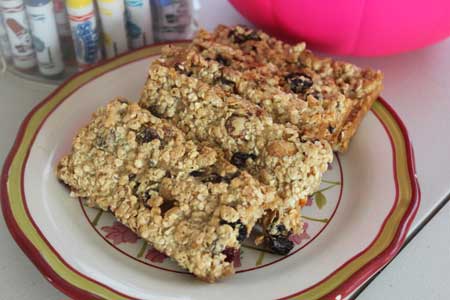 Condensed Milk Granola Bars
1 tablespoon butter
7 oz (weighed on a scale, so a little less than half cup) condensed milk
1 1/2 cups quick cooking oats
1 cup Rice Krispies cereal
1 1/2 cups assorted nuts, raisins and chocolate chips
1/4 cup marshmallows and dried cranberries
Preheat oven to 350 degrees F. Line an 8 inch square pan with non-stick foil.
In a large microwave-safe bowl, melt the butter. Stir in the condensed milk, oats, cereal and all the nuts and fruit. Press down tightly and bake for 20 to 25 minutes. Cool for about 20 minutes, then lift from pan and score while warm, then let cool completely.