My daughter is a Flour Bakery super fan, and since she lives near Boston she visits every chance she gets. She's definitely ordered a croissant or two, but her true love is Flour Bakery's sandwiches. I think they change the menu pretty often, but there was one sandwich with roasted broccoli she talked about for days. And it's funny because up until Flour, she was never much of a sandwich person. The point here is that Fuzz's Flour fixation has me reading Joanne Chang's Pastry Love, and these chewy energy bars were inspired by the Flour Power Bars recipe in the book.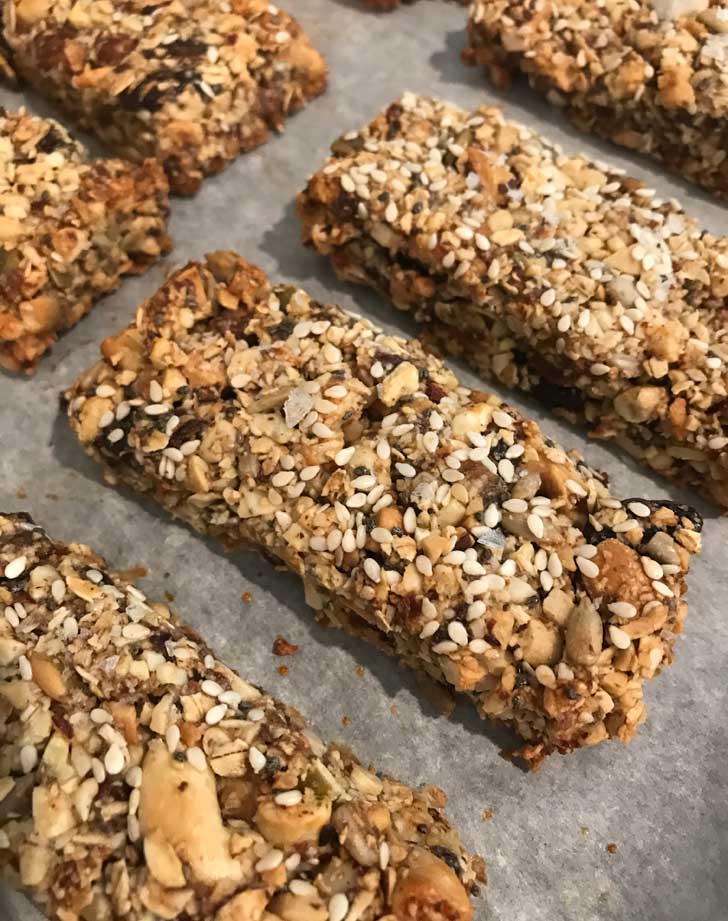 I love the name Flour Power Bars, but since the bars are gluten-free I want to give them a new name -- something that evokes energy and stamina. Right now I'm just calling them Energy Bars because they are packed with nuts, dates, seeds and sweetened with maple syrup. Also, I was happy that most of the ingredients were things I could find at Aldi. Not all (the raw cashews required a trip to Sprouts), but most. And some of the things I already had in the pantry.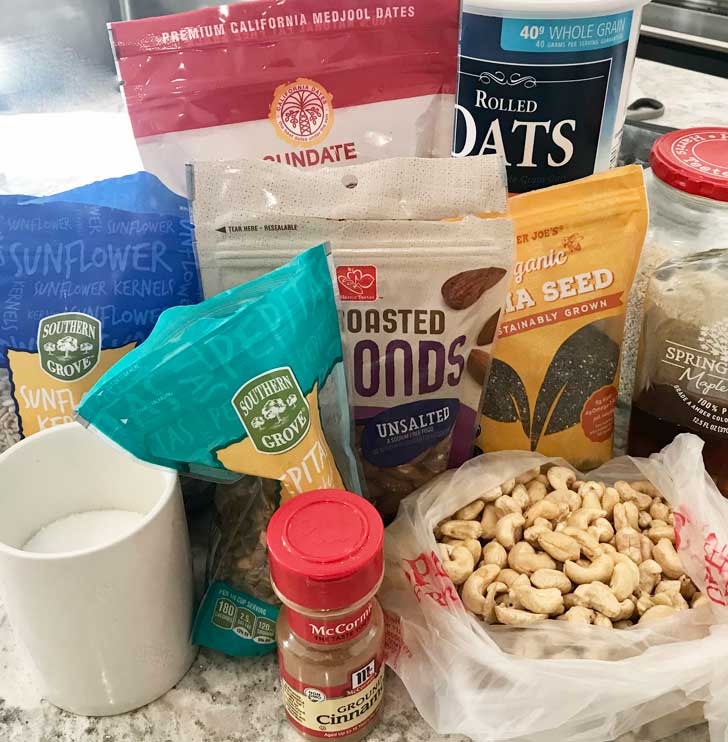 Energy Bars in a Loaf Pan or 8 Inch Pan
The shaping method for Flour Power Bars aka Energy Bars is a little different. Instead of baking them and cutting while warm, the ingredients are molded in a loaf pan, sliced, then baked. Or they can be. I made the first batch using the loaf pan method and the second by pressing into an 8 inch square pan. Both methods worked well. The ones in the square pan seemed to hold together better, but to be fair I made that batch with the Medjool dates, while I'd made my first batch with some already chopped baking dates I found in the pantry. Here's a picture of the bars before baking.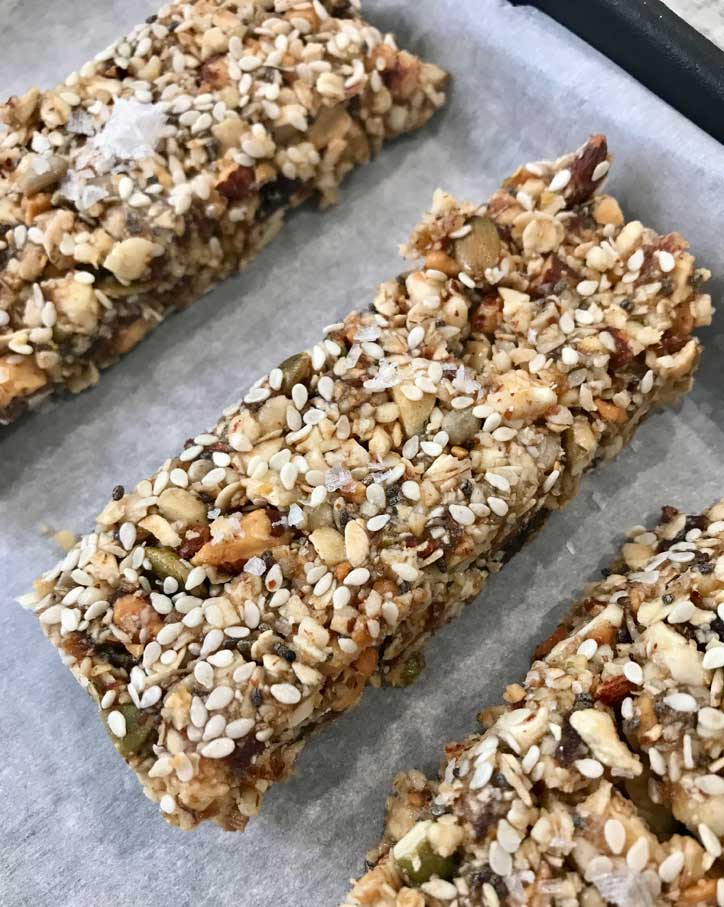 Raw Cashews vs. Roasted
The Pastry Love recipe calls for raw cashews, but I made my first batch with lightly salted cashews and they seemed to work just fine. For the second batch, I followed directions and bought some raw cashews from Sprouts. And by the way, "raw" cashews are not really raw. Truly raw cashews contain a natural toxin called urushiol, so cashews labeled raw are actually steamed. The raw cashews are not as tasty as roasted cashews, but they work well for making things like cashew cream and cashew milk. I thought they'd somehow make these bars even better, but they honestly didn't. When I get a chance to make these again, I'll probably use roasted lightly salted cashess and just cut the salt a bit.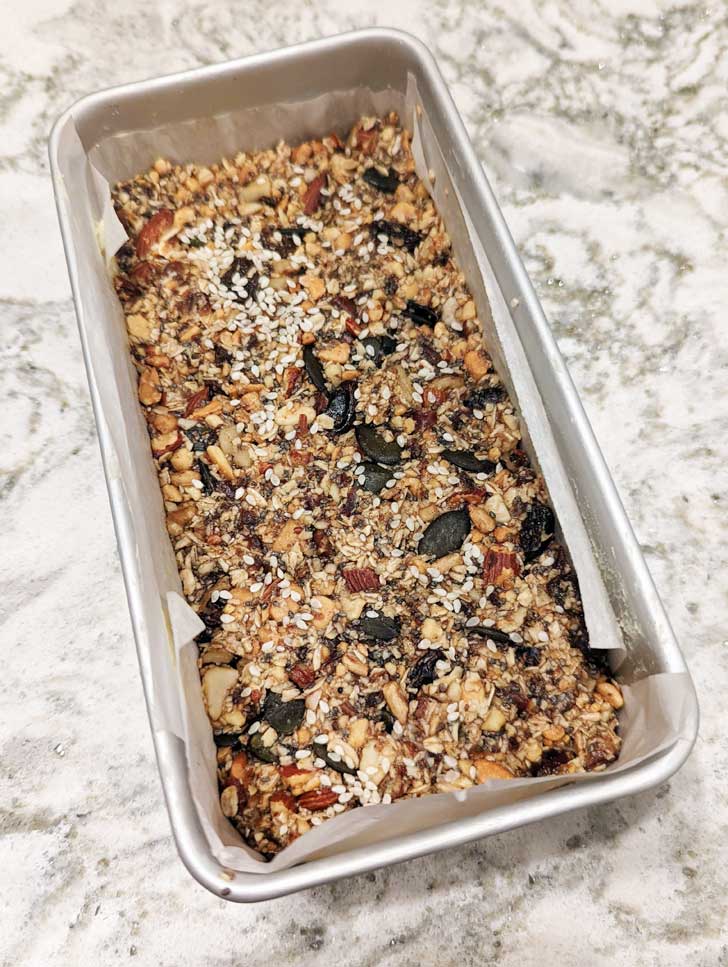 Chopped Baking Aisle Dates vs. Medjool
What did make a slight difference in the recipe were the dates. For my first batch, I used some chopped dates I found in the pantry -- the less expensive kind you find in the baking or dried fruit aisle. They actually worked quite well, though the bars were crumblier. For the second batch, I found some reasonably priced Medjool dates and used those. The Medjool dates improved the stickiness.
Energy Bars
Here's the recipe as I made it. I threw in some pepitas for color and sprinkled sesame seeds on top. The sesame seeds were not in the original recipe, but were so good! It's possible the bakery leaves them out of their recipe because so many people have sesame allergies. Also, the bars are vegan. If you do not need them to be vegan, you could incorporate a little honey. And another thing you can do if you're okay with eggs is brushing the bars with a little egg white to help them stick together. You don't have to, but it adds some extra "hold" should you wish to cut the bars into hearts! I wish I'd done these for Valentine's Day.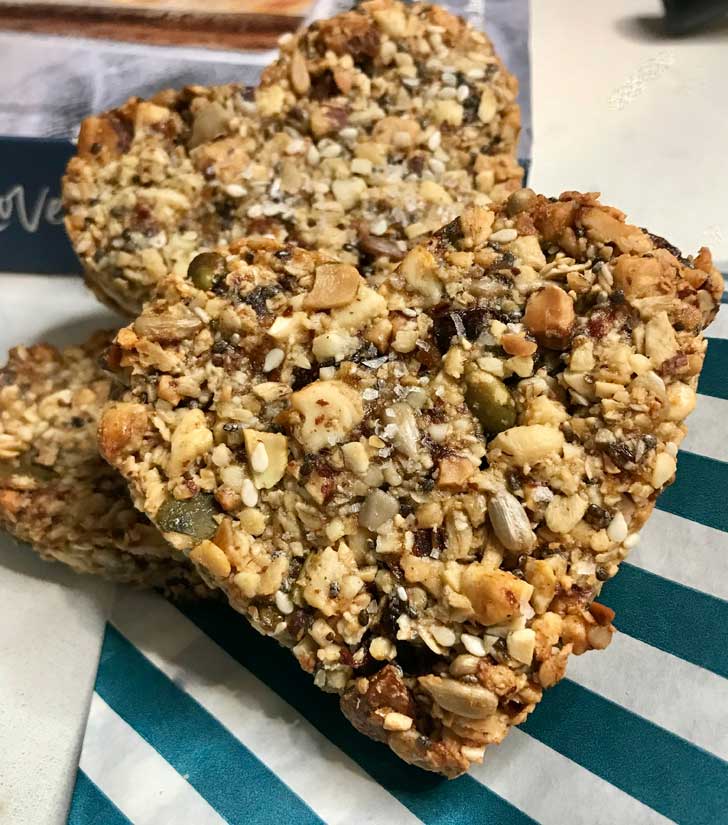 These are very good. The only downside which I found out the hard way is that they are high FODMAP due to the cashews and dates, so that could be an issue for some.
Recipe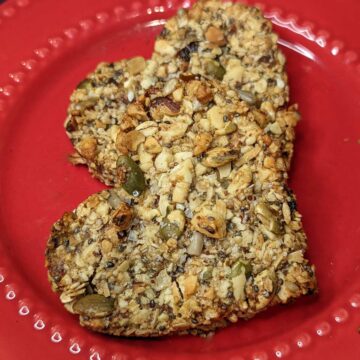 Small Batch Flour Power Bars
Smaller version of the famous bars from Flour Bakery adapted from Pastry Love.
Ingredients 
⅔

cup

roasted unsalted almonds, coarsely chopped

(85 grams)

¼

cup

roasted unsalted sunflower seeds & pepitas

(40 grams total)

1 ¼

cups

raw whole cashews (though roasted work in a pinch)

(175 grams)

¾

cup

oats

(75 grams)

½

cup

pitted dates, preferably Medjool (6 large)

(90 grams)

½

teaspoon

kosher salt

⅛

teaspoon

cinnamon

1

tablespoon

chia seeds

⅓

cup

raisins

4-5

tablespoons

maple syrup

(80 to 100 grams)

2

teaspoons

sesame seeds (optional)
Instructions 
Line an 8x4 inch loaf pan with parchment or wax paper. The loaf will not be baked. If you don't have an 8x4 inch loaf pan, you can use an 8 inch square pan.

Put the coarsely chopped almonds, sunflower seeds and pepitas (if using) in a large mixing bowl.

In the food processor, grind the the cashews, oats, dates, salt, cinnamon, and chia into a meal. Empty into the bowl with the almonds and seeds and add the raisins.

Add the ¼ cup of maple syrup and stir well. Use your hands and make sure everything holds together. If it doesn't, add another tablespoons of maple syrup.

Empty into the lined loaf pan and press down tightly. Cover and chill for at least 6 hours or overnight. This is very important.

Preheat oven to 350 degrees F and line a large baking sheet with parchment.

Remove from pan from the refrigerator and carefully pry bars out of the pan. Doing your best not to let them break, slice into bars that are maybe a little over half an inch thick. If using an 8 inch square pan, just cut into bars.

Arrange the bars on the baking tray and bake for about 15 minutes or until lightly browned around the edges.
Notes
If you'd like to cut the bars into shapes like hearts, use the 8 inch pan method and brush the unbaked bars with egg white.