If you've been searching for the perfect chewy granola bar, here's a good one for Honey Trail Mix Bars. The recipe is adapted from Olivia Dupin's The Complete Guide to Naturally Gluten-Free Foods
, which has become one of my favorites as of late. Everything I've tried so far has been fantastic, and the book is an interesting read.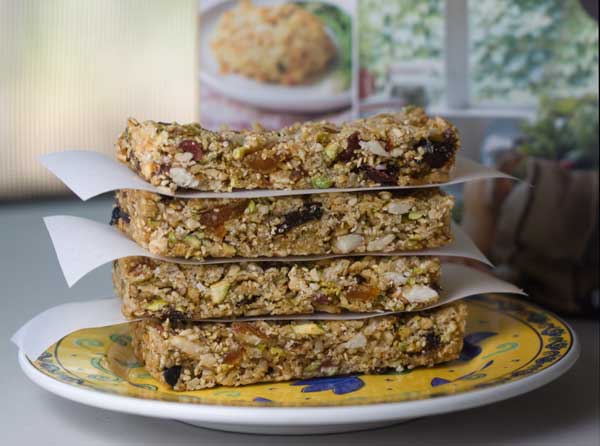 The Complete Guide to Going Gluten-Free
Subtitled "Your Starter Manual to Going G-Free the Easy, No-Fuss Way", this book lives up to its promise. It's a "manual" in that it includes basic information on auto-immune diseases and wheat allergies. It covers things like how to get tested, adapting to the gluten-free lifestyle and feeding gluten-free kids. But it's also very personal. Olivia opens with her story of being diagnosed as a celiac. She then goes to to explain how it how affected her body, and how she dealt with it emotionally and professionally.
I kind of expected she'd launch into how she immediately changed her diet and everything was perfect, but that wasn't the case. Instead she gives an honest account of what happened when she cheated, and what it took to really change. In short, she is easy to relate to and I think this book would be perfect for anyone starting a wheat free diet or cooking for someone who needs to.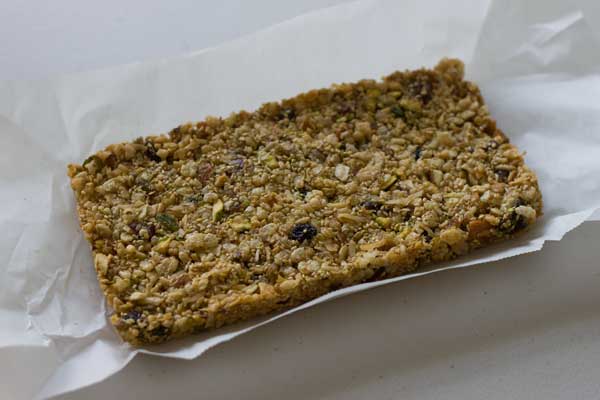 Honey Trail Mix Bars
Now back to the bars! The recipe is great for using up rice cereal. I chose this recipe with the intent of using up some rice cereal. There's a lot going on these bars, but the time it takes you to collect ingredients is totally worth it.  The bars are held together mainly by honey, so the honey flavor is prominent. However, you'll also taste the nuts, dried fruit and sesame, so you might like these even if you're not totally in love with honey.
Recipe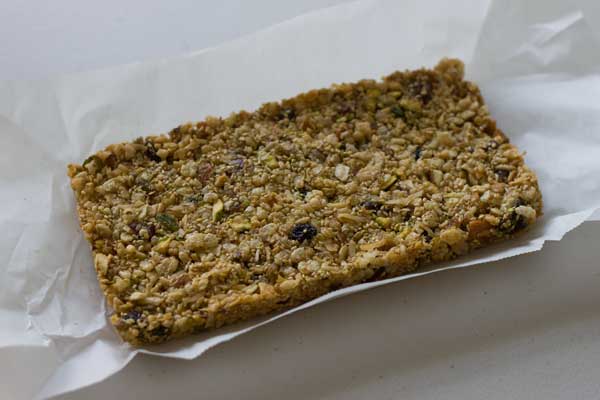 Honey Trail Mix Bars
Gluten free chewy granola bars made with honey.
Ingredients 
1 ½

cups

40 g crispy brown rice cereal (e.g. gluten free Rice Krispies)

½

cup

75 g whole cashews

½

cup

70 g whole almonds (I used roasted)

½

cup

75 g roasted shelled pistachios

½

cup

50 g whole pecans or walnuts

1

cup

135 g mixture of dried fruits (I used dried cranberries, apricots, cherries)

¼

cup

36 g sesame seeds

¼

cup

28 g flaxseed meal

¼

cup

20 g flaked coconut

½

cup

170 g honey

¼

cup

60 g firmly packed brown sugar

¼

teaspoon

salt

2

tablespoons

16 g cornstarch
Instructions 
Preheat the oven to 300°F . Line a 9 inch square metal pan with parchment paper. If making a half batch, use a 9x5 inch loaf pan instead.

In a large mixing bowl, combine the cereal, cashews, almonds, pistachios, pecans, dried fruit, sesame seeds, flaxseed meal, and flaked coconut. Set aside.

In a medium saucepan, combine the honey, brown sugar, salt, and cornstarch. Bring to a gentle boil over medium heat. Pour the mixture over the dry ingredients and toss until evenly coated.

Transfer the mixture to the prepared pan. Use another piece of parchment paper to press down the mixture so that it is flat and evenly distributed to the corners of the pan. Remove top layer of parchment and bake for 30 minutes. Let cool completely in the pan for several hours.

Turn the mixture out onto a cutting board, peeling away the parchment paper on the bottom. Using a serrated knife, cut into 16 squares. Store in a zipper-top bag or an airtight container at room temperature for about a week.