Today's dessert was inspired by the Angel Strawberry Bavarian I found on the Duncan Hines website. It's an angel food cake  broken up and suspended in a matrix of strawberry flavored cream, and I say "inspired" because while I'd intended to make the actual recipe, I ran into a few obstacles.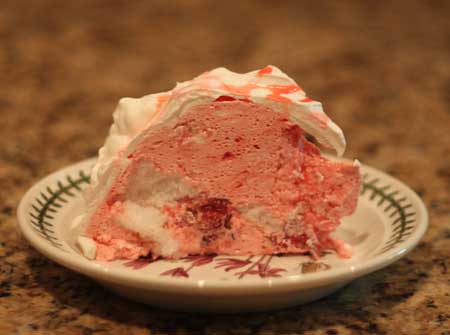 The recipe starts with a box of Duncan Hines angel food cake mix which you bake in a tube pan.   Sadly, I lost mine in the move and never bothered buying a new one so I ended up using a store-bought angel food cake.    But then came issue number two.  You're supposed to mold  the Bavarian in the tube pan you used to bake the cake. To conquer that issue, I just lined a big mixing bowl with plastic wrap and made the Bavarian as a dome.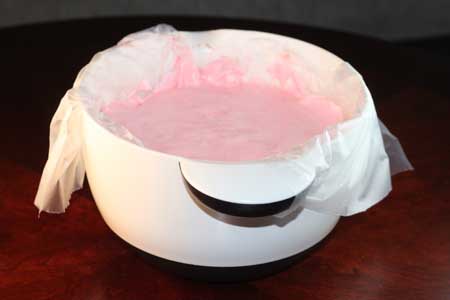 Here's what it looked like when I turned it out -- creepy, but kind of cool at the same time.
Generally, covering the whole thing with sweetened whipped cream would improve the appearance, but my lighting and the fact I decided to garnish with a little strawberry milk flavoring just ramped up the creepiness.  But hey, Halloween is right around the corner, right?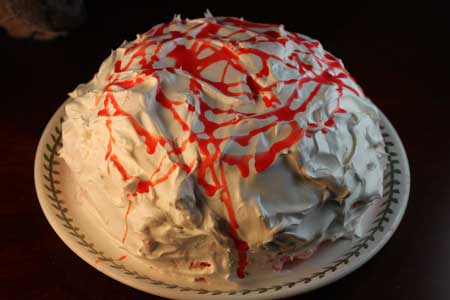 All kidding aside, it was pretty tasty.  As a bonus, and one of the reasons I didn't bother making it all from scratch is that using the "lite" version of Cool Whip really cut the calories and fat.  I could have lightened it even more by using sugar free Jell-O, but I didn't.  Here's the recipe as I made it and a link to the original version on Duncan Hines.
Strawberry Malt Bavarian
1 pkg Duncan Hines® Angel Food Cake Mix or a baked angel food cake
1 (3 oz) pkg strawberry gelatin
1 cup boiling water
1 (10 oz) pkg frozen sliced strawberries, thawed – I used unsweetened
¼ cup malted milk powder
2 (8 oz) containers non-dairy whipped topping, regular or light, divided
Bake and cool cake as directed on package or pick one up at the grocery store. Cut cake into 1-inch cubes or just tear it into randomly sized chunks, which is what I did.
Combine gelatin and boiling water in small bowl. Stir until gelatin is dissolved. Add enough water to strawberry juice to measure 1 cup; stir into gelatin/water mixture. Refrigerate for about an hour or until gelatin is slightly thickened – about the consistency of jelly or gel. Beat gelatin with an electric mixer until foamy.
Fold in a container of whipped topping, the malted milk powder and the drained strawberries.
Alternate layers of cake bits and strawberry mixture in a 9 or 10 inch spring form pan or in a large glass bow which you've lined with plastic wrap (as shown). Press lightly. Cover and refrigerate for at least 4 hours. Unmold cake onto serving plate. Frost sides and top of cake with remaining whipped topping. Refrigerate until ready to serve. Garnish strawberry milk flavoring or fresh strawberries or mint leaves etc.
Here's the recipe as I made it.  I felt compelled to add malt powder to the strawberry mixture which is why it's "strawberry malt" and not just "strawberry".  The malt makes the flavor more interesting.