This weekend Fuzz and I donated some homemade treats to a local bake sale. On our way out, we picked up a few items for ourselves, including a cupcake which Fuzz ate in the car on the way to Karate class. Fuzz has eaten lots of cupcakes in her 10 years, but this one must have been special because I kept hearing "Mmmm, this is a really good cupcake." from the backseat of the car. I was a little jealous, so when we got home I went to the cupcake baker's blog to see if he'd posted the recipe. Nope. But he did have another good recipe -- Chocolate Mint Chip Cookies which he made using a recipe for Mudslides.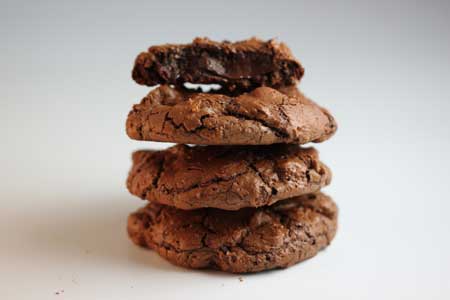 Russell's recipe was from one of his pastry student books and used weights. I added the volume measurements for those of you who don't have scales, and I made a few minor changes to technique. Wow, were these ever good. It had been a while since I'd had big, rich, thick mudslide type cookies and I'd forgotten how much I loved Mudslides. If you have some really good bittersweet chocolate around, this is a good way to use it.
Recipe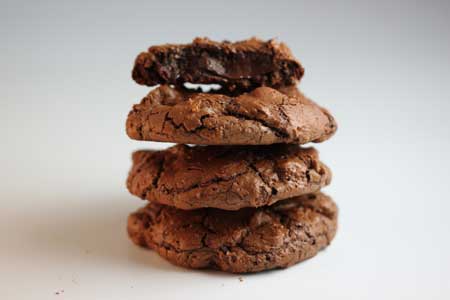 Chocolate Mudslides
Ingredients 
¼

cup

plus 1 tablespoons cake flour

1 ¼ oz

¾

tsp.

baking powder

Pinch

of salt

2 ¾

oz.

unsweetened chocolate

chopped

8

oz

bittersweet chocolate

chopped

3

tablespoons

unsalted butter

3

large eggs

weigh to make sure there are 6 oz

1

cup

plus 2 tablespoons granulated sugar

8 oz

1

teaspoon

vanilla extract

10

oz

chocolate chips or chunks
Instructions 
In a small mixing bowl, stir together cake flour, baking powder and salt; set aside.

In a microwave-safe bowl, combine both chocolates and the butter. Melt on 50% power stirring at 30 second intervals. Let cool slightly.

Meanwhile, in the bowl of as stand mixer or with a hand-held electric mixer, beat the eggs until light. Beat in the sugar and the vanilla. Beat in the melted chocolate. With a mixing spoon, add the flour mixture and stir just until incorporated. Stir in the chocolate chips or chunks.

At this point the batter is fairly loose and more like cake batter. Chill batter for about 1 hour to thicken.

Preheat oven to 350ºF. Line two large baking sheets with parchment paper or non-stick foil.

With a quarter cup measure, scoop out large mounds (2 oz each) of dough and arrange on the baking sheets spacing 2 ½ inches apart; bake for 12 minutes or until tops are cracked. Let cool on the baking sheet for a few minutes, and then transfer to a wire rack to cool completely. Repeat with remaining dough to make 18 large cookies.