As a recipe collector who's been known to bake cookies from time to time,  Tracey Zabar has made my cookbook dreams come true.   One Sweet Cookie: Celebrated Chefs Share Favorite Recipes
, is one sweet read and a must for your own personal collection.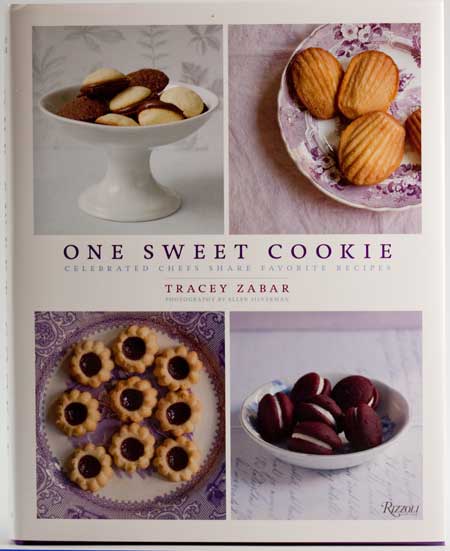 This book is special, and if you are a true cookie lover you will immediately recognize that Zabar is too. The photography and the recipes represented are evidence that she's a true home cook with an appreciation of cookies that are simple to slightly more complex but all quite doable for the average person.
While the recipes are from culinary personalities, they're not straight out of pastry textbooks, but rather the cookies chefs make at home.  Mario Batali shares his family's Crazy Cowboy Cookie, Marcus Samuelsson talks about the Ginger Citrus Cookies he ate as a child growing up in Sweden, Alex Stupak of Alinea and WD-50, shares a simple recipe for Snickerdoodles (no liquid nitrogen involved!) and Marc Murphy of Landmarc fame makes peanut butter cookies.   And that's just a sampling
As for the photography, it's gorgeous yet not too overdone. Cookies are displayed with a few props under soft, shadowy lighting. Every time I turned the page I expected the simple cookies to give way to aspirational cookies I'd probably never make, but thankfully they did not.  As far as cookie books go, this is the best one I've seen in a while and would make a great investment for any baker or a nice gift.
One Sweet Cookie: Celebrated Chefs Share Favorite Recipes