My investment in a Food Network Magazine subscription has paid off again. You know the little insert they always include in the magazine — the one with 50 free recipes? Well, this month it features pie, and out of all 50 the one I chose first was S'mores Pie.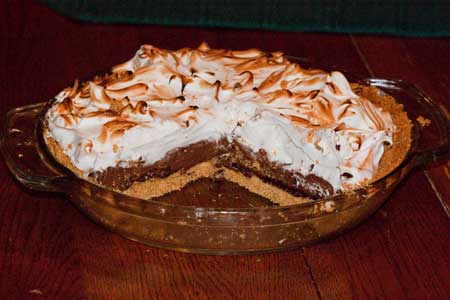 If you don't have access to a Food Network magazine, you can grab all 50 pie recipes off their website. Because of space issues, they wrote them in such a way where they say take crust "x" and fill it with all or half of filling "y" and top it with topping "z". For convenience, I went ahead and just wrote out the recipe as I made it. I used a slightly different graham cracker crust and added vanilla to the marshmallow topping, which I have to admit was pretty interesting. It's not a 7-Minute Icing nor is it a meringue, but rather this mixture of hot egg whites beaten with cream of tartar and dissolved confectioners sugar. On paper it looks like kind of a pain, but it's actually really simple. All you need is a hand-held mixer. Here it is before I took out the torch and burnt it.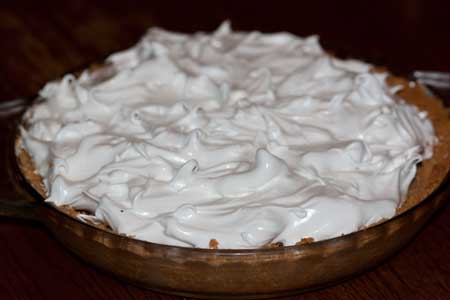 If you don't have a torch, you can use the broiler. But buy a torch! They're so fun! Plus you can make creme brulee.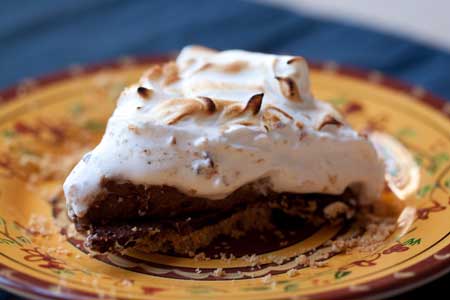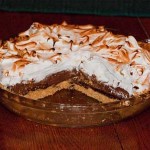 Print Recipe
S'mores Pie
Chocolate pie with a graham cracker crust, chocolate filling and marshmallow topping.
Ingredients
Graham Cracker Crust
1 2/3

cups

graham cracker crumbs

1/3

cup

granulated sugar

6

tablespoons

unsalted butter

melted

Pinch

of salt

omit if using salted butter

3-4

oz

semi-sweet chocolate

for brushing over the crust
Chocolate Filling
1

cup

whole milk

1/4

cup

granulated sugar

2

tablespoons

cornstarch

1/4

teaspoon

salt

2

large egg yolks

reserve the whites for topping

1

tablespoon

brewed coffee

cooled

2

ounces

semisweet chocolate

chopped

1/4

teaspoon

vanilla extract
Topping
3

large egg whites

1

teaspoon

cream of tartar

1 1/4

cup

confectioners' sugar

1/2

teaspoon

vanilla extract
Instructions
Preheat oven to 375ºF. Mix graham cracker crumbs, sugar and butter. Press mixture into a greased 9 inch glass deep dish pie plate and bake for about 7 minutes. Let cool.

When cool, melt about 3 to 4 ounces of chocolate in the microwave using 50% power and stirring every 30 seconds. Brush over cooled crust. Let cool and set, then chill so that it's very cold (if it's cold, there's less chance of it melting if you put a slightly warm filling over it).

Heat the milk in a large saucepan until very hot. Meanwhile, mix the sugar, cornstarch and salt in a large bowl, then whisk in the egg yolks and coffee Whisk half of the hot milk into the egg mixture until smooth, then gradually whisk the egg mixture into the pan with the remaining milk. Cook over medium heat, whisking constantly, until the mixture boils and thickens, 3 to 5 minutes. Remove from the heat and whisk in the chocolate until melted. Whisk in the vanilla. Transfer to a bowl and cool slightly, stirring a few times to prevent a skin from forming. I let it cool just to a point where I felt it wouldn't melt the shell of chocolate I'd brushed over the crust. Pour the filling into the crust; press plastic wrap directly onto the surface and chill until set.

Make the marshmallow "ish" topping. Beat the three egg whites, cream of tartar and confectioners' sugar in a metal bowl set over (but not touching) simmering water with a mixer until the sugar dissolves. Remove from the heat and beat until stiff. Beat in the vanilla. Spread or drop in dollops across top of the pie and keep chilled until ready to serve.

Before serving, grab a torch and torch the top.