So what's the point of chocolate extract? As an extract enthusiast I've asked myself that a number of times, and as a penny pincher, I've avoided buying a bottle because I couldn't think of a good way to use it and it seemed redundant in chocolate cake and brownies. Luckily, Nielsen Massey helped me out on both counts by sending a sample of their chocolate extract and posting a perfect recipe for using it on their website. Pictured below are their Not So Blonde Brownies.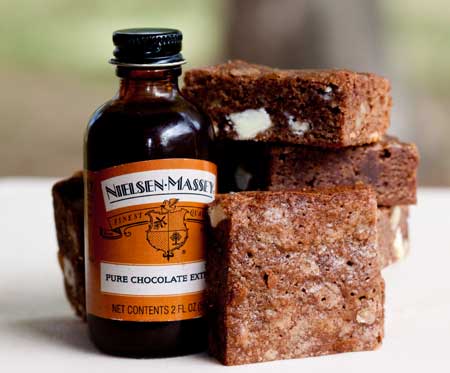 After opening the bottle and taking a whiff, I had an instant sense memory of the time I tried to feed Fuzz liquid vitamins. I had faith that once added to the batter, my chocolate extract would take on a new and better aroma than vitamins, so on with the recipe....vanilla, eggs, chocolate extract, Kahlua. The vitamin smell was gone and a new essence took over the batter. It smelled like packaged brownie mix! I liked it, and I started thinking of all the people who'd emailed me asking for a scratch brownies mix that tasted like boxed.
But as I continued on with the recipe and baked the brownies, the smell changed again. Now they smelled and tasted like cocoa. Really, what I was tasting was the mixture of chocolate, vanilla and Kahlua but the chocolate tasted more like cocoa in a very natural way.
This was a great recipe for using chocolate extract because there wasn't so much cocoa powder as to overpower the flavor of the extract.
Here's the Not So Blonde Brownies recipe from Nielsen Massey. I halved it and baked it in an 8 inch square metal pan.
Recipe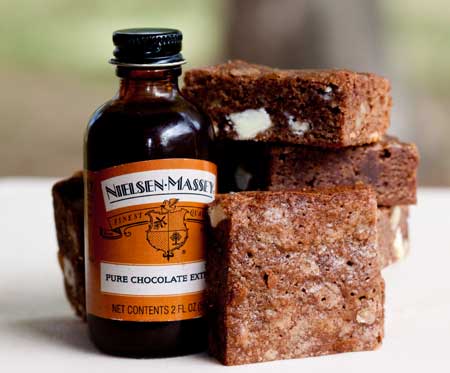 Not So Blonde Brownies
A light chocolate brownie with a delicate cocoa essence
Ingredients 
1 ¼

cups

6 oz unbleached all-purpose flour

¼

cup

unsweetened cocoa

½

teaspoon

baking soda

¼

teaspoon

salt or use ½ tsp if using unsalted butter

½

cup

1 stick butter, softened

½

cup

firmly packed dark brown sugar

1

cup

granulated sugar

2

teaspoons

Nielsen-Massey Madagascar Bourbon Pure Vanilla Extract

3

large eggs

½

teaspoon

Nielsen-Massey Pure Chocolate Extract

2

tablespoons

Kahlúa

1

cup

coarsely chopped white chocolate

¾

cup

coarsely chopped nuts of choice

I used toasted walnuts
Instructions 
Preheat the oven to 350 degrees. Line a 13x9 inch metal pan with foil and spray foil with cooking spray.

Sift the flour, cocoa, baking soda and salt together. Set aside.

Cream the butter, brown sugar, granulated sugar and vanilla extract in a mixing bowl using an electric mixer on medium speed. Add the eggs one at a time, beating well after each addition. Beat in the chocolate extract and Kahlúa. Add the sifted dry ingredients in two additions, beating well after each addition. Fold in the white chocolate chunks and nuts.

Spray a 9 x13-inch baking pan with nonstick cooking spray. Spread the batter over the bottom of the pan with a rubber spatula. Bake for 30 to 35 minutes or until the brownies begin to pull away from the sides of the pan.

Makes 32