My macaron making skills have progressed a bit since I posted my first attempt at macarons. These days I use a combination of two recipes -- a macaron base (the shells) from a blog called Duhlicious, and a buttercream filling recipe Joanne Chang shared in Fine Cooking.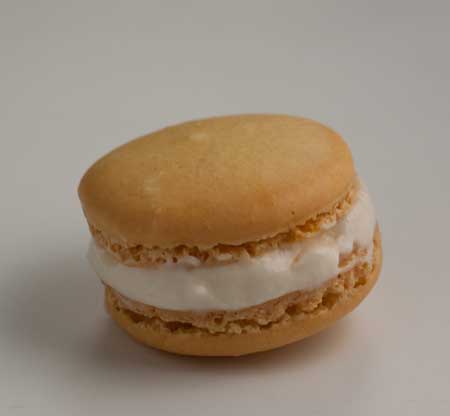 Some batches look better than others and this post is due for a new photo!  For now, here is the recipe.
Recipe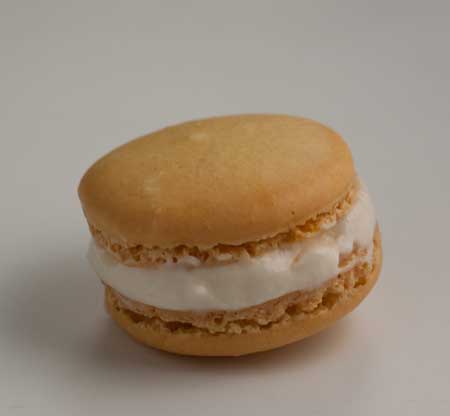 Great Macaron Base and Filling
An easy recipe for macarons with buttercream filling.
Ingredients 
1

cup

120 grams confectioners' sugar

¾

cup

90 grams extra fine almond flour, Trader Joe's or King Arthur

2

large egg whites

at room temperature (53 gram)

¼

cup

extra fine sugar

50 grams

⅛

teaspoon

cream of tartar

¼

teaspoon

vanilla bean paste or ½ teaspoon vanilla extract

1

tiny drop yellow food coloring paste
Buttercream Filling
½

cup

100 grams granulated or extra fine sugar

2

large egg whites

use pasteurized eggs if possible

1

stick

114 grams unsalted butter, at room temperature, cut into 6 pieces

½

teaspoon

vanilla extract

Pinch

of kosher salt
Instructions 
Line two large baking sheets with parchment paper. Fit a ½ inch round tip in a pastry bag.

Sift together the almond flour and confectioners sugar and set aside.

Using an electric mixer, beat egg whites until foamy. Very gradually add the fine sugar and cream of tartar. Continue to beat until egg whites have the consistency of shaving cream. Beat in the food coloring and vanilla.

Using a rubber scraper, fold the flour mixture into the egg whites until fully blended.

Transfer mixture to the pastry bag. The batter will probably be a little runny and ooze out of the tip a bit, so I suggest standing the bag in a glass while you pour the batter into it.

Carefully pipe 1 inch rounds onto the prepared baking sheets. Allow the piped rounds to rest for about 45 minutes. The will lose their sheen and be a little more matte.

Preheat oven to 375′F.

Place 1 tray of cookies in the oven, and reduce temperature to 325′F immediately. Let the cookies bake for about 15 minutes. Remove from oven and let cool completely before peeling off the sheet. Meanwhile, increase oven temp to 375. Put the second tray of cookies in when it hits 375, then reduce to 325 and bake for 15 minutes.

Whisk the sugar and egg whites together in the stand mixer bowl and set over the simmering water. Whisk for about 5 minutes or until the mixture is hot to the touch and sugar has melted. If you are not using pasteurized eggs, test to make sure the eggs are at least 140 degrees F.

Move bowl over to the stand mixer fitted with a whisk attachment. Beat mixture on medium-high until billowy and white and cool to the touch (about 6 minutes). Reduce speed to low and with the mixer going, add chunks of butter one at a time. Add vanilla and a pinch of salt. Increase mixer speed to medium and beat for 1 minute or until creamy and smooth. Fill the macarons with the soft buttercream, then chill them just long enough to set. Store the macarons in the freezer in a freezer bag.