Rainbow Cookies are a lot of work. With all the utensil and pan gathering, dough coloring, egg separating and dough spreading, they're like an art project, and I gave up crafts years ago.  As I make them, I usually think "Never again!", but all that goes out the window when they're done. Rainbow Cookies are so pretty!  The sink full of dishes and food coloring spattered kitchen are (usually) worth it.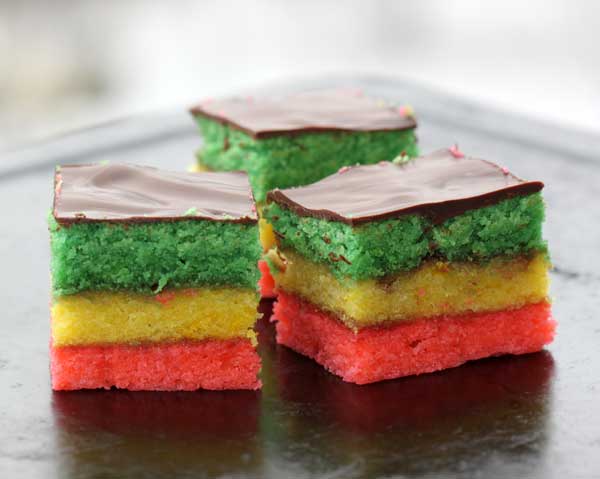 This recipe for Rainbow Cookies is from my good friend, Marisa, whose family has been making them for years. Given Marisa's fondness for them, I made a batch this morning.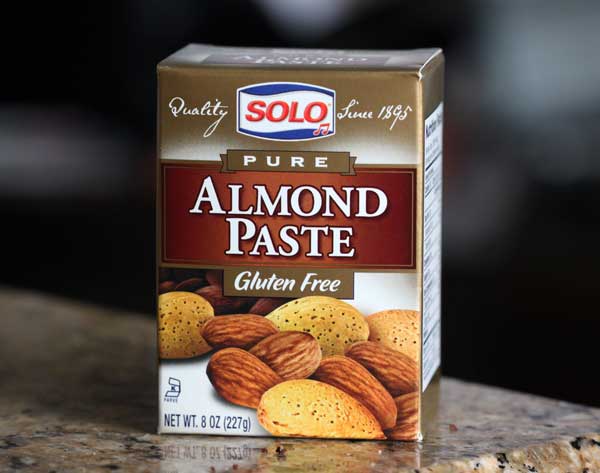 Odense and Solo Almond Paste
Unlike some versions which call for almond pie filling, these are best made with almond paste.  In Texas I could only find a brand called Odense, but here in Chicago I found some by Solo, the company that also makes the pie filling. Speaking of which, I don't recommend substituting pie filling. I tried it and the Rainbow Cookies were okay, but not quite as good. With this recipe, the batter is thick and more like a dough, so you get richer, denser cakes.  As the cakes sit, the apricot or raspberry preserves sandwiched between each layer soften them up, so these are even better on Day 2.
Let me know if you try the recipe, and feel free to comment or email if you have questions.  Here's one final tip: Stop by Michael's or wherever and buy some of the Wilton food coloring gel.  The regular grocery store food coloring is a little thin and the colors won't be as vibrant.
Recipe
Marisa's Rainbow Cookies
Marissa's Rainbow Cookies are rich almond flavored cakes layered with raspberry preserves and topped with chocolate.
Ingredients 
8

oz

almond paste

such as Solo or homemade

3

sticks

unsalted butter

(12 oz/330 grams)

1

cup

granulated sugar

1

teaspoon

almond extract

½

teaspoon

salt

decrease to ¼ if using salted butter

4

large

eggs

separated

2

cups

all-purpose flour, makes sure to stir it and fluff before measuring

(9 oz/250 grams)

Food coloring -- red

green and yellow (I recommend the Wilton paste)

Raspberry or Aprictot preserves

or apricot

1

cup

semisweet or bittersweet chocolate chips

1

teaspoon

shortening or coconut oil
Instructions 
Preheat oven to 350 degrees F. Grease three 9x12 inch or 8x12 inch pans and line bottoms with wax paper. Grease the wax paper. Alternatively, you can use nonstick foil.

Break up the almond paste in the bowl of a stand mixer. Add the butter and beat until well mixed, then add the sugar, almond extract , salt and yolks and beat for about 3 or 4 more minutes with the paddle.

By hand or using the lowest speed of the mixer, stir in the flour, scraping bowl often.

In a separate bowl, beat the egg whites until stiff peaks start to form. Fold them into the batter and stir until well blended. Batter will go from being very thick, to a little looser than chocolate chip cookie dough.

Divide batter evenly among 3 mixing bowls, about 1 ½ cups per pan or by weigh, 14 oz in each bowl. Or just eyeball it.

Dye the batters red, green and yellow.

Spread the batter evenly in each of the pans. This is a chore. Spread first with a knife or spatula, then go back and press lightly with damped fingers right before baking. Keep the layers as even as possible.

Bake cakes at 350 F for 12 to 15 minutes or until a toothpick inserted comes out clean. Note: Time may vary, so check a 12.

Let the cakes cool completely in the pan.

Lay a large sheet of plastic wrap on a flat surface and transfer one cake to the plastic wrap, leaving a large overhand for wrapping. Spread a thin layer of preserves over the cake.

Carefully place the second layer of cake on top of the preserves. Spread the plain cake with a second layer of preserves. Carefully place the third cake on top to make a stack.

Bring the plastic wrap up and around the stack of cakes and then freeze for about an hour or until solid.

Melt the chocolate and shortening (if using) in a microwave using high heat and stirring every 30 seconds. Spread the melted chips over the frozen cake.

When chocolate is set but not quite hard, cut the cake into squares.
Notes
For the pans, I recommend Handifoil brand shallow pans which are about 12x8 inches. The original recipe called for 13x9 inch pans, but I think the layers would be very thin using that size pan. If you do use that size pan, the cakes will be done sooner than 12 minutes.
Also, the yield is approximate. Changing the pan size and how much you end up trimming the edges will affect how many cakes you get.