Have you ever made granola with molasses? How about almond extract? When I saw Crunchy Cranberry Granola on the Fisher Nuts site, I was curious to see how those two ingredients would work and made a quick batch.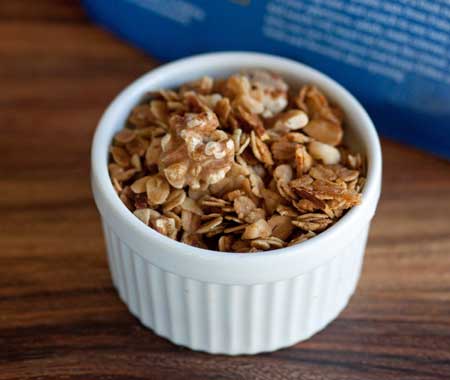 I chickened out on the molasses, though. Two tablespoons seemed like a lot of molasses for such a small batch of granola, so I made the cranberry granola with 1 tablespoon molasses and increased the maple syrup a bit. At first I could really taste the molasses, but then the flavors kind of mellowed out.  After a few days of eating this I can hardly taste the molasses at all, so I think I'm going to  make another batch with the full amount. I'll let you know in the comments section or write a little update after I've increased the molasses.  Don't lose any sleep waiting!
Update:  I now make this granola fairly often, and I do use the full 2 tablespoons of molasses.  I also like to bake it at 300 instead of 325 and I never stir it because we prefer chunky granola.  Other changes I sometimes make are to add about ¼ teaspoon of ground ginger and add a sprinkling of sea salt before baking.
Recipe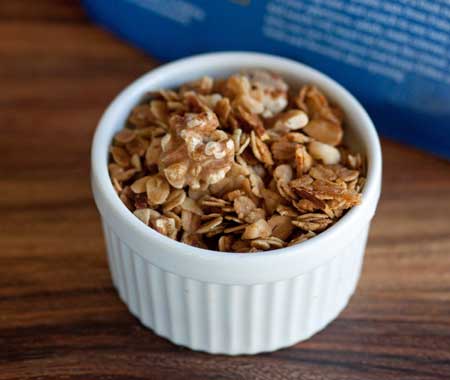 Crunchy Cranberry Granola
An easy granola recipe from Fisher Nuts
Ingredients 
⅓

cup

canola oil

or any other vegetable oil

⅓

cup

maple syrup plus 1 tablespoon

1

tablespoon

molasses

or use two and omit the extra T. of maple syrup

1

teaspoon

almond extract

1

teaspoon

ground cinnamon

2

cups

rolled oats

not quick cooking

½

cup

Fisher® Chef's Naturals Walnuts Halves and Pieces

coarsely chopped -- I used ¾ cup

¼

cup

Fisher® Chef's Naturals Sliced Almonds -- I used ¾ cup

½

cup

flaked coconut

¼

cup

unsalted pumpkin seeds -- omitted

¼

cup

unsalted roasted sunflower seeds -- omitted

¼

cup

Fisher® Dried Sweetened Cranberries
Instructions 
Preheat oven to 325°F. Line a large heavy rimmed baking sheet or jelly roll pan with non-stick foil or parchment.

In small bowl combine oil, maple syrup, molasses, almond extract and cinnamon; stir well.

In large mixing bowl combine oats, walnuts, coconut, almonds, pumpkin seeds (if using), and sunflower seeds (if using). Slowly pour maple syrup mixture over at mixtures; toss to coat.

Spread oat mixture evenly onto pan. Bake 18 to 20 minutes or until golden brown; stirring halfway through baking. For clumpier granola, don't stir -- just press it down into a thin sheet, let it cool completely, and break into chunks

Remove from oven; cool slightly. Stir in cranberries; cool completely.