I apologize if this is too Christmas-y for you, but I just found out about it today. My mom had tried it over the holidays and asked if I'd ever had "Red Hot Cinnamon Popcorn".  I hadn't, but was determined to find a recipe and make her a new batch.  Not being a fan of Red Hots, I was surprised at how good they were melted on popcorn. And while my favorite flavor is still caramel, My mom liked this a lot.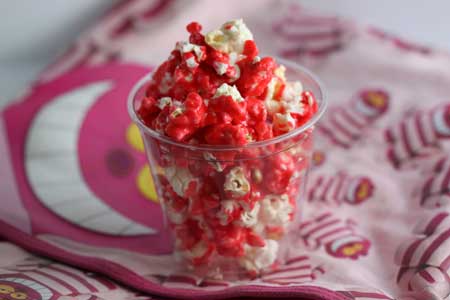 Thanks to Amy at Amy's Finer Things for the recipe. Since I wasn't sure whether we'd like it at first, I made a half batch using 1 bag of microwave popcorn (about 6 cups), half the amount of candy coating ingredients and a small saucepan. I also used a candy thermometer and made sure to take it off right at hard ball stage.  We discussed cinnamon oil. Amy's recipe calls for it, but I didn't have any and left it out. The popcorn was great without it, but it would be fun to try it with even more of a cinnamon punch.
Recipe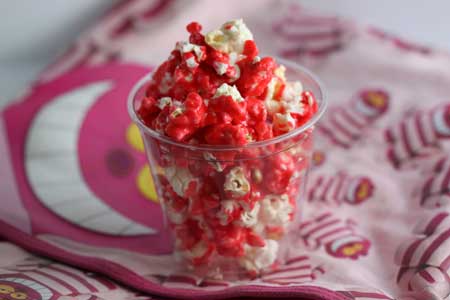 Red Hot Cinnamon Popcorn
Red Hot Cinnamon Popcorn is a lot of fun all through the year, but it's especially nice during the holidays.
Ingredients 
4

tablespoons

unsalted butter plus extra for pan

¼

cup

granulated sugar

2

tablespoons

light corn syrup

¼

cup

plus 2 tablespoons Red Hots

⅛

teaspoon

baking soda

6 to 8

cups

I used 6 popped microwave popcorn
Instructions 
Preheat oven to 250 degrees F. Butter a large roasting pan.

In a small nonstick saucepan, melt the butter over medium heat. Add the sugar, corn syrup and Red Hots and continue stirring until the red hots are melted. Once they're fully melted, insert a candy thermometer and continue heating for 3 minutes or until the candy reaches hard ball stage. Remove from heat and immediately add baking soda. Pour over the popcorn, then empty into the roasting pan.

Bake at 250 for 1 hour, stirring every 15 to 20 minutes. Cool completely. Break into pieces.
Notes
If you have some cinnamon oil, add a few drops after you add the baking soda.