Today's delightfully retro recipe is from Best of the Bake-Off, Pillsbury's Best 1,000 Recipes, a book of classics from which many a modern version has evolved. If your mother or grandmother remembers a recipe from the '50s, chances are the original is here.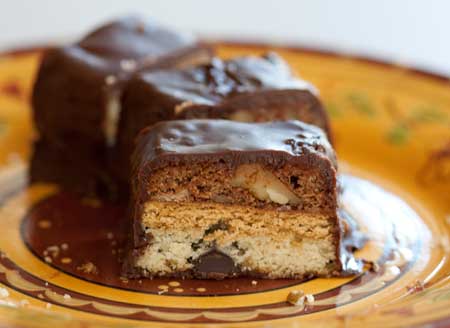 The recipe for By Cracker Bars had been on my radar for a while, but for some reason I never got around to baking it until this morning. It's a bar cookie with a chocolate bottom, graham cracker center, and chocolate chip top. I expected it to be quite a bit richer than it was and more like a brownie/blondie combo, but it was actually very light and sandy textured. While delicious on its own, I felt compelled to dip it into a mixture of melted butter and chocolate, which is why the first picture is not quite representative of what a By Cracky bar should be. Here's what they really look like.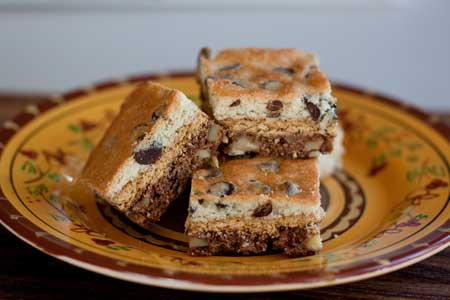 Whether you make them with or without the melted chocolate, they're good, plus I suspect you'll be able to come up with some interesting variations. The most important thing is to make sure you sift the flour and measure with a gentle hand or weigh out 7.5 oz. I saw some other versions of the recipe on-line where people have left out the word "sifted" causing others to use too much flour.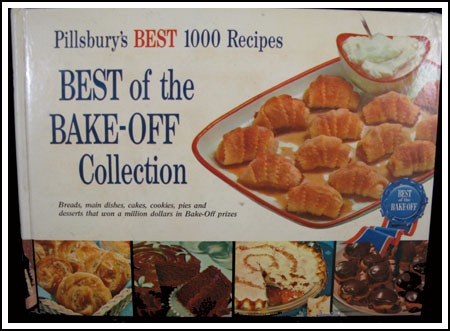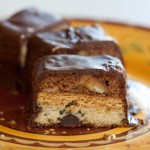 Print Recipe
By Cracky Bars
By Cracky Bars
Ingredients
1 3/4

cups

sifted all purpose flour

7.5 oz at the most

1/2

teaspoon

salt

1/4

teaspoon

baking soda

12

tablespoons

butter

softened (I used unsalted)

1

cup

granulated sugar

2

large eggs

1/3

cup

whole milk

1

teaspoon

vanilla extract

1

ounce

unsweetened chocolate

melted and cooled

3/4

cup

walnuts

toasted and chopped

9

double graham crackers

3/4

cups

semi-sweet chocolate chips

at least
Instructions
Preheat oven to 375 degrees F or 350 degrees F. I used 350F.

Line a 13x9 inch metal pan with foil and spray with baking spray. If making a half batch, use an 8 inch square metal pan.

Mix the sifted flour, salt and baking soda in a small bowl and set aside.

In mixing bowl, using an electric mixer, cream butter and sugar until light. Add eggs one at a time, beating well after each addition. Mix milk with vanilla. Add flour and milk alternately to creamed mixture, beating well. Take 1/3 of the mixture (I recommend slightly more than 1/3) and put in a separate bowl with the melted chocolate and walnuts. Stir until mixed. Spread the chocolate mixture in the pan. Lay the graham crackers over the chocolate mixture, then mix the chocolate chips in with the remaining 2/3 (white) batter. Spread that over the graham crackers.

Bake for 20 to 25 minutes. My half batch took 23 minutes at 350F. Cool completely, then lift from the pan and cut into 32 bars or however many you prefer. If you plan on dipping the bars, cut into long wedges rather than squares.

For chocolate dipped bars, melt the butter in a 2 cup liquid measuring cup (Pyrex), add the chopped chocolate and stir until it melts as much as it possibly can from the heat of the butter, then microwave at 10 second intervals, stirring at each interval, until it's smooth and completely melted. Dip the bars right in the cup. After they've set, slice them into squares.