The giveaway has ended, but you can still make this Chunky Nut Granola!  Since posting the recipe, it's become one of our family favorites.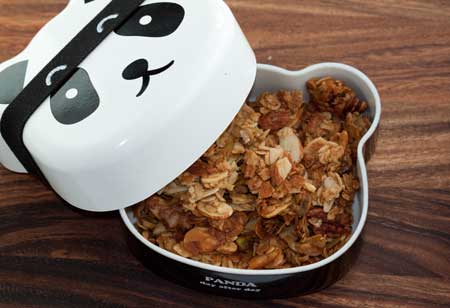 Substituting Egg White for Some Oil
As mentioned, I really like the Crunchy Cranberry Granola from Fisher's new website. The first time I made it I used the full ⅓ cup of oil, but lately I've been making it with half the amount of oil and 1 egg white. I've also nixed the fruit and added more nuts! Here's my version of Fisher's recipe. The psyllium husks are completely optional, but I bought some and it seems to be a nice fibrous addition to granola. UPDATE: I never use the psyllium husks these days because I rarely have them.
Chunky Nut Granola
1 egg white (or omit and use ⅓ cup of oil instead of 3 T.)
3 tablespoons of your favorite vegetable oil
⅓ cup maple syrup
2 tablespoons molasses (or use 1 tablespoon and add an extra T. of maple)
1 teaspoon almond extract
1 teaspoon ground cinnamon
2 cups rolled oats (not quick cooking)
½ cup Fisher® Chef's Naturals Walnuts Halves and Pieces, coarsely chopped
⅔ cup Fisher® Chef's Naturals Sliced Almonds
¼ cup flaked coconut
¼ cup Fisher® Dried Sweetened Cranberries (optional)
Preheat oven to 325°F. Line a large rimmed baking sheet with non-stick foil.
In a mixing bowl, whisk the egg white. Add the oil, maple syrup, molasses, almond extract and cinnamon; stir well.
In second bowl stir together the oats, walnuts, almonds and coconut. Pour the dry ingredients into the wet ingredients and toss to coat.
Spread oat mixture thinly and evenly onto the pan and bake 18 to 20 minutes (mine usually takes 25) or until golden brown; stirring halfway through baking.
Remove from oven; cool slightly. Stir in cranberries; cool completely.
Note: It comes out of the oven a little soft, but should crisp as it cools. If your granola is not as crisp as you like it, Just return granola to the oven (just the part that's not crisp enough, of course) and bake for another 5 minutes at 325. If your granola is cooking too fast, try baking at 300F.