I've made many variations on the Levain cookie recipe copycat, and the big fat cookie recipe that comes closest is this one.  The cookie in the first photo below is the copycat.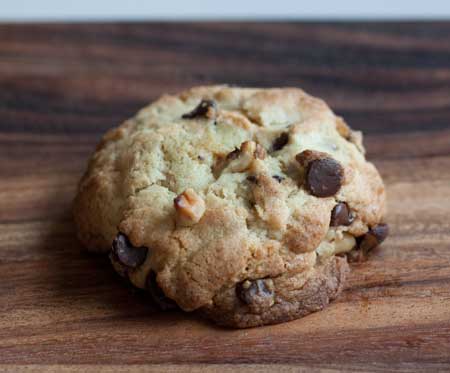 And the cookie in this second photo is an actual Levain cookie. As you can see, this big fat cookie is scraggly and quite brown.  They most likely use a special oven to get this color and texture.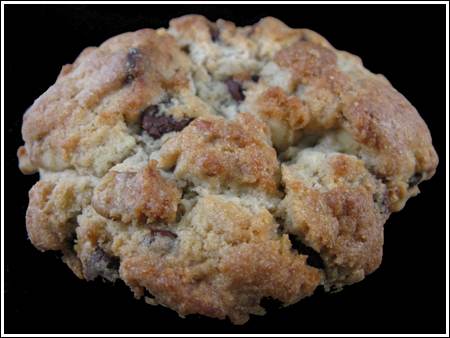 The Levain big fat cookie recipe copycat is a spin-off of Lisa's original version from Art Culinaire, but I've made a few modifications to get the thick, brown, scraggly appearance of the original.
Big Fat Cookie Tricks
I use bread flour, very cold butter, and I bake the cookies in a convection oven. In the past I've used European style butter, but these days I just use good quality American butter for the walnut version and increase the butter for the no-nut version.  Flour is trickier.  Bread flour always gives me big fat cookies, but they do have a crispier shell.  If you want a softer shell you'll have to play with the ratios and baking methods.  Some people like mixing bread and cake flour, while others find bleached flour makes cookies rise higher.  I like baking the cookies at as high a heat I can get without burning them, then dropping the temp so that only the inside cooks.
Go Nuts!
In my personal experience comparing the two cookies side by side, using the bread flour, cold butter and a convection oven helps make the cookies more like their namesake, but those three things aren't critical.  What is critical are walnuts.  If you take out the nuts you'll need to adjust butter, flour and leavening agents.  I put my no-nut version in the notes section.  It's not really like Levain's, but my friends like it a lot.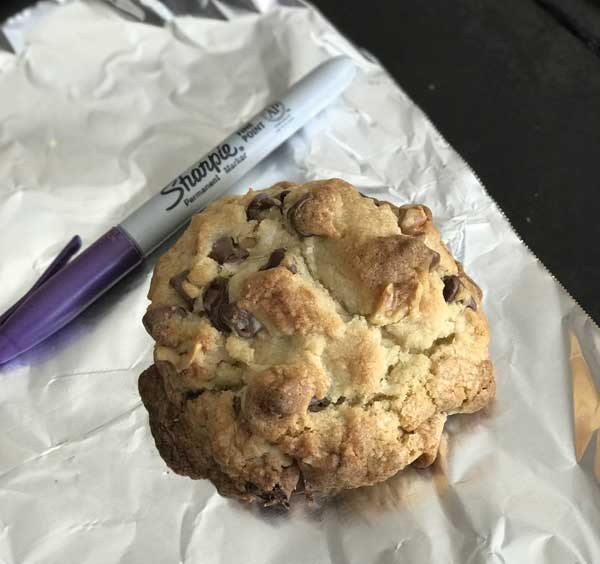 Here are a few more recent photos.  The big fat cookies on this plate are walnut and no-nut and made with bread flour.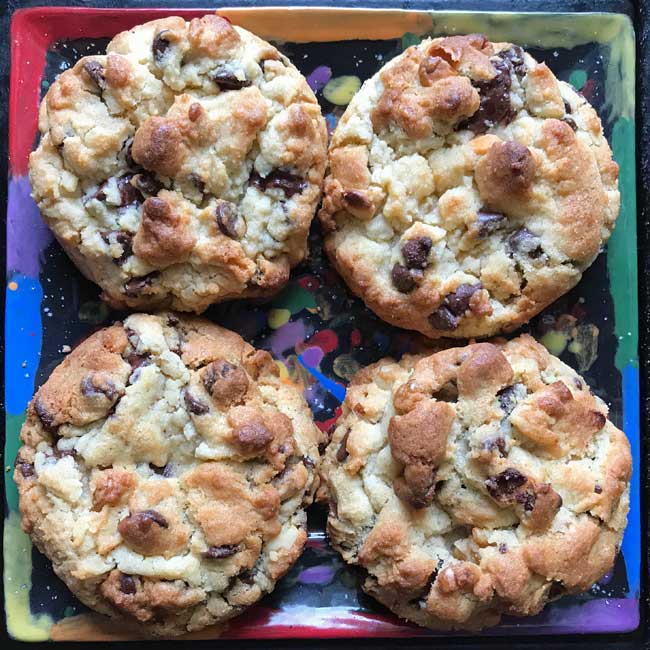 This is how the dough should look.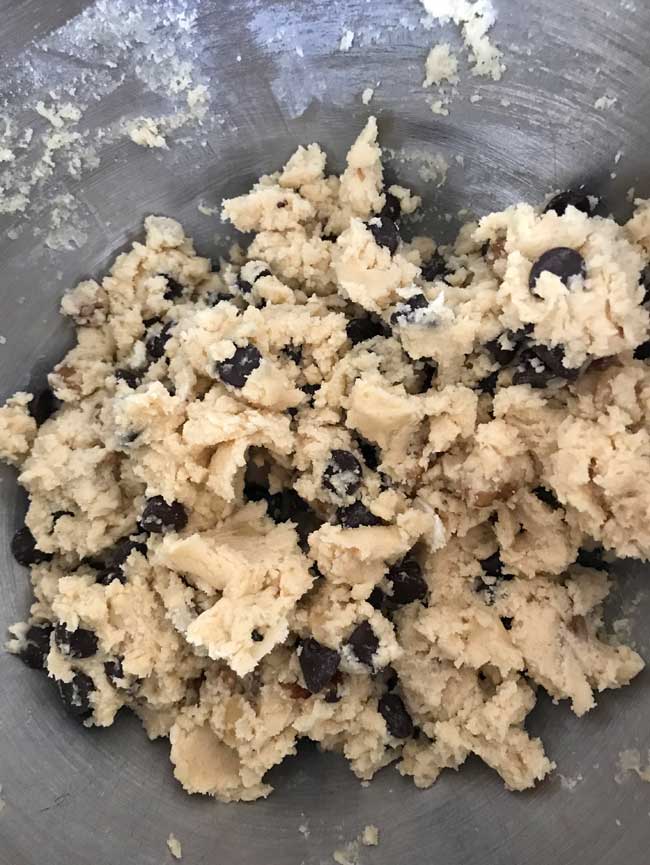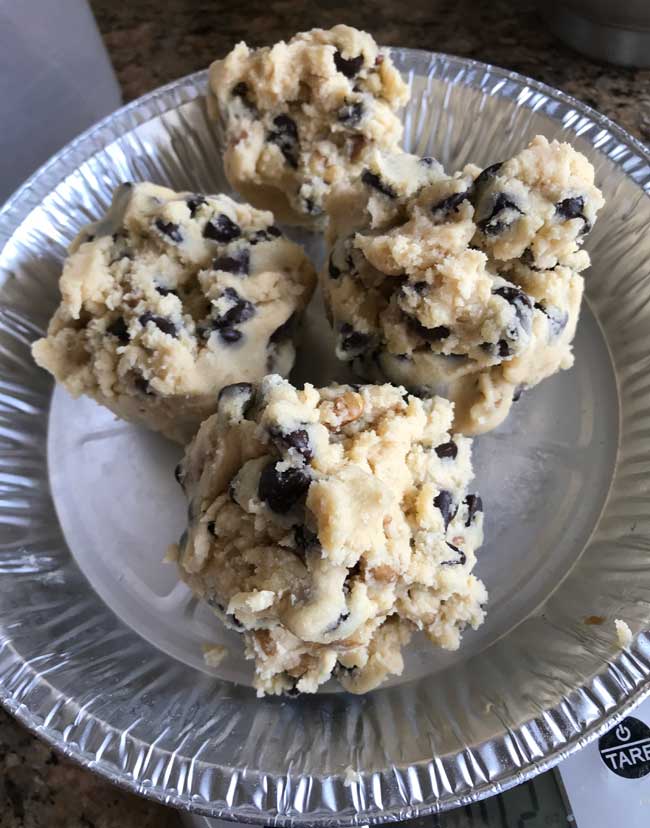 Levain Big Fat Cookie Recipe Copycat
This is my updated version of the recipe and as you can see, it's a small batch. You'll get 3 big cookies and a "mini". This one calls for walnuts and only works as written with the walnuts, but you can make adjustments (in note section) and make a nut-free version. This version calls for 33 grams of beaten egg and yolk mixture, so after you make this batch you'll have enough of the egg mixture left to make a second batch should you wish to experiment with the version in the notes. I make these using the gram measurements and don't recommend using volume. Any little changes in this recipe throw off the results, though you can always play around! Keeping grams the same, I've experimented with mixtures of different flours, types of butter and egg to yolk ratios. This version and the no-nut version in the notes has been the most reliable.
Ingredients
165 grams bread flour, King Arthur (because of its protein %)
1/2 teaspoon salt (scant)
1/2 scant teaspoon baking soda (just a little under 1/2)
3/4 to 1 teaspoon cornstarch
8 tablespoons cold unsalted butter (116 grams), Plugra or Land o Lakes if possible
4 tablespoons granulated sugar (48 grams)
6 tablespoons packed light brown sugar (72 grams)
egg mixture (33 grams), measured out from 1 extra large egg and one yolk mixed (you'll have mixture leftover)
1/4 teaspoon vanilla (optional)
84 grams chocolate chips, assorted (about 3/4 cup)
56 grams walnut pieces, don't need to toast (about 1/2 cup)
Instructions
First, weigh out the flour and thoroughly mix in the salt, baking soda and cornstarch. The walnut version does not call for baking powder. If you are making a no-nut version, you will need some baking powder (see note).
In the bowl of a stand mixer using the paddle attachment, beat the cold butter until creamy. Add the sugar and beat for 3 full minutes, scraping side of the bowl often.
Meanwhile, beat the egg and yolk together in a separate bowl. Just do it with a fork to break up the yolks. Add the cold beaten eggs (only 30 to 33 grams -- save the rest for something else) and beat for about 20 seconds or until the egg is fully blended. Beat in the vanilla (if using).
Add the flour mixture to butter mixture and stir until blended by hand or on very low speed JUST until almost blended. Add the walnuts and stir on low until blended and flour has disappeared, then stir in the chips. It's very important not to overwork the dough at this point.
Scoop out 3 big (6 oz) rough mounds of dough and one smaller one (2.5 oz) and set them on a plastic wrap lined plate or in a pie tin. Cover and chill overnight.
Bake in a preheated convection oven at 400 for 10 minutes, then reduce heat to 330 and continue cooking for about 10 minutes or until done (this gets them nice and brown!). If you don't have a convection oven just bake at 375 degrees for 20 minutes or until done.
You can also use a a regular oven, start at 400 for 15 minutes and bake at 330 for 8.
Allow the cookies to cool for at least an hour. They are a little delicate and need to set. However, if you really want a very warm cookie you can let them cool and set, then heat them again for a few minutes in a 350 oven.
Also, one little cheat you can use to make taller cookies is to push them inward with the spatula while they are warm and gently nudge into rounds.
Notes
Without nuts: 138 grams unsalted butter (not European style), 190 grams bread flour (bleached AP also makes a high rising cookie, but shell isn't as thick), 1/2 scant teaspoon baking powder (a little more than 3/8 teaspoon) and 1/8 teaspoon baking soda. Everything else stays the same including sugar. I've also used 60 grams granulated (cane) and 63 grams brown with good results .
Levain Big Fat Cookie Recipe Copycat!
For anyone looking for the old version, here it is.  If you are using this version I recommend using regular Land 0 Lakes unsalted or Plugra.  I've tested with other brand of European style butter and have had mixed results, but Plugra works with this recipe.

My Best Levain Big Fat Cookie Recipe Copycat
Older Version Levain Copycat Cookies.
Ingredients
2 sticks (8 oz) unsalted butter, very cold, chopped up (232 grams) -- Plugra, if available
3/4 cup plus 4 teaspoons very tightly packed brown sugar (168 grams)
1/2 cup (100 grams) granulated sugar
3 cups bread flour (376 grams) (see note about flour types)
1 1/4 teaspoon salt (decrease to 3/4 if using salted butter)
1/4 teaspoon baking soda
1 teaspoon baking powder
1-2 teaspoons cornstarch**
2 teaspoons dry milk powder (optional)
2 cold eggs, extra large beaten in a separate bowl (110-112 grams)
1 teaspoon vanilla extract
1 1/2 cups extra dark chocolate chips such as Guittard extra dark (in the shiny red bag)
1 cup walnuts, toasted and coarsely chopped (important for texture)
Instructions
In the bowl of a stand mixer, beat the cold butter until it is creamy. Add the sugar and continue to beat for about 4 minutes, scraping sides of bowl often.
Gradually add the eggs and vanilla and continue to beat until well blended, scraping sides of
In a separate bowl, mix the flour, salt, baking soda, baking powder, cornstarch (if using) and dry milk powder (if using).bowl..
Gradually add the flour mixture stirring just until mixed.
Stir in the chocolate chips and nuts.
Pull the dough out and divide it into 8 pieces, form into large flat rounds. Alternatively, you can divide the dough into seven pieces for even larger cookies. The cookies will be giant either way!
Put the formed dough balls in a zipper bag and chill overnight. This will help them hold their shape.
If you are using convection, preheat to 350℉ convection and bake cookies for 18-20 minutes or until the top starts to crack. Allow the cookies to cool for at least an hour before serving.
If you are using a regular oven, bake at 375 for about 18 to 20 minutes or until tops start to crack.
Let cool for about 5 minutes on the cookie sheet, then remove and finish cooling on a rack.
Notes
I've tested these with all kinds of flour combinations and like bread flour the best because it makes the cookies fatter and gives them a harder shell. You can use bread flour, a combination of bread and all-purpose, bread mixed with cake -- whatever works best in your kitchen. As for the butter, I used to always make these with Plugra or HEB European style, but when I started testing with other brands of European style butter I had mixed results. Land o Lakes seems to work just fine, though the cookies might spread a tiny bit more. Adding dried milk makes the cookies a tiny bit softer, but it's not a crucial ingredient. Cornstarch curbs the spread a little bit, but I think a good chill overnight does a better job.