Watching the movie Toast had me craving lemon meringue pie, so I decided to pick up my mad lemon meringue pie baking experiments from two years ago and build a new "super pie".  Not that the ones I've made in the past weren't good, but I wanted to make a pie using my favorite meringue and a perfect filling.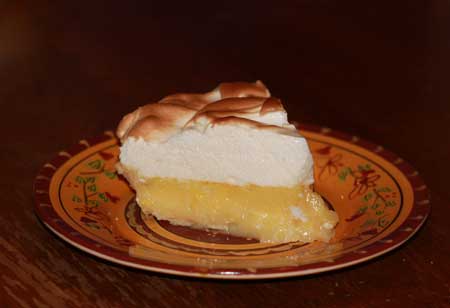 This pie was perfect, though it did require the extra steps of a) remembering to buy marshmallow creme and b) making a cornstarch gel for the meringue.   But if you're not a fan of particularly eggy tasting meringue, then the extra steps are totally worth it, because this meringue has a very marshmallow-like flavor and smooth texture. And it didn't weep!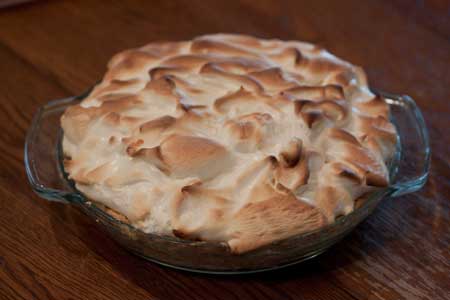 Back during my lemon meringue pie experimenting craze, I just could not make a pie that didn't weep...and that was after trying every trick in the book. It must have had something to do with the humidity level in my old refrigerator, because my meringue didn't shed a tear in our (relatively) new refrigerator.  Not that I would have minded, because I'd gotten used to eating gold-dotted meringues, but this one just refused to cry.
I hope you try this meringue even though it's a departure from the norm.  If you do, let me know!  The recipe is adapted from BakeWise: The Hows and Whys of Successful Baking with Over 200 Magnificent Recipes
, which turned out to be a really good investment since I pull it out all the time as a reference and have tried several recipes.
Lemon Meringue Pie
Pie Crust pre-baked in a deep dish 9 inch shell
Meringue:
⅓ cup cool water
1 tablespoon cornstarch
4 large egg whites
½ teaspoon cream of tartar
7 oz jar of marshmallow crème
½ teaspoon vanilla extract
Filling:
1 cup plus 3 tablespoons granulated sugar
⅓ cup cornstarch
¼ teaspoon salt
1 ⅔ cups water
5 large egg yolks, whisked together in a bowl
6 tablespoons lemon juice
4 teaspoons lemon zest
3 tablespoons unsalted butter, room temperature
Preheat oven to 375 degrees F.
Have your crust ready and begin prep for your filling by mixing together the sugar, cornstarch and salt.
Make the meringue first so you'll have it ready to put on a hot filling.
Meringue: Whisk the cold water and cornstarch together in a small saucepan. Heat over medium, stirring constantly, until mixture forms a thick gel; remove from heat. In the bowl of stand mixer, starting at low speed and gradually increasing, beat the egg whites and cream of tartar until soft peaks form. When soft peaks form, beat in the marshmallow cream in 3 parts. Mixture should look smooth and start forming stiff peaks. Beat in 3 tablespoons of gel and then beat in the vanilla. At this point you should have still peaks. Set it aside for a few minutes while you make the filling.
Make the filling: In a medium saucepan, mix the sugar, cornstarch, salt and water, then turn heat to medium. Whisk constantly over medium heat until the mixture starts thicken and become translucent. Whisk in a small portion of the egg yolks, then whisk in the rest. Add the lemon juice and zest and whisk another minute or just until smooth and thick and well mixed.
Remove from heat and add the butter, whisking until it's melted. Pour hot filling into the baked pie crust.
Spread the hot meringue over your hot filled pie and bake at 375 for about 12 minutes – covering top loosely with foil after the first 5 minutes IF meringue start to brown too quickly. Cool at room temperature for about an hour, then transfer to the refrigerator and chill for about 4 hours.