We missed the Super Bowl last night. What happened was the local high school was performing Phantom of the Opera, and I'd purchased tickets before I realized it was Super Bowl Sunday. So now I'm behind on all the Super Bowl news, which is okay since I don't have anybody to talk about it with anyway.  And luckily, I am caught up on snacks thanks to this recipe for Italian Spiced Pita Chips.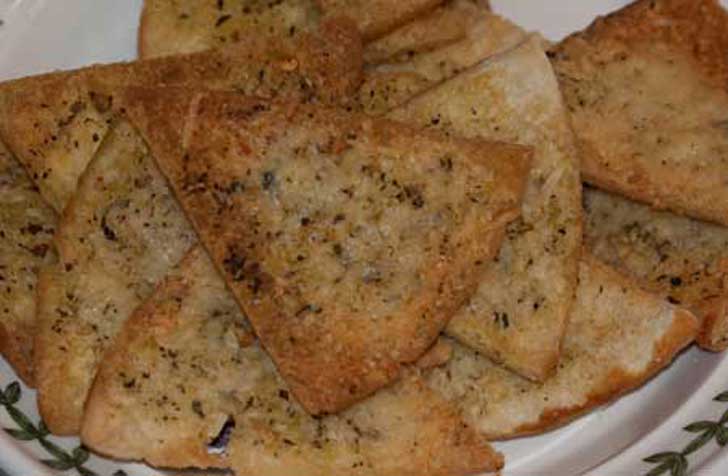 Spiced Pita Chips Notes
Fuzz likes these a lot and they are really easy to put together for an after school snack. The little pinch of sugar really brings out the sweetness of the basil in the Italian seasoning.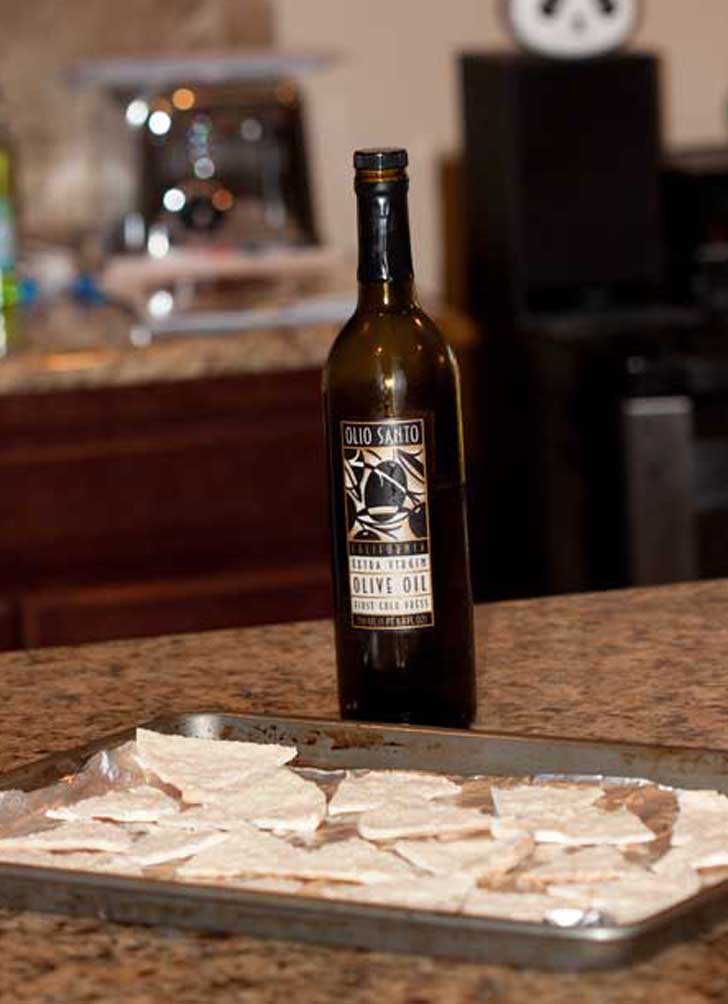 Also, I took a second photo not because I think you need a visual showing how to arrange chips on a tray, but rather so I could show the label of this really good olive oil I bought around Christmas as a special gift for Todd. It's neither grassy nor bitter but rather buttery and fruity. It's called Olio Santo (Update:  Columela is really good too) and I ordered it from Williams-Sonoma. If you've tried it, I'd be interested to hear your opinion.
Recipe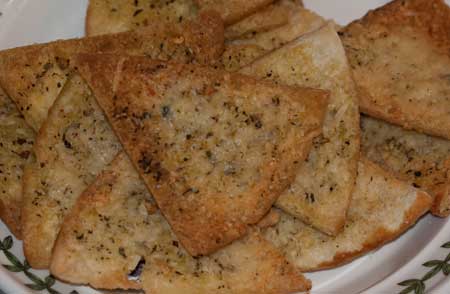 Italian Spiced Pita Chips
Italian Spiced Pita Chips are triangles of pita bread that are brushed with oil and seasoned with spices and cheese.
Ingredients 
2

pita pockets

4 halves that are pockets

2 ½

tablespoons

good quality extra-virgin olive oil

½

teaspoon

garlic powder

½

teaspoon

Italian seasoning

¼

teaspoon

onion powder

¼

teaspoon

crushed red pepper flakes

Small pinch granulated sugar

2 ½

tablespoons

grated Parmesan cheese
Instructions 
Preheat the oven to 350 degrees F. Line a large baking sheet with nonstick foil.

Split the 4 pita halves so that you have 8 semi-circles, rough side up.

Mix together the olive oil and all the spices (garlic powder through sugar). Brush the olive oil mixture evenly over the semi-circles. Stack 4 at a time and cut into thirds so that you have 24 triangles. Arrange on the baking sheet, split side up, and sprinkle grated parmesan cheese evenly over the chips.

Bake for 11-13 minutes or until edges are lightly browned. Makes 24
Do you have a favorite recipes for spiced pita chips?