Years ago I made a cake inspired by the Ding Dongs. I don't remember much about Ding Dong Cake other than the filling was made with flour, sugar and Crisco and that the end result really was better than it sounds. Given that I'm on a retro cake bender, I looked for the Ding Dong cake recipe again and made a small one this week.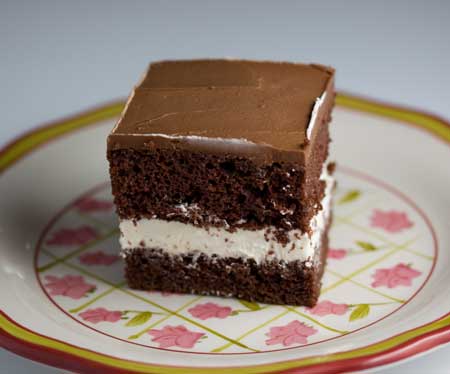 I don't have much to say about this other than if you like Ding Dongs, you should try it. Fuzz, who has never tried a Ding Dong, thought the filling was weird and greasy. Todd thought it was awesome, and I thought it was just okay. Actual Ding Dong filling is better. Maybe next time I'll just make a cake, split it, and fill the center with Ding Dongs.
Here's the recipe I used for the cake and filling. My advice is to follow the recipe for the cake and filling, but use your favorite store bought or homemade frosting. Here's the one I used. If you don't make the Ding Dong cake, I know you'll at least find the frosting recipe useful.
Chocolate Frosting
2 sticks (8 ounces) unsalted or salted butter, softened
¼ cup unsweetened cocoa powder
4 cups sifted powdered sugar
2 oz semi-sweet chocolate, melted (chips not recommended)
2 oz unsweetened chocolate, melted
¼ cup milk, room temperature
2 teaspoons vanilla
Beat together softened butter and cocoa powder. Stir in about half the sugar and both of the melted chocolates. Gradually added remaining powdered sugar, stirring or beating on low speed. Increase speed of mixer and continue beating and scraping sides of bowl, adding milk and vanilla.