This week I posted a recipe for Chocolate Pecan Pie Granola, a recipe Southern Living included in its latest collection of things to make and give as parting gifts. This got me thinking of all the other foods that would make great parting gifts or hostess gifts, so I put together a list.
Unique Granola
Flax Pecan Granola
This is the granola I make when I've acquired some good pecans. It's a loose, not-too-clumpy granola that tastes rich and sweet and has healthy ingredients like flax, nuts and oats. To give as a gift, package in small jars or bags.  It also freezes well.
Peanut Butter Cookie Granola
This recipe is weird but good. You take a roll of packaged peanut butter cookie dough and turn it into granola. Homemade peanut butter cookie can be substituted.  The granola is very light textured and clumpy, so it's not exactly the type you'd pour milk over and eat with a spoon.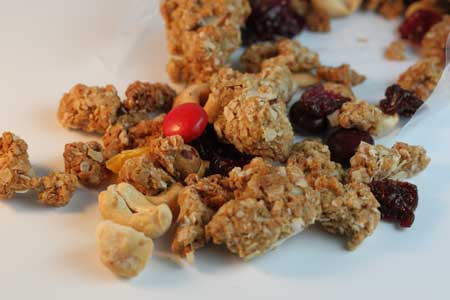 Grain Free Granola is another interesting one. I haven't made this granola in a while, but it consists of dried fruit, seeds, and coconut held together by a mixture of honey and coconut oil.  You can make it sound trendy by calling it "Paleo Granola".
Homemade Popcorn
Buffalo Wing Popcorn
I never shared this on Cookie Madness, but a few years ago I was making batches and batches of it for my husband. He liked it so much he learned how to make it and made it for The Chicago Food Swap.  It's definitely unique and more savory than sweet (though it is kind of sweet).
If Buffalo Wing flavored popcorn isn't your thing, you may want to consider Bourbon Caramel Corn or Red Hot Cinnamon.  This Peanut Butter Caramel Corn is also very good.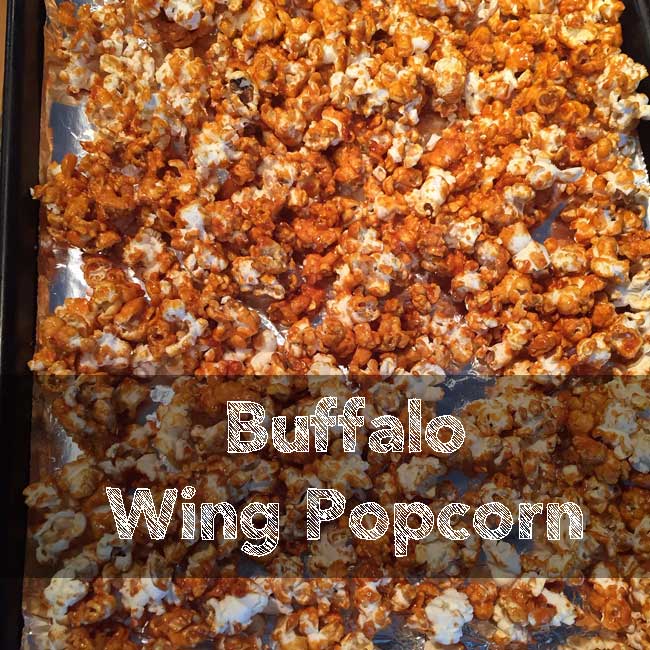 Interesting Candy
Another fun parting gift could be small bags of Clodhoppers. The recipe is here, and you can see a photo of Clodhoppers here.  Made with white chocolate, cashews and Golden Grahams, this is not a candy people see  often which makes it all the more fun.
Chocolate Covered Peanut Butter Pretzels make a nice gift, too. You can tailor them to your gift recipient's taste by using different brands of peanut butter (or different nut butter) and different chocolate.  The one in the photo is pretty basic, but you can dress them up with candies and sprinkles.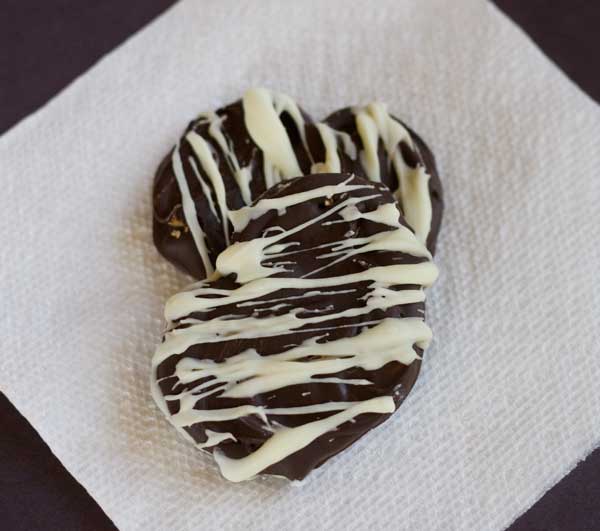 It's been years since I mentioned Frito Candy, but it would also make a nice parting gift -- especially if you never want to see your friends again. Okay, just kidding, but it's tasty in a trashy kind of way and people are always keen on seeing how Fritos go with chocolate. I used to make this all the time back in Texas, so it looks like I need to get back at it and see what my Chicago friends think.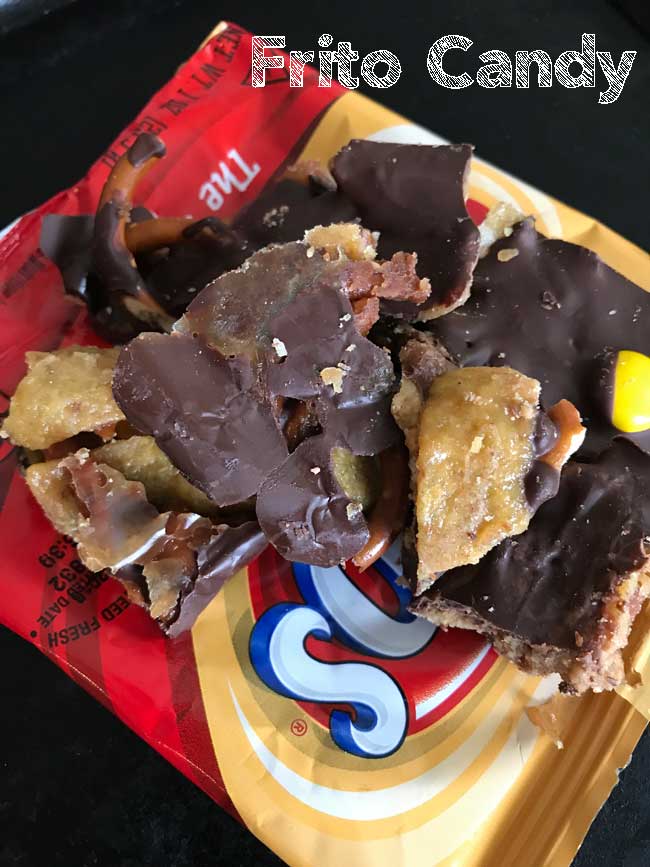 If you want something a little classier than Frito candy, I highly recommend this recipe for Almond Toffee. I posted it years ago and have received lots of good feedback from people who've made the recipe their own (or won contests with it). I recently gave some to a friend who owns a pretty famous restaurant here in Chicago and he gave it the seal of approval, so there's that. Here's a link to the small batch almond toffee.