Over the weekend I baked three different yellow cakes. All were variations on basic 1-2-3-4 cake. The cakes tested were Magnolia Bakery's recipe, a recipe from a website called Egg Beater, a recipe from Shirley Corriher and Cook's Illustrated Fluffy Yellow Cake.
The winner of the four was the Cook's Illustrated Fluffy Yellow Cake. This cake was exactly what I was looking for. It was softer, tighter crumbed, lighter and better than all the 1-2-3-4 cakes.
Because CI is so methodical, you might want to get the recipe from Cooks Illustrated themselves or from someone who posted the recipe without paraphrasing much. For instance, someone posted it pretty much verbatim on Garden Web.
Cookie Madness Fluffy Yellow Cake
My version of the cake is below. It's basically CI's version, but I rejiggered the order of things. Since I only have one stand mixer bowl and one whisk, I mix the egg whites first, move them to another bowl to wait, then mix continue making the cake in the stand mixer bowl.
Update: I still love this cake, but there's one I like even better! Here's the link.
Recipe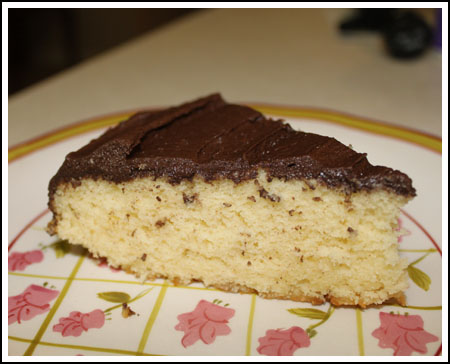 Cook's Illustrated Fluffy Yellow Cake — Best Yet!
Adapted from the March 1, 2008 issue of Cook's Illustrated, this is one of my favorite recipe for fluffy yellow cake.
Ingredients 
2 1/2

cups

cake flour

plus extra for dusting pans (280 grams)

1 1/4

teaspoons

baking powder

1/4

teaspoon

baking soda

3/4

teaspoon

salt

1 3/4

cups

sugar

(350 grams)

10

tablespoons

unsalted butter , melted and cooled slightly

(140 grams)

1

cup

buttermilk, room temperature

(230 grams/ml)

3

tablespoons

vegetable oil

2

teaspoons

vanilla extract

6

large

egg yolks

room temperature

3

large

egg whites

room temperature
Instructions 
Preheat oven to 350 degrees. Grease two 9-inch-wide by 2-inch-high round cake pans and line bottoms with parchment paper. Dust with flour.

Whisk flour, baking powder, baking soda, salt, and 1 1/2 cups sugar together in large bowl.

Whisk melted butter, buttermilk, oil, vanilla, and yolks in another bowl (or a 4 cup liquid measure).

Using a stand mixer with whisk attachments, beat egg whites until foamy. Gradually add remaining 1/4 cup sugar and beat until stiff peaks form. Transfer to a separate bowl so that your mixing bowl is clean.

Add flour mixture to the empty mixing bowl. With whisk still attached and with mixer at low speed, gradually pour in butter/yolk mixture and mix until almost incorporated (a few streaks of dry flour will remain), about 15 seconds. Stop mixer and scrape whisk and sides of bowl. Return mixer to medium-low speed and beat until smooth and fully incorporated, 10 to 15 seconds.

Using rubber spatula, stir 1/3 of whites into batter to lighten, then add remaining whites and gently fold into batter until no white streaks remain. Divide batter evenly between prepared cake pans. Lightly tap pans against counter 2 or 3 times to dislodge any large air bubbles.

Bake for 20 to 22 minutes or until cakes appear set and are beginning to pull away from sides of pan. Let cakes cool on wire rack for 10 minutes. Loosen cakes and invert.