I've been on an angel food cake this week, and after making several variations, I decided to share this mocha version. It's good as is, but if you have any suggestions on how to improve it, let me know.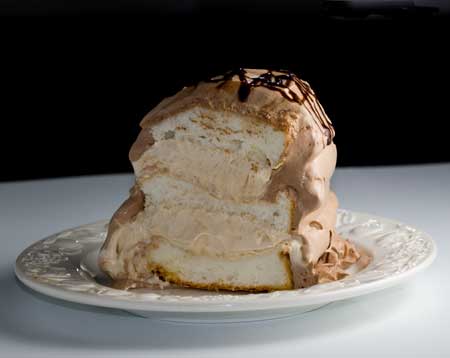 I'm thinking about swapping out a couple of angel food layers with devil's food layers (similar to the famous Heaven and Hell Cake by Stephen Pyles) or putting a layer of chocolate graham cracker or chocolate wafers between the layers of mousse and cake just for textural contrast. Or maybe I'm being picky and it doesn't need anything…
To make it as is, you cut a whole angel food cake into three layers and stack them in a 9 inch springform pan to keep them straight. Here's the first layer in the pan.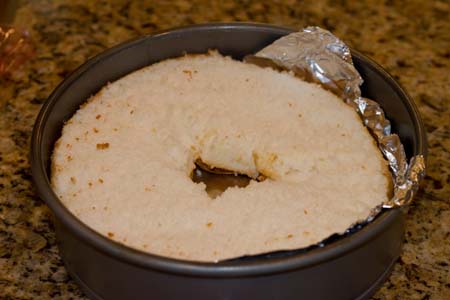 As you stack the cake in the pan, you fill the layers with mocha "mousse". It's about as mock as you can get for a mousse, but it tastes surprisingly good.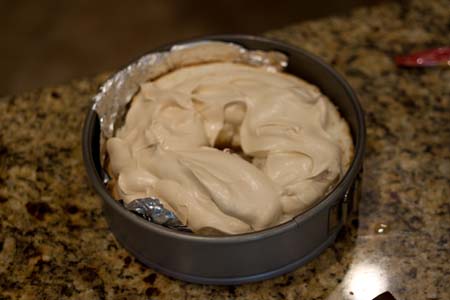 To make the cake easy to frost, you put a layer of plastic wrap over the cake and freeze it until firm.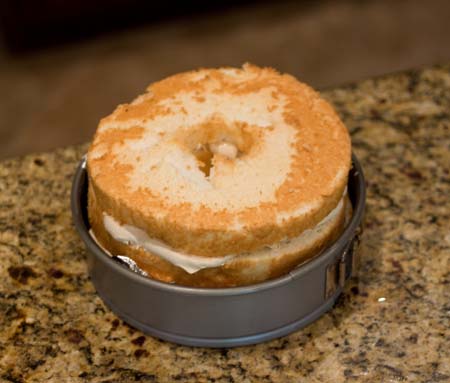 And then you cover the whole thing in a rich chocolate whipped cream, which is of course, the best part! I'd never made chocolate whipped cream, but I found a recipe on Epicurious that was perfect and tasted like chocolate ice cream. If you don't make the cake, at least try the chocolate whipped cream on something.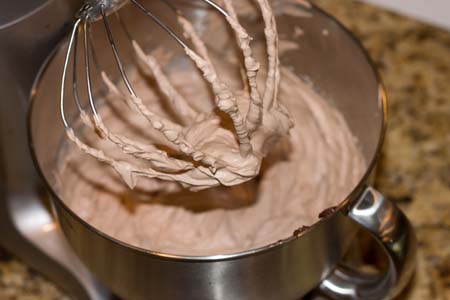 The end results looks like this.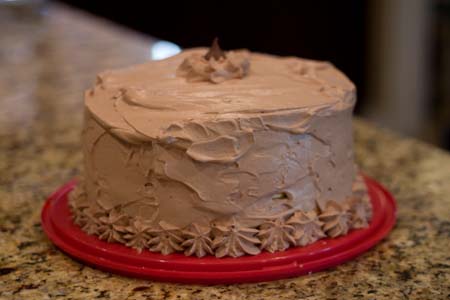 We've been enjoying the cake, but next time I'm going to try adding a layer of devil's food cake or cookies just for some texture variation.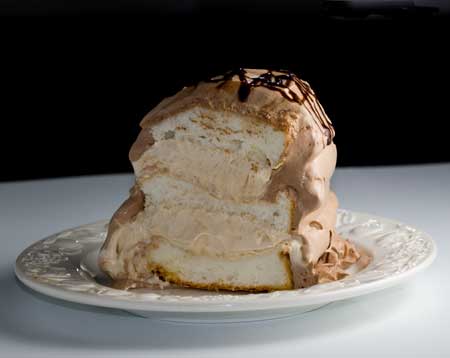 Mocha Mousse Angel Food Cake with Chocolate Whipped Cream
An easy dessert made with angel food cake and mocha mousse
Ingredients 
1

box Duncan Hines Signature Angel Food Cake or one pre-made Angel Food Cake of any kind

1/4

cup

boiling water

1

tablespoon

instant coffee or 2 packets Folgers or Starbuck's instant

the type in the little tubes

7

ounce

jar marshmallow crème

8

oz

tub regular or light Cool Whip or 1 cup whipping cream

whipped and sweetened lightly with 3T. conf. sugar and ½ teaspoon vanilla

1

cup

confectioners' sugar

1/2

cup

unsweetened natural cocoa powder

or your favorite

1/4

cup

milk

1

packet of Folgers or Starbucks instant coffee

use 2 if you like

Pinch

of cream of tartar

2

cups

chilled whipping cream
Instructions 
Prepare the angel food cake as directed on the package. Let cool. With a serrated knife, cut it into three even layers.

Prepare mousse. Put boiling water in a mixing bowl. Add the coffee and stir to dissolve. Add the marshmallow crème and beat on low until blended and smooth. Fold in the whipped topping.

Line a 9 inch round springform pan with foil and place the first layer of your angel food cake in the pan. You may have to squish it in a bit. Spread about 1/2 of the mocha mousse over the cake. Top with second layer of cake. Add remaining mocha mousse. Top with remaining layer of angel food cake. Put plastic wrap over the cake and put the whole thing in the freeze for about 3 hours or until frozen.

As soon as you put the cake in the freezer, go ahead and start preparing the chocolate whipped cream since the chocolate mixture requires some chill time too.

Whisk sugar, cocoa powder, milk, coffee powder and cream of tartar in the bowl of a stand mixer until smooth. Cover and refrigerate until well chilled, about 1 hour or up to 4.

Set the stand mixer bowl back on the mixer and with the whisk attachment, beat on medium, gradually adding the cream. Continue beating, increasing speed slightly, until stiff peaks begin form -- be careful not to overdo it.

Remove frozen cake from freezer and unlatch sides of pan. Peel away foil and set frozen cake on a cake tray. Spread chocolate whipped cream over entire cake. You'll have plenty of chocolate whipped cream and possible even a little left over. Store cake in the refrigerator.
Notes
Want to try putting chocolate wafers, graham crackers or layers of chocolate cake between mousse and cake.