This is one of my old posts with a recipe I made up. It looks like such a mess, but it tasted good and definitely made the angel food cake more exciting. In hindsight, I think the best elements of this recipe are the mock mocha mousse (which is really tasty) and the cocoa whipped cream. You could use them in some sort of angel food creation, or put them on a totally different cake.
Old Post
I've been on an angel food cake this week, and after making several variations, I decided to share this mocha version. It's good as is, but if you have any suggestions on how to improve it, let me know.
I'm thinking about swapping out a couple of angel food layers with devil's food layers (similar to the famous Heaven and Hell Cake by Stephen Pyles) or putting a layer of chocolate graham cracker or chocolate wafers between the layers of mousse and cake just for textural contrast. Or maybe I'm being picky and it doesn't need anything...
To make it as is, you cut a whole angel food cake into three layers and stack them in a 9 inch springform pan to keep them straight. Here's the first layer in the pan.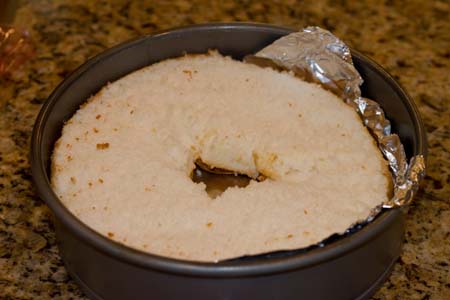 As you stack the cake in the pan, you fill the layers with mocha "mousse". It's about as mock as you can get for a mousse, but it tastes surprisingly good.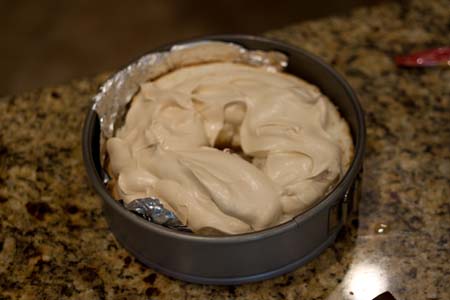 To make the cake easy to frost, you put a layer of plastic wrap over the cake and freeze it until firm.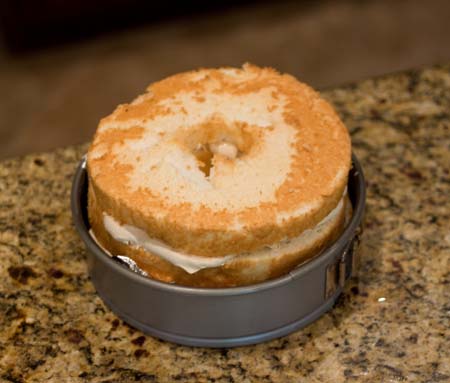 And then you cover the whole thing in a rich chocolate whipped cream, which is of course, the best part! I'd never made chocolate whipped cream, but I found a recipe on Epicurious that was perfect and tasted like chocolate ice cream. If you don't make the cake, at least try the chocolate whipped cream on something.
The end results looks like this.
We've been enjoying the cake, but next time I'm going to try adding a layer of devil's food cake or cookies just for some texture variation.
Recipe