Named after a popular Girl Scout cookie called Samoas, (which were later renamed Caramel Delights), Samoas Bars are easy bar cookies composed of a cookie base and a topping of coconut, caramel and chocolate. There are lots of versions out there, but this one is an 8 inch square pan version of my friend Nicole's recipe on Baking Bites.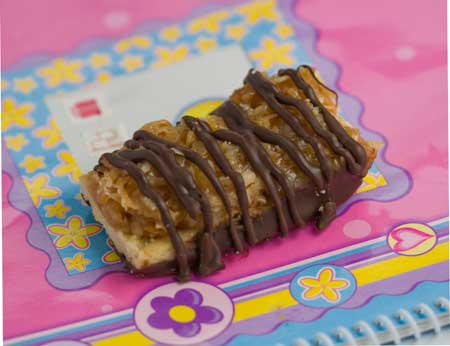 Since I was out of caramels, I had to make homemade caramel over the stove. If you have a lidded metal saucepan, it's pretty easy to do and doesn't require a candy thermometer. Plus it taste great! I wasn't sure if the consistency would be right for bars, but it was perfect. Of course if you don't want to deal with homemade caramel sauce, you can make Nicole's version with the melted caramel candies.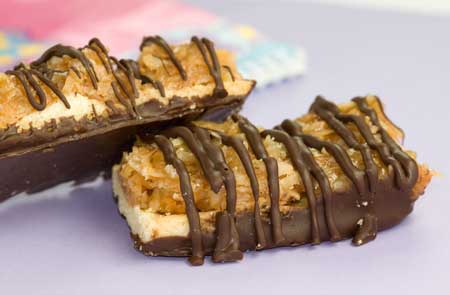 Recipe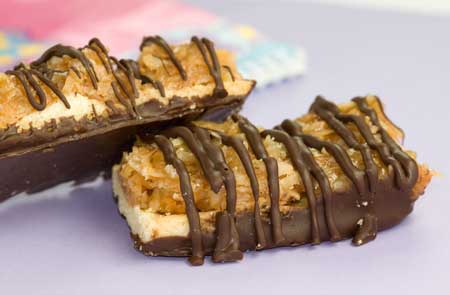 Samoa Bars
Small batch version of Samoa bars, baked in an 8 inch square metal pan.
Ingredients 
Base:

6

tablespoons

unsalted butter

softened

¼

cup

granulated sugar

¼

scant teaspoon salt

2

tablespoons

lightly beaten egg

¼

teaspoon

vanilla extract

1

cup

all-purpose flour

Coconut:

1 ½

cup

sweetened flaked coconut

shredded okay

Caramel:

6

tablespoons

granulated sugar

1 ½

tablespoons

of water

1 ½

tablespoons

butter

room temperature

3 ½

tablespoons

heavy cream

¾

teaspoons

vanilla

Chocolate Layer:

5

oz

dark chocolate

chopped
Instructions 
Preheat oven to 350 degrees F. Line an 8 inch square metal pan with nonstick foil.

In a mixing bowl, beat butter, sugar and salt with a handheld electric mixer until creamy. Beat in egg and vanilla extract. Working at a low speed or by hand, gradually add flour until mixture is crumbly, like wet sand. The dough does not need to come together. Press dough into prepared pan and bake for 20 minutes, until base is set and edges are lightly browned. Cool completely on a wire rack before topping.

While base is cooling, reduce heat to 300 F and toast the coconut for about 20 minutes, stirring every 5 minutes, until coconut is golden. Let cool.

Prepare Caramel. Place sugar in a small metal lidded saucepan, pour water over top. Set over med-high heat (uncovered) and swirl pan until sugar is dissolved. Increase heat to high, cover pan and boil syrup for 2 min. Uncover, swirl pan, continue to boil syrup until dark amber in color. Remove from heat. Whisk in butter until smooth. Stir in cream, then vanilla. Let mixture cool slightly, then stir in the coconut.

Put dollops of the topping all over the shortbread base and spread it to make an even layer.Let topping set until cooled.

When cooled, lift foil from pan and cut into 8 bars with a large knife or pizza cutter. Chill the cut bars – this makes them a little easier to work with while dipping.

In a medium size bowl, microwave the chocolate at 50% power stirring at 45 second intervals. Dip the base of each bar into the chocolate and place cooking sheet lined with nonstick foil or parchment paper. Transfer all remaining chocolate (or melt a bit of additional chocolate, if necessary) into a piping bag or a ziploc bag with the corner snipped off and drizzle bars with chocolate to finish.

Let chocolate set completely before storing in an airtight container. I store mine in the freezer or refrigerator.

Makes 8 large bars or 16 squares