We've had a busy weekend, but not so busy that I couldn't test this new idea.    Because I liked the other one so much and wanted to be able to make it without taking the time to bake and cool an angel food cake, I decided to try making a smaller version of the Mocha Mousse Angel Foood cake using a ready-made angel food cake and a great recipe for Chocolate Whipped Cream.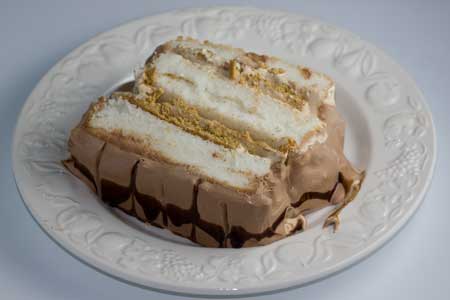 Despite the initial disappointment at not being able to find chocolate flavored (not chocolate covered) graham crackers, I'd say it was a success. I ended up going with cinnamon grahams for a cappuccino theme, and they might have been an even better choice than the chocolate.    For the frosting, I  stuck with chocolate whipped cream, but if you're trying to cut fat then I don't see why a coating of nondairy lite of fat free whipped topping wouldn't work.
I'm looking forward to trying it again this afternoon since it will have been in the refrigerator overnight.  Yesterday I cut into it after about 3 hours and the graham crackers were still a little firm.
I'm also interesting in trying this with layers of ice cream or even ice cream sandwiches standing in for the mousse filling.
Recipe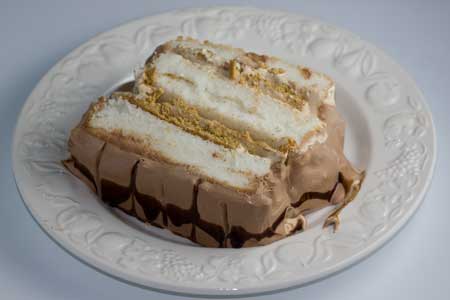 Mini Version of Mocha Mousse Angel Cake
An angel food cake loaf filled with mocha flavored mousse and topped with chocolate whipped cream.
Ingredients 
1

loaf size angel food cake

store bought

1

packet instant coffee

Starbuck's or Folger's

Half of a 7 oz jar

3.5 oz of Marshmallow Creme

Half of an 8 oz tub

1 ¾ cups regular or light Cool Whip

6 to 8

cinnamon flavored graham cracker rectangles

12 to 16 attached squares

Chocolate Whipped Cream OR use more Cool Whip Lite or Cool Whip Free

Chocolate Syrup for garnish
Instructions 
Cut the cake into three layers.

Prepare mousse. Put 1 tablespoon of boiling water in a mixing bowl. Add the coffee and stir to dissolve. Add the marshmallow crème and beat with a handheld mixer smooth. Fold in the whipped topping.

Line inside of a 9 inch loaf pan with plastic wrap and place the first layer of your angel food cake in the pan. Spread about ¼ of the mocha mixture over the cake. Lay graham cracker rectangles sideways across the mousse, trimming them so that they are the same width as the cake. Spread a little more mousse filling (another ¼ ) over the crackers and top with second layer of cake. Repeat, layering mocha mouse, more graham crackers, and remaining mocha mousse. Cap with top layer and put plastic wrap over the cake. Put the whole thing in the freezer and freeze for about 3 hours or until cake is solid or at least easy enough to work with.

Remove frozen cake from freezer and lift cake from pan. Peel away plastic wrap and set frozen cake on a cake tray. Spread chocolate whipped cream (or Cool Whip) over entire cake. Chill for about 4 hours or long enough so that graham crackers soften. When ready to serve, drizzle cake with chocolate syrup and cut into 4 to 6 large slices.
Chocolate Whipped Cream
½ cup confectioners' sugar
¼ cup unsweetened natural cocoa powder (or your favorite)
2 tablespoons
½ packet Folgers instant or Starbuck's Via Italian roast
Pinch of cream of tartar
½ teaspoon vanilla extract
1 cup chilled whipping cream
Whisk sugar, cocoa powder, milk, coffee powder, cream of tartar and vanilla in large bowl (or the bowl of a stand mixer) until smooth. Cover and refrigerate until well chilled, about 1 hour.
If using a stand mixer, set the bowl on the mixer and with the whisk attachment, beat on medium, gradually adding the cream. Alternatively, just use a handheld mixer. Continue beating, increasing speed slightly, until stiff peaks begin to form. (adapted from Bon Appetit)