Do you have a favorite granola bar recipe? To date, mine is still this one. I've tried lots of other granola bars, but these are the crunchiest (though still slightly chewy on the edges), always hold together, and can easily be made vegan.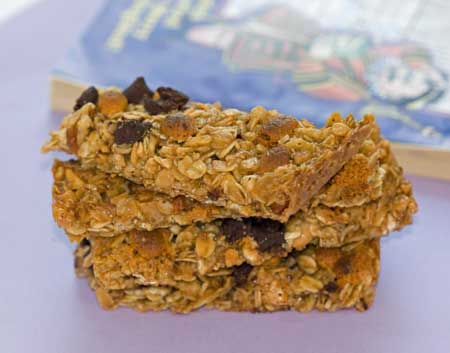 The recipe is adapted from King Arthur's "Vermont Granola Bars", but over the years I've taken liberties with it, including halving the recipe to fit a 9x13 inch pan, getting rid of all the fruit, adding Rice Krispies and various flavored chips, and re-tooling the heat settings. I think I've finally got it down!
I sent these to school with Fuzz as a treat for the class, and since the kids liked them so much, I decided to go ahead and share the recipe.
Recipe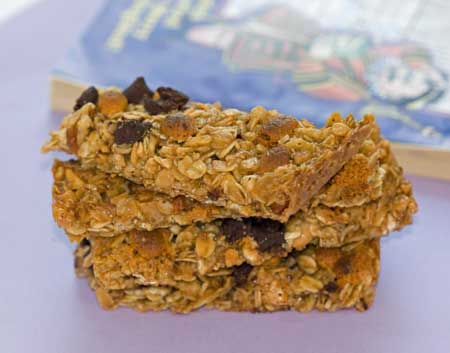 Chocolate and Butterscotch Chips Granola Bars
Crunchy granola bars
Ingredients 
½

cup

roughly chopped pecans or walnuts

½

cup

coconut

sweetened flaked or unsweetened

2

cups

rolled oats

½

cup

sunflower seed kernels

½

cup

Rice Krispies

½

teaspoon

salt

6

tablespoons

unsalted butter

softened

¼

cup

plus 2 tablespoons corn syrup

¼

cup

plus 2 tablespoons maple syrup

¼

cup

plus 2 tablespoons

3 ounces VERY firmly packed light or dark brown sugar

1

teaspoon

vanilla extract

⅓ to ½

cup

mixed semi-sweet and butterscotch chips
Instructions 
Preheat oven to 400 degrees F. Place the pecans on a large baking sheet and roast the pecans for about 2 minutes. Add the coconut to the baking sheet and roast along with the pecans for another 4 minutes or until coconut starts to brown and pecans become aromatic. Transfer to a mixing bowl.

Add the oats and sunflower seeds to baking sheet and toast for about 8 minutes, stirring every 4 minutes, or just until oats start to brown. Add the toasted oats and seeds to the bowl with the nuts and coconut. Add the Rice Krispies.

Raise the oven temperature to 450 degrees F and line a 9x13 inch METAL pan with nonstick foil.

Stir the salt, butter, corn syrup, maple syrup and brown sugar together in a saucepan. Turn heat to medium and bring to a boil. Place a candy thermometer in the saucepan and allow mixture to boil over medium heat, without stirring, until mixture reaches 248 degrees F or "firm ball stage" on a deep fry or candy thermometer. Remove from heat and quickly pour syrup over dry ingredients. Add the vanilla, and stir until dry ingredients are moistened. Pour into the pan. With a sheet of nonstick foil, press down flat. Sprinkle the chips across the top.

Put the pan in the oven and bake for 5 to 6 minutes at 450 degree F. Remove from oven. They will be hot, bubbly and mushy. Let cool for 8 to 10 minutes. Score the bars in half lengthwise, then cut crosswise to make 14 to 16 bars, depending on how skinny you want them. Do not separate (they'll be too mushy, anyway). Let cool for another hour or until bars are room temperature. Pull them apart and wrap individually.
Notes
You can omit the sunflower seeds or swap out the pecans and walnuts for pre-roasted, salted nuts.