There are tons of methods you could use, but today I came up with two ways of combining Magic Cookie Bars (aka Seven Layer Bars) with brownies. First, the lazy version of Magic Cookie Brownies. They're brownies topped with a flat layer of graham crackers, condensed milk, chips and nuts.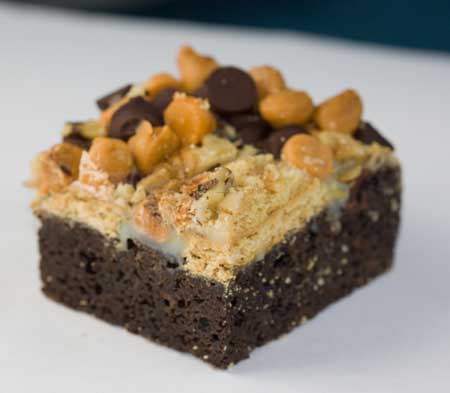 And second, the more time consuming brownie composed of a graham cracker crust, topped with brownies, more crust and a final layer of condensed milk, chips and nuts.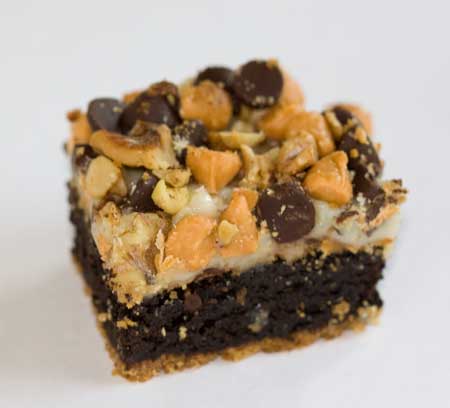 I was convinced the complex one would taste better, and maybe it does have more going on, but the "lazy" version is actually really good even though it barely qualifies as a recipe. Just line an 8 or 9 inch pan with nonstick foil and bake a batch of brownies. Freeze the pan of brownies solid, then layer on graham crackers, condensed milk, chips and nuts and bake at 350 for 25 minutes.
The not-so-lazy version is below. It's better only in that there's more buttery flavor (due to the butter in the crust) and the top is chewier.
A few notes. freezing the brownies keeps them from over-baking during that second bake. The top will bake more quickly than the bottom which is what you want. Also, thinking the condensed milk would brown in the oven and taste more like dulce de leche, I microwaved it for a while (stirring often) until it had thickened somewhat and was closer to dulce de leche. It made the top chewier and gave it slightly browner edges, but that was about all.
Recipe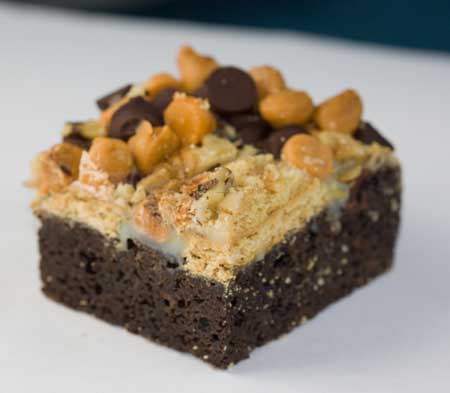 Magic Cookie Brownies
Magic Cookie Bars with a brownie base
Ingredients 
Graham Crust
7

rectangles

14 squares graham crackers

5

tablespoons

firmly packed brown sugar

5

tablespoons

unsalted butter

melted

Pinch

of salt

omit if using salted butter
Brownie Batter
4

tablespoons

unsalted butter

½

cup

plus 1 tablespoon granulated sugar

⅓

cup

Dutch process cocoa powder

or natural

¼

teaspoon

salt

1

large cold egg

¾

teaspoon

vanilla

¼

teaspoon

baking powder

6

tablespoons

all-purpose flour

¼

cup

extra dark chocolate morsels/chips
Topping
1

can

14 oz condensed milk

1

cup

assorted morsels

butterscotch & extra dark

½

cup

toasted and chopped nuts
Instructions 
Preheat the oven to 350 degrees F. Line an 8 inch square metal pan with nonstick foil.

In a food processor, process the graham crackers into crumbs. Add the sugar and pulse to mix, then add the butter and salt and pulse. Measure out about ⅔ cup of crumb mixture and set aside. Press the remaining crumbs into the pan. Put the pan in the freezer while you make the brownie batter.

Prepare the brownie batter. Melt the butter in a medium size saucepan. Stir in the sugar and the cocoa powder. Reduce heat to low and stir gently for about 30 seconds to warm the sugar. Turn off the heat and let the sugar mixture sit for 5 minutes. Stir in the vanilla and salt. Add the cold egg, whisking or stirring just until mixed, then stir in the baking powder and the flour. Let the batter cool somewhat so as not to melt the chocolate chips, then stir them into the batter. Pour into the pan and bake for 20 minutes or until brownies appear set and a toothpick inserted comes out with moist crumbs (not batter). Let cool completely in the pan. When completely cool, press a piece of foil over the brownies and freeze for two hours or until solid.

Prepare topping. (this step is optional) Pour the condensed milk into a large microwave-safe bowl and cover with plastic wrap, leaving a little bit uncovered for steam to escape. Microwave for 6 minutes at 50% power, stirring after two minutes, then stirring after every 30 second to 1 minute interval or just before mixture bubbles over the side of the bowl. Keep a close eye on it or it will all bowl over. Or skip this step altogether and just use room temperature, un-microwaved condensed milk.

Remove the frozen brownie from the freezer. Sprinkler reserved graham mixture over top and press it to make a tight, thin layer. Meanwhile, mix together the chips and nuts.

Pour the condensed milk over the crumb layer. Sprinkle morsel/nut mixture evenly over the condensed milk and press down slightly.

Bake in a preheated 350 oven for 25 minutes or until condensed milk is brown and bubbly around edges. Let cool completely, then chill until very cold and firm. Lift from the pan and cut into squares or bars.

Lazy Version: Bake an 8 inch or 9 inch square pan of your favorite brownie recipe. Make sure the pan is lined with foil! Put the brownies in the freezer until they are frozen solid. Preheat the oven to 350 degrees F. Drizzle a thin layer of condensed milk over the frozen brownies. Lay graham crackers flat across the brownies. Drizzle remainder of the can (you can use all or slightly less if you want) over the graham crackers, then sprinkle with 1 cup of assorted chips and about half cup of nuts. Bake for 25 minutes or until hot and bubbly. Cool, chill, cut.