Given my past experience with stevia, I've been reluctant to use it in baking. Its mass is not the same as sugar, which tends to throw off the composition of recipes. Plus I've never liked the aftertaste, which is something like a combination of licorice, mint and baking powder that lingers forever after one bite.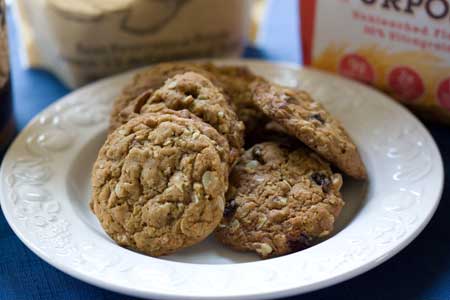 And then along came Steviacane. I found it while perusing the sugar section (which I do often in hope that some magical, low calorie sugar will appear), and decided to fork over $7.00 to try a bag.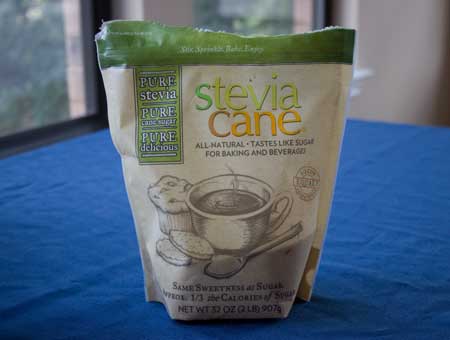 Unlike other sugar substitutes, Steviacane is composed of two ingredients which people seem to agree are "natural" – stevia extract and cane sugar. Steviacane has ⅓ the calories of sugar and is sweeter, so you use half the amount. But therein lies part of the problem. A half cup of Steviacane does not have the same weight as 1 cup of sugar, and while this isn't a big deal in drinks, it's not always perfect in baking.
First the cons, which are based on some experiments I did yesterday. Using Steviacane in place of sugar, I made my favorite low fat brownie recipe and a low fat chocolate chip cookie recipe. When made with sugar or Fibrelle (a mail order sugar substitute), those recipes always work. But with Steviacane they were tough and rubbery. I think the problem was the recipes lacked fat, plus they needed that extra bit of moisture which real sugar helps lock in.
But I wasn't ready to give up, and decided to try it in a few recipes which had more moisture (and fat) to begin with.
Pros! First, I made my favorite oatmeal cookie with Steviacane. And just to make it better, I used Ultragrain flour. These were fabulous. They still had a bit of an aftertaste, but people around here didn't mind. The key was not trying to cut too much fat and using a combination of Steviacane and brown sugar for moisture.
Next, I made my own version of Mary's version of Nigella's chocolate muffins. I added a little salt and vanilla to perk up the flavor and used Ultragrain (again). Wow, they were perfect. In this case, the Steviacane was an asset to the muffins because it added sweetness without causing them to spread. With muffins, there's always this trade-off. I add more sugar, I get less of a crown. With the Steviacane I got plenty of sweetness and a big crown. And in this recipe I didn't need to combine it with any other sugar (though the chips did help add to the overall sweetness of the muffin).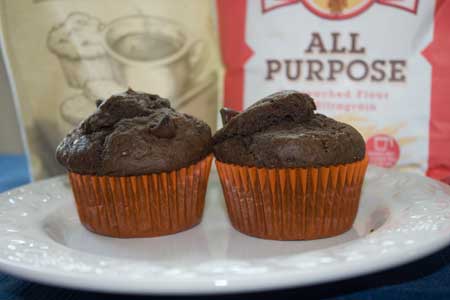 I'm looking forward to using Steviacane in more recipes, but I will be careful where I use it. It has some benefits and is definitely worth reworking recipes around. Especially muffins, which are really popular around here.
Oatmeal Cookies with Steviacane
1 cup Ultragrain flour or white whole wheat flour (4.5 oz/126 grams)
½ teaspoon baking soda
½ teaspoon baking powder
½ teaspoon salt
1 teaspoon ground cinnamon
4 tablespoons unsalted butter, room temperature
¼ cup vegetable oil
¼ cup Steviacane sweetener (or ½ cup sugar)
½ cup dark brown sugar – firmly packed
1 large egg
¾ teaspoon vanilla
1 ½ cups oats — quick cooking or old fashioned
¾ cups raisins (plumped in boiling water and drained)
⅓ cup chopped — toasted pecans
Preheat oven to 350 degrees F. Have ready 2 ungreased baking sheets.
Stir flour, baking soda, baking powder, salt and cinnamon together in a medium bowl; set aside.
Cream butter, vegetable oil, Steviacane and brown sugar in a mixing bowl using high speed of an electric mixer; add egg and vanilla and beat just until egg is mixed in. Add the flour mixture to the butter mixture and stir just until mixed. Stir in oats, raisins and pecans.
Using a tablespoon measure, scoop up dough and shape it into 1 ¼ inch balls; Arrange about 2 ½ inches apart on baking sheets.
Bake for 12 minutes, one sheet at a time, on center rack. Remove from oven; let cookies sit on baking sheet for 2-4 minutes. Carefully transfer to a rack to cool.

Double Chocolate Muffins with Steviacane
1 ¾ cups (7.9 ounces) all-purpose flour or Ultragrain or White Whole Wheat
2 teaspoons baking powder
½ teaspoon baking soda
⅜ teaspoon salt
2 tablespoons unsweetened cocoa powder
¼ cup plus 2 tablespoons Steviacane (or ¾ cup sugar)
1 large egg
⅓ cup plus two teaspoons vegetable oil
1 teaspoon vanilla extract
1 cup brewed coffee
½ cup bittersweet chocolate chips (plus more for top, if desired)
Preheat the oven to 400 degrees F. Line 8 muffin tins with paper liners.
Mix the flour, baking powder, baking soda, salt cocoa powder, and Steviacane together.
Mix the egg, oil, vanilla and coffee in a separate bowl, then gradually add it to the the dry mixture. Fold in ½ a cup of chocolate chips. Spoon batter into the lined cups – it should come all the way to the top and heap slightly in the center. chips on top of the muffins. Bake for approximately 20 minutes, then let cool before serving. The stevia flavor lessens somewhat as the muffins cool, so I recommend letting them sit for a bit before serving.
Makes 8 large muffins