I've been craving healthier cookies this week -- not low fat, just cookies with a little less sugar and more whole grain. These Butterscotch Breakfast Bars did the trick. The bars aren't super healthy given the butter and white sugar, but they're a good compromise and something the whole family really liked.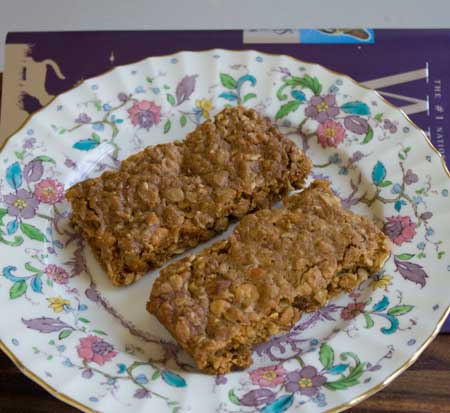 For the flour, I used Ultragrain, but I think white whole wheat or plain whole wheat would work well. For the syrup, I used honey, but maple or or rice syrup should work too. If you try these and make changes, I'd be interested in hearing your results, so feel free to email, comment or send me your blog link. But overall, we thought these were good as-is. Just be sure to let them cool completely. While warm, they have kind of a soggy oatmeal texture. When they cool, they're chewy and dense.
Recipe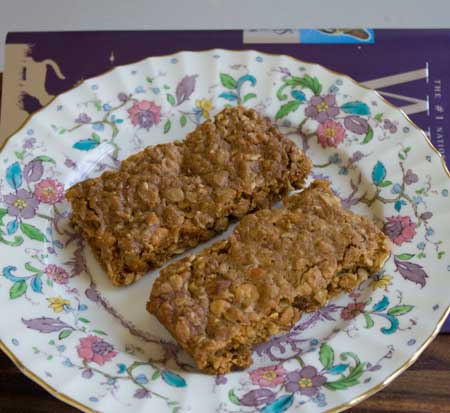 Butterscotch Breakfast Bars
An easy breakfast/snack bar. Kind of a cross between a bar cookie and a granola bar.
Ingredients 
½

cup

pecans

walnuts or almonds

4

tablespoons

unsalted butter

softened

¼

cup

firmly packed light brown sugar

2

tablespoon

granulated sugar or evaporated cane juice crystals

1

tablespoon

honey or maple syrup

½

teaspoon

vanilla extract

2

tablespoons

lightly beaten egg

¼

teaspoon

baking soda

¼

teaspoon

salt plus an extra pinch

½

cup

2.25 ounces white whole wheat or Ultragrain flour

½

cup

Rice Krispies

¾

cups

oats

old fashioned or quick (not instant)

2

teaspoons

golden flaxseed

optional

⅓

cup

butterscotch chips
Instructions 
Preheat oven to 350 degrees F. Line an 8 inch pan with nonstick foil or spray with cooking spray.

Lay the nuts on a baking sheet and bake for 7 to 8 minutes or until aromatic. Cool completely, then chop.

In a large mixing bowl, beat the butter and both sugars until creamy. Beat in the honey, vanilla and egg, then add the baking soda and salt and beat until well mixed. Add the flour and stir by hand until it is blended in, then add the cereal, oats, toasted pecans and chips.

In a separate bowl, stir together the flour, baking soda and salt, then add to the butter mixture and stir until blended. Stir in the cereal, oats, flaxseed (if using) nuts, and chocolate chips.

Press this mixture into the pan and bake on center rack for 20 minutes or until golden brown. Let cool in the pan for 15 minutes, then lift from pan and score (do not separate) into 8 bars. Let cool completely. The texture improves quite a bit after the bars are completely cool, so I don't recommend eating these while warm.
Notes
Don't be tempted to use the whole egg. Stick with 2 tablespoons. You could try using the white only, but I haven't tested that yet.