Our family loves tortilla soup, so I make it about once a week with a lot of improvisation based on what's around. Since I taste as I go, it always turns out well, but rarely is one batch of tortilla soup the same as the last.   Because I like this recipe so much and want to share it, I finally took some notes and wrote down measurements for the soup.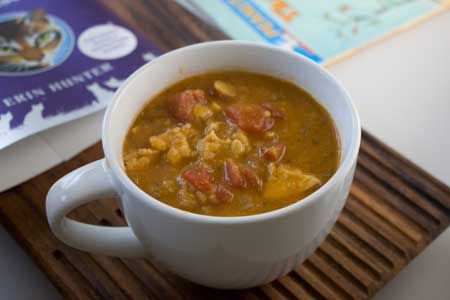 I wrote all the steps as I went along, kind of the same way I'd do if I were developing a recipe for a contest. Success! The soup was great. Or at least by our standards, and I realize everyone's are different and based on personal preferences etc. In Austin, our favorite places to order tortilla soup are Roaring Fork, Manuel's (though they changed the name to Sopa de Tres Chiles) and believe it or not, BJ's Roadhouse. Houston's (which is now called Bartlett's in Austin) makes a famous tortilla soup, but it's on the richer side.
This one's lighter in the sense that it doesn't have any cream or cheese. The tortillas thicken the soup, and chicken adds a lot of satisfying protein, though you could just as easily make this vegetarian by leaving it out and using vegetable broth. If you try it, let me know! And if you have a favorite tortilla soup recipe, I'd be interested in hearing that as well. This one doesn't have any "fire" to it because I typically don't like mouth numbing food (sinus clearing, yes…mouth numbing, no). So if you want to add that kind of heat, be sure to add your favorite HOT pepper or use a spicy chili powder.
Update: We've since moved to Chicago and are still looking for great restaurant tortilla soup!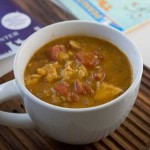 Print Recipe
Tortilla Soup
An easy tortilla soup recipe and a great way to use up leftover roast chicken.
Ingredients
2

tablespoons

light olive oil or vegetable oil

1

cup

chopped onions

4

3 ounces corn tortillas, chopped (about 3/4 cup chopped)

1

tablespoon

finely chopped garlic

14

ounce

can of diced tomatoes

drained

3

cups

of reduced sodium chicken broth

plus more if desired

2

tablespoons

carrot baby food

optional

1

tablespoon

ground cumin

1 1/2

teaspoons

mild chili powder blend such as Gebhardt or Bolner's Fiesta

1

teaspoon

honey

1

bay leaf

1/4

teaspoon

cayenne

optional -- I never use

1 1/2

cups

shredded chicken breast

use more or less

Black pepper and salt to taste

if necessary

Garnish: avocados

shredded cheese, chopped tomatoes
Instructions
In a Dutch oven or large pot, heat the oil over medium for about 40 seconds. Add the onions and tortillas and sauté for 3-5 minutes.

Add the garlic and sauté for another 2 minutes, scraping bottom of pot with a spoon.

Add the tomatoes and 1 cup of the water or broth. Scrape bottom of pot. If using soup base, add the soup base and stir until it is dissolved. Stir in remaining 2 cups water (or broth).

Continue heating over medium or just below a boil, then add the carrot baby food, cumin, chili powder, honey and the bay leaf. Increase heat slightly and bring to a boil, then reduce heat to a simmer. Cover and let simmer for 30 minutes. Uncover and simmer, stirring often, for about 20-30 minutes or until soup is thick. Add salt and black pepper to taste. About 5 minutes before serving, add the chicken. Alternatively, you can put a big stack of chicken in a bowl, top it with avocados and cheese, then pour the soup around it. Remove the by leaf before serving. Makes about 5 cups.
Notes
We don't add any hot peppers, but if you like fiery spice feel free to add a dash of cayenne or chipotle powder or any type of hot pepper you like.
If you're serving this for dinner, you'll get enough to feed 2 hungry adults and 1 kid. For lunch or as a side, you could probably serve 4 or 5. If soup is too thick after the last long simmer, thin it with a little extra broth.