Our family loves tortilla soup, so I make it about once a week with a lot of improvisation based on what's around. Since I taste as I go and change things up, rarely is one batch of tortilla soup the same as the last.  I finally took some notes and wrote down measurements for our favorite tortilla soup.
First you should know that this soup is a little different.  Usually fried corn tortillas are piled on top of tortilla soup, but in this recipe they thicken it.  You'll need about 4 corn tortillas to start, though the number will vary because they come in all shapes and sizes.  I generally use 3 oz (84 grams) total. If you want fried tortillas on top, you will need more.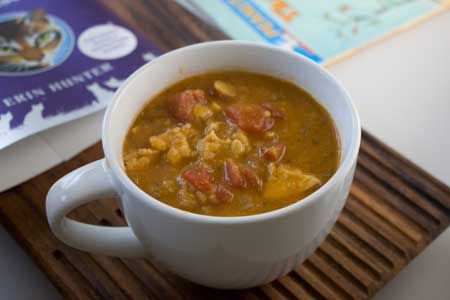 Cook the Chopped Tortillas With the Onions
To start, you cook the tortilla pieces along with the onions before proceeding with the rest of the soup recipe. As it cooks the soup gets thicker and thicker. You will also find that leftover soup (if you have any) gets thicker and that you'll have to dilute it with more broth.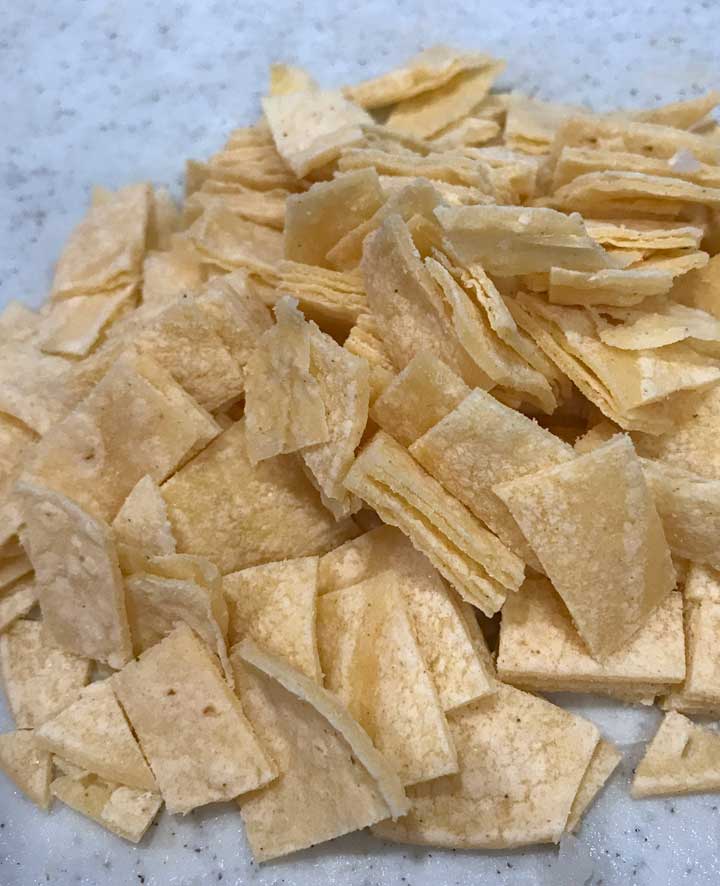 Thickening With Maseca
So this is a thick soup, but it is lighter in the sense that it doesn't have any cream or cheese. The tortillas thicken the soup, but if you want it even thicker you can add in a little masa harina (I like Maseca) or thicken with frozen French fries, which are a surprisingly great way to thicken soup. I do not usually add cream to this soup, but I noticed a similar recipe called Martina McBride's Tortilla Soup which calls for milk and a little cream. If you've tried it, let me know!
Your Favorite Tortilla Soup
If you have another favorite tortilla soup recipe, I'd be interested in hearing that as well. This one doesn't have too much heat to it because I typically don't like mouth numbing food (sinus clearing, yes…mouth numbing, no). So if you want to add that kind of heat, be sure to add your favorite HOT pepper or use a spicy chili powder or use Rotel tomatoes.
Tortilla Soup Ingredients
Corn Tortillas -- They are pretty easy to find in Texas, but if you live farther north of the border it may be trickier. Luckily, almost any brand should work. If you can't find any, you can make your own.
Chili Powder -- Chili powder is not the same as ground chile pepper. Chili powder used in tortilla soup is a blend of ground chili, cumin, oregano and other spices. There are different brands with different flavors. As a Texan I grew up with a brand of chili powder called Gebhardt. Gebhardt is the quintessential Texas chili powder and different from other brands in some ways. Its flavor is a little more complex, it's not as hot (so you can add more cayenne (if you need to), and it's not salty.
Tomatoes -- I prefer plain canned diced tomatoes, but if I'm making this for my husband (which is usually the case) I use Ro-Tel tomatoes, which are very spicy.
Broth -- I use whatever brand is on sale or if I have some homemade I'll use that. The salt level of the broth will determine how much salt (if any) you'll need to add to the recipe. It's generally a good idea to start with reduced sodium so that you can control the salt. Both chicken and vegetable broth work well.
Cumin --This is a favorite spice so I use a lot. I've reduced it from a full tablespoon to a teaspoon.
Carrots -- I usually have carrots, so I add them for sweetness. At point I used carrot baby food for sweetness and body. Now I rarely have carrot baby food around.
Honey -- the sweetness of the honey brings out the other flavors. I often use even more than is listed in the recipe. Brown sugar also works.
Optional Ingredients
Tortilla Strips -- In addition to the tortillas in the soup, you may want to pile fried tortilla strips on the soup before serving. If you have an air fryer you can toss some tortilla strips in a little olive oil and air fry until crispy. Alternatively, you can bake the oil-tossed strips in the oven for about 8 minutes.
Chicken -- I sometimes leave the chicken out of the soup and pour the soup over a pile of chicken that I've put in a bowl. Any kind of chicken works, even canned.
Avocado & Cheddar Cheese -- Pile on top if you have them. I usually leave them off.
Cilantro -- None listed! My husband thinks it is vile therefore I don't use it, but in my opinion it makes everything better. So definitely garnish with cilantro if you have some.
Recipe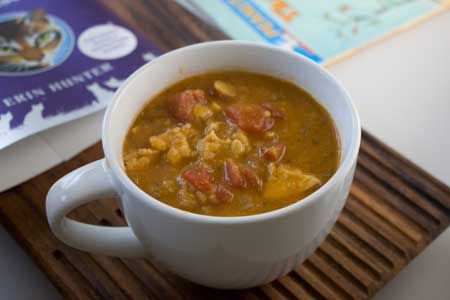 Tortilla Soup
An easy tortilla soup recipe and a great way to use up leftover roast chicken.
Ingredients 
2

tablespoons

light olive oil or vegetable oil

1

cup

chopped onions

¾

cup

roughtly chopped corn tortillas**

84 grams

1

tablespoon

finely chopped garlic

14

ounce

can of diced tomatoes

drained, OR A can of undrained Rotel for spiciness

3

cups

of reduced sodium chicken broth

plus more if desired

½

cup

sliced carrots

1

teaspoon

ground cumin

Feel free to use more

1 ½

teaspoons

mild chili powder blend such as Gebhardt or Bolner's Fiesta -- Some brands are spicier than others

1-2

teaspoon

honey

I sometimes use more

1

bay leaf

¼

teaspoon

cayenne

optional -- I never use

1 ½

cups

shredded chicken breast

Use more or less depending on your tastes

Black pepper and salt to taste

if necessary

Garnish: avocados

shredded cheese, chopped tomatoes, fried tortilla strips
Instructions 
In a Dutch oven or large pot, heat the oil over medium for about 40 seconds. Add the onions and tortillas and sauté for 3-5 minutes.

Add the garlic and sauté for another 2 minutes, scraping bottom of pot with a spoon.

Add the tomatoes and 1 cup of broth. Stir well, then gradually stir in remaining 2 cups of broth.

Continue heating over medium or just below a boil, then add the carrots, cumin, chili powder, honey and the bay leaf. Increase heat slightly and bring to a boil, then reduce heat to a simmer. Cover and let simmer for 20-30 minutes.

Uncover and simmer, stirring often, for about 10-15 minutes or until soup is thick. Add salt and black pepper to taste. About 5 minutes before serving, add the chicken. Alternatively, you can put a big stack of chicken in a bowl, top it with avocados and cheese, then pour the soup around it. Remove the by leaf before serving. Makes about 5 cups.
Notes
Corn tortillas come in all shapes and sizes, so your best bet is to weigh 84 grams.
We don't add any hot peppers, but if you like fiery spice feel free to add a dash of cayenne or chipotle powder or any type of hot pepper you like.
If you're serving this for dinner, you'll get enough to feed 2 hungry adults and 1 kid. For lunch or as a side, you could probably serve 4 or 5. If soup is too thick after the last long simmer, thin it with a little extra broth.