Thanks to everyone who participated in the Jif Chocolate Hazelnut Spread giveaway. Alyson D.'s comment was chosen at random, so congratulations to her. But thanks to everyone for sharing tips and good luck in the next giveaway. Now here's my tip, which is really just another recipe.  It's a Chocolate Marshmallow Hazelnut Spread Brownie.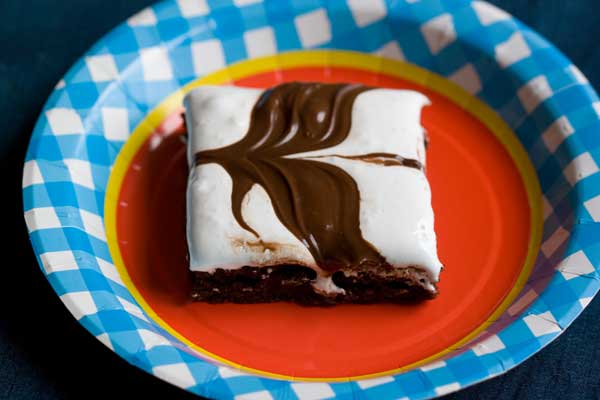 This is a twist Pillsbury's back-of-the-box recipe where you spread marshmallow crème over brownies and swirl chocolate frosting through it. In this case you use (what else?) Jif Chocolate Hazelnut Mocha Flavored Spread in place of the frosting and add instant coffee and chocolate chips to the batter.
Because I needed something quick, I used a box of Pillsbury fudge brownie mix that came with the giveaway, but you can use ANY brownie recipe you like as the base. For scratch, I recommend a cocoa based one that's not so rich it clashes with the topping. However, the texture and richness level of boxed mixed worked perfectly.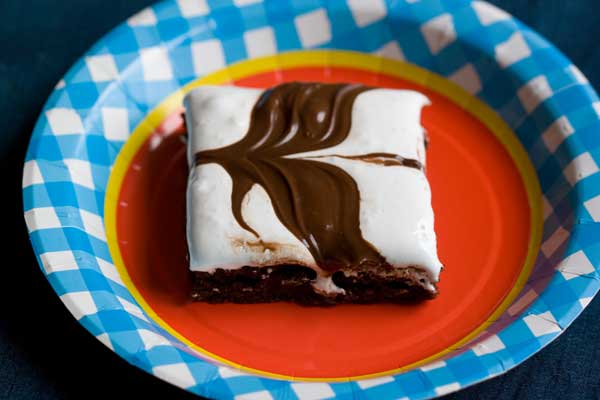 Chocolate Marshmallow Hazelnut Spread Brownie
Brownies topped with marshmallow creme and Jif chocolate hazelnut spread.
Ingredients 
1

box brownie mix for a 9x13 inch pan or 1 batch homemade

1

teaspoon

of fine instant coffee or instant espresso

1

cup

dark or semisweet chocolate chips

1

jar Marshmallow Crème or 1 ½ cups Marshmallow Fluff

Some Jif Chocolate Hazelnut Mocha Flavored Spread
Instructions 
Prepare one 9x13 inch pan of brownies as directed on the package using oil and eggs as needed, but add 1 teaspoon of fine instant coffee (the kind that comes in little packets) or 1 teaspoon of instant espresso powder to the batter as well as 1 cup dark or semi-sweet chocolate chips. Bake as directed. Alternatively, you can make an 8 inch pan and use half of all the ingredients.

Let the brownies cool until they are just a tad bit warm, then spread 1 jar of Marshmallow Crème across the top, by dropping it on in small gobs and spreading the gobs until they come together. The small bit of heat from the brownies should melt the marshmallow a little bit.

Spoon lines of Jif Chocolate Hazelnut Mocha Flavored Spread horizontally or vertically (doesn't matter) over brownies. Drag a skewer through the lines, first toward you, then away from you, alternating directions to make the whale-tail/leaf pattern.

Put the brownies in the refrigerator (or cheat and use the freezer) for about 30 minutes or until the top is set just until so that when you cut it, the brownies aren't gooey.

Cut into any size squares or bars and keep chilled until ready to serve. The topping should stay in place fairly well.