I wish I had a recipe to post, but this morning I have thrown away not one but two different cookie experiments. Time to take a break and do a giveaway. Can you guess what it is? If the giant photo didn't clue you in, it's Fisher Nuts! They've repackaged their trail mix in a "freshness seal" bag and want to let everybody know, including you.
Fisher sent our family five flavors to sample including Tropical, Cheddar Trail Mix, Summit Trail Mix, Sweet Nut Trail Mix and one I could use right now, Energy Trail Mix. So far I've only tasted the tropical flavored version. The banana chips were very crisp, the nuts had a clean flavor and the pineapple and mango were fine too (though in my opinion, they could have swapped out some of those banana chips for more pineapple and mango).  Of course now it looks like I won't be needing the freshness seal, because it's all gone.
Right now I'm trying to decide whether to bake the other flavors into granola type bars or cookies, or eat them straight. What would you do? For a chance at a free sample pack of 5 different trail mixes, leave a comment telling me how you use trail mix. This giveaway will end Monday June 25th at midnight and I will contact a commenter on Tuesday the 26th.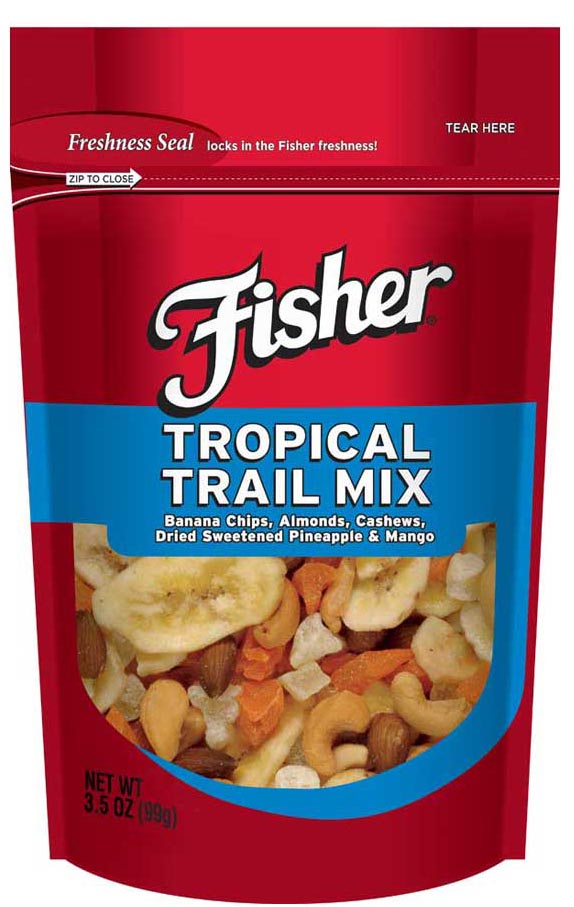 Recipe to come (hopefully). If not, check Fisher's new recipe section. I'm looking forward to perusing it this afternoon, though I have to admit I'm a little envious of how neat and clean it looks. I wish I could make my recipe collection look like that.