I used to think granola bars should be made with raw oats, nuts, seeds and sugar and that making them with prepared granola was just redundant. However, now that I've become fanatical about making homemade granola and have loads and load of it in the freezer, I'll use it any way I can. The latest way being, to put it in these simple, no-bake granola bars.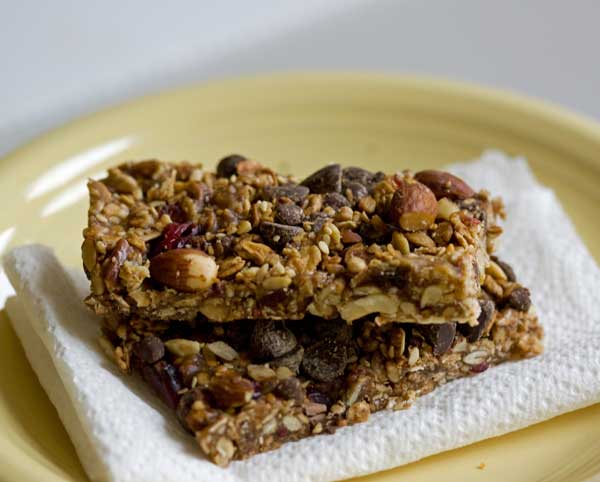 I've seen different versions of this recipe across the web. One version, which I tried and tossed, calls for regular oats instead of granola. Ugh, the bars tasted like chewy, raw oats. But this version, made with the actual granola, was more my style. They're rich from all the nuts, granola and chocolate, but not too buttery and definitely not cakey. If anything, they're more like candy.
Mine held together just fine, but if you mess with the proportions of sugar and syrup you might have issues. Which is not to say don't mess with it, but you need a certain amount of syrup and butter to bind these. My biggest concern was pouring the hot sugar mixture over the oats and melting the chocolate chips, so I made sure to let the sugar mixture cool. I actually cooled it too much and had to literally knead the syrup mixture into the granola mixture, but all was well in the end and the chips didn't melt. I think using cold chocolate chips (or M&Ms, maybe?) might help alleviate the melting issue as well.
Recipe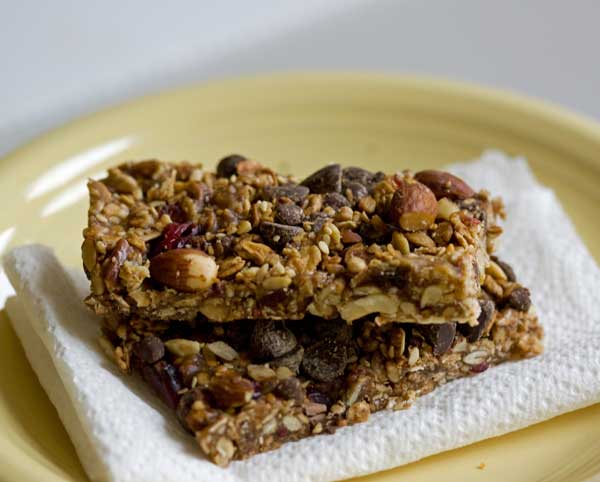 No-Bake Granola Bars
An easy no-bake granola bar recipe made with granola
Ingredients 
4

tablespoons

unsalted butter

⅛

teaspoon

salt

½

cup

plus 2 tablespoons packed light-brown sugar

3

tablespoons

honey

3

tablespoons

maple syrup

1

teaspoon

vanilla

3

cups

granola

½

cup

frozen semisweet chocolate chips

½

cup

toasted and chopped almonds

or ½ cup trail mix, chopped

½

cup

raisins (or use another ½ cup trail mix

chopped
Instructions 
Line a 9x13 inch pan with nonstick foil. If making a half batch, use an 8 inch pan.

Melt the butter in a nonstick saucepan. Stir in the salt, sugar, honey and maple syrup and bring to a boil. Boil gently for 2 minutes to dissolve the sugar, then remove from the heat and let cool for about 5 minutes. Stir in the vanilla and let cool for another 10 minutes, but not so long that it becomes stiff. The point of letting it cool is so that it's not so hot as to melt the chocolate.

Meanwhile, crush the granola with a rolling pin. Combine the crushed granola with the cold chocolate chips, nuts and raisins (or trail mix).

When the sugar mixture has cooled slightly, stir it into the granola mixture

Stir until fully blended, then press it as tightly as you can into the pan. Let cool at room temperature for about a half hour, then score the bars without separating. Chill until firm. Lift from the pan and separate the bars.