I can't say I have a favorite bakery in Dallas, but I'm really warming up to Bird Bakery in Highland Park. They are always friendly, have reliably good coffee, and most importantly they make very good Monster Cookies.  The photo below is the actual cookie from BB.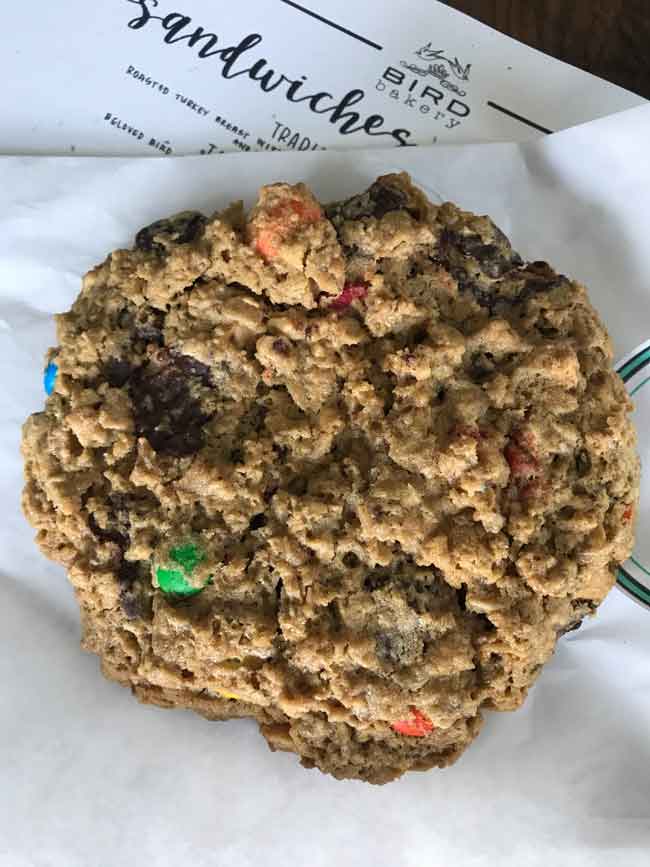 The Bird Bakery recipe is pretty similar to other Monster Cookie recipes, but they do a couple of things to make their Monsters special. For the brown sugar, they use a mix of dark and light. For the oats, they use both old fashioned and quick to make the texture more interesting. And for the M&Ms they use both plain and peanut. And unlike my other favorite Monster Cookies, their recipe does not contain any flour, so the cookies are naturally gluten-free.  Photo below is a homemade cookie (left) and part of the BB cookie.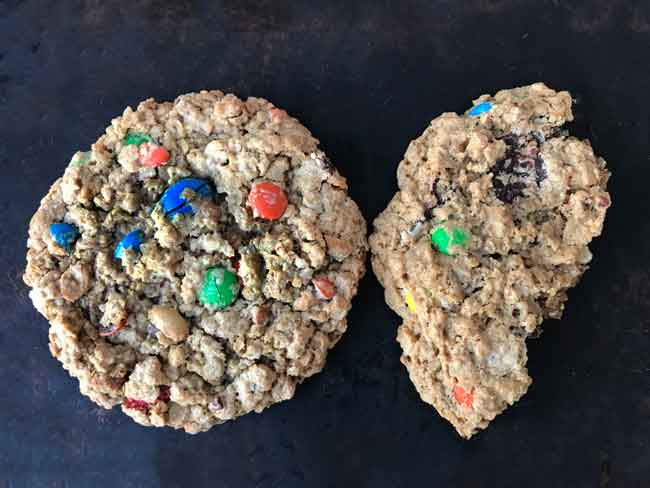 Since I couldn't fit the whole recipe in my mixer, I halved it. That's pretty much the only change I made and the cookies came out similar to Bird's, though a little lighter in color and more rounded. The cookies taste great and seem to keep well, which is always a plus if you can't eat them right away. I also appreciate that they are gluten-free, yet don't require any special flours.
So thanks to Bird for keeping up the Monster Cookie tradition and for sharing a recipe! I had fun making their recipe and comparing it to what I bought at the shop.
Update: My new favorite thing to do with Monster Cookies is to put a Reese's Thin in the middle!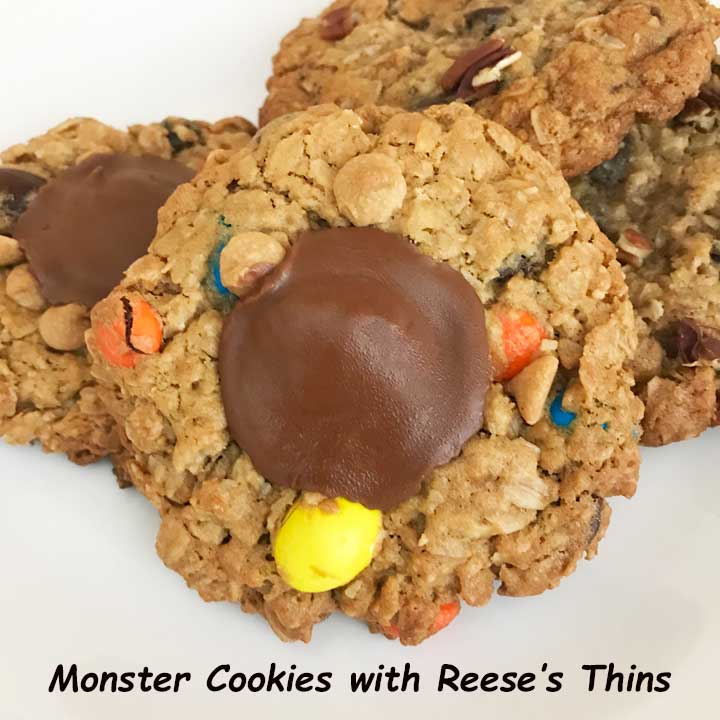 Small Batch Gram Measurements
If you want to make a small batch version of Monster Cookies, here are the gram measurements.
40 grams butter, softened
65 grams brown sugar
65 grams granulated sugar (fine)
1 large egg (50 grams)
¼ teaspoon vanilla extract
¼ teaspoon corn syrup
½ teaspoon plus ⅛ teaspoon baking soda
Pinch of salt or omit if you used salted butter
110 grams of peanut butter, smooth or creamy
140 grams of oats, mix quick and old fashioned types if you can
¼ to ½ cup assorted candies
Recipe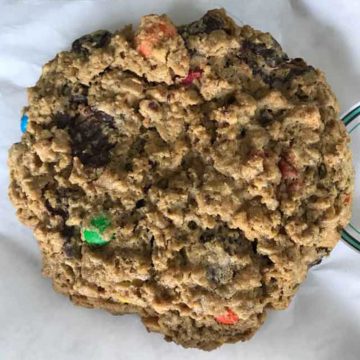 Bird Bakery Monster Cookies Copy Cat
Monster Cookies are big peanut butter oatmeal cookies filled with M&Ms and chocolate chips. They are gluten-free.
Ingredients 
1

stick unsalted or salted butter

softened (114 grams)**

1

cup

brown sugar

200 grams, use half dark and half light

1

cup

fine sugar

200 grams

3

eggs

¾

teaspoon

vanilla extract

¾

teaspoon

light Karo syrup

1 ¼

cups

chunky peanut butter

320 grams

2

teaspoons

baking soda

½

teaspoon

of salt IF YOU USED UNSALTED BUTTER

2 ¼

cups

quick-cooking rolled oats

220 grams

2 ¼

cups

old-fashioned oats

220 grams

¾

cup

semisweet chocolate chips

114 grams (feel free to add more!)

¾

cup

regular M&Ms

¾

cup

peanut M&Ms
Instructions 
Preheat oven to 350 degrees F. Have one or two large rimmed baking sheets lined with parchment paper.

With an electric mixer, beat the butter and all sugars until blended. Add eggs one at a time and beat on medium until pale and fluffy. Add vanilla, corn syrup and peanut butter and mix until smooth.

Beat in the baking soda, then beat in the salt ONLY if you used unsalted butter.

Add oats one cup at a time, mixing well. Stir in the chocolate chips and M&Ms mixing until completely incorporated.

Using a heaping ⅓ cup measure or a more level ½ cup, scoop out large chunks of dough. Each should weigh around 4 ½ oz. Shape into firm balls and press tops to make mounds.

Arrange about 5 to a baking sheet and bake one sheet at a time for 15 minutes. Scoop onto baking sheet using a serving spoon or small ice cream scoop. Bake at 350 degrees for 15 minutes. Enjoy!