I love monster cookies, the sometimes-but-not-always flourless peanut butter & oatmeal cookies packed with chunks of candy. As much as I enjoy them, I usually forget about Monsters until I'm in a rush or just need a quick throw-together cookie. Such was the case today. I'm in the process of making a Junior's Cheesecake, but it won't be ready until tomorrow. Halloween Monster Cookies to the rescue!
Since I'm the only one in the house who really likes Monster Cookies, I made a small batch of 8.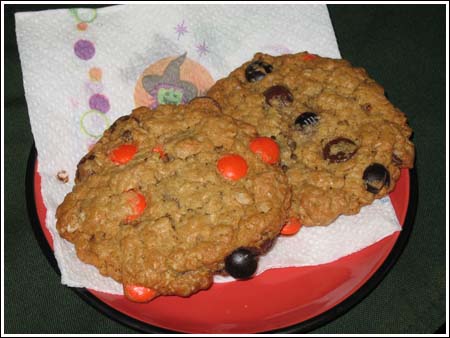 Small Batch Halloween Monster Cookies
Halloween Monster Cookies are made with orange and black candies, hence the name. Make them with different colored candies for other holidays.
Ingredients
1 large egg, room temperature
1/3 cup brown sugar, packed (70 grams)
1/3 cup granulated sugar (70 grams)
1/2 teaspoon vanilla
1/2 teaspoon baking soda plus a tiny pinch
1/4 very slightly rounded teaspoon salt
2 1/2 tablespoons unsalted butter, softened (not quite melted) (35 grams)
1/2 cup creamy peanut butter (128 grams)
1 1/2 cups quick cooking oats
2 tablespoons white or whole wheat flour (don't pack)
1/3 cup chocolate chips
1/2 cup Halloween colored M&Ms
Instructions
Preheat oven to 350 degrees F. Line two cookie sheets with parchment paper.
In a mixing bowl, beat the egg, both sugars, vanilla, baking soda and salt. Stir in softened butter and peanut butter, followed by oats and flour. Stir in other ingredients. Let dough rest for 30 minutes.
Using a 1/4 cup measure, scoop up dough and shape into balls. Press the balls slightly to form discs and place 4 to a cookie sheet. Bake one sheet at a time for 12 minutes. Cool on cookie sheet for 2 minutes, them move to a rack to cool.
Related posts: