Today's bar cookie is for peanut butter cup fans.  While the recipe doesn't call for any actual peanut butter cup candies, Peanut Butter Topped Chocolate Brownies have a brownie base and a topping made with ingredients used homemade Reese's type candy.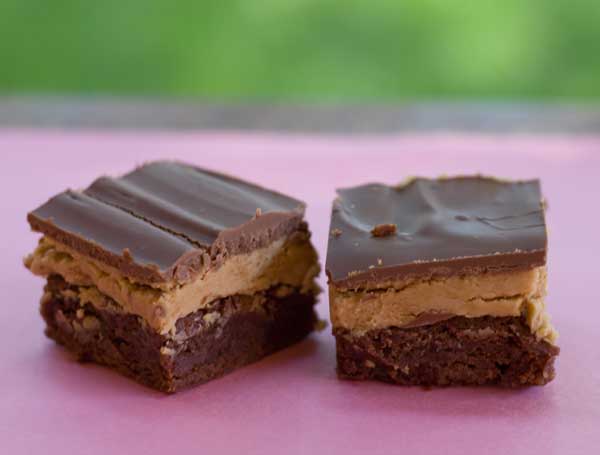 The peanut butter layer of this brownie is slightly sweeter than both this one and this one, and the kids seemed to like it better; especially Fuzz, who has a "take-it-or-leave-it" attitude towards peanut butter.  Sweetness aside,  these are really good. I used milk chocolate for the topping and was happy with my decision, though I wish I'd used a higher quality one. Maybe next time.   Dark chocolate would also work.
Recipe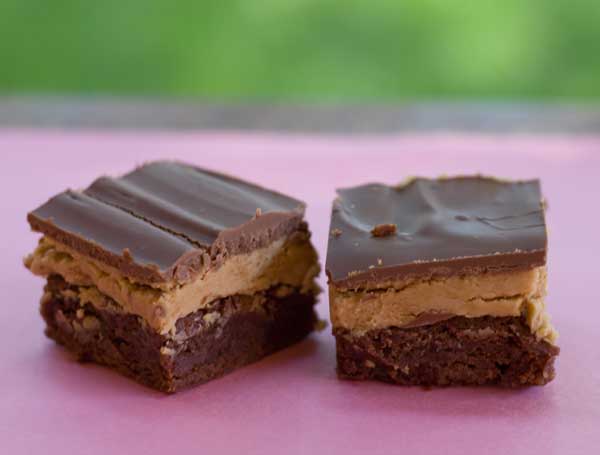 Peanut Butter Topped Chocolate Brownies
Brownies topped with a layer of peanut butter and a layer of chocolate
Ingredients 
8

tablespoons

unsalted butter

2

ounces

of unsweetened chocolate

chopped

1

cup

granulated sugar

2

large

cold eggs

2

tablespoons

brewed coffee

1

teaspoon

vanilla extract

⅜

teaspoon

salt

½

cup

2.2 ounces all-purpose flour
Topping
2

tablespoons

softened butter

½

cup

plus 2 tablespoons creamy peanut butter plus a little more**

1-¼

cup

*sifted* powdered sugar

½

teaspoon

vanilla

6

ounces

chopped milk or dark chocolate
Instructions 
Preheat oven to 375 degrees F. Line an 8 inch square metal baking pan with nonstick foil or line with regular foil and spray with cooking spray.

In a saucepan, melt the butter, add the chopped chocolate and stir until smooth, then remove from heat and stir in the sugar. Let the mixture cool for about 5 minutes. Add the eggs, one by one, stirring just until mixed, then stir in the coffee and the teaspoon of vanilla. Stir in the salt and when well mixed, stir in the flour. Pour the batter into the prepared pan.

Bake at 375 degrees for 20-25 minutes or until a toothpick inserted comes out clean. Remove from oven and let cool until they are just slightly warm. However, while the brownies are still hot, put a few teaspoons of peanut butter on top and let it soften from the heat. When the brownies have cooled slightly but are still warm, spread the softened peanut butter in a very thin layer. This is to help the second layer stick better.

Mix peanut butter and 2 tablespoons butter. Add sifted powdered sugar and vanilla; mix until it's smooth. It will be thick and dough-like. Feel free to add more peanut butter if desired. Place mixture between 2 sheets of parchment, wax paper or foil and press into an 8 inch square.

Lift the slightly warm brownies from the pan by grasping foil. Peel foil/parchment away from one side of the peanut butter and turn it onto the brownies. Pull off the other piece of paper. Let cool.

Melt chocolate in the microwave using 50% power and spread over top. Allow the chocolate to set, but before it gets very firm, go ahead and score it. Chill until firm, about one hour. Trim the edges , then cut into 12 or 16 squares.
Notes
The ½ cup plus 2 tablespoons of peanut butter gets mixed with the sugar, etc. for the topping. You'll use a little more peanut butter to make a sticky layer that helps adhere the peanut butter/sugar layer to the brownies.