Adding Dr Pepper to brownie mix has gone viral. It sounds fun and I'm going to try it (mainly for an excuse to make boxed brownies), but I wanted to try an older scratch no-oil Dr Pepper Brownies recipe first. Instead of using brownie mix, you mix together flour, sugar, cocoa powder, baking powder and salt, then add 1 ½ cups of Dr. Pepper and some chocolate chips. The Dr Pepper takes the place of eggs, vanilla and oil, so you use fewer ingredients and get lower fat brownies. Here's what they look like.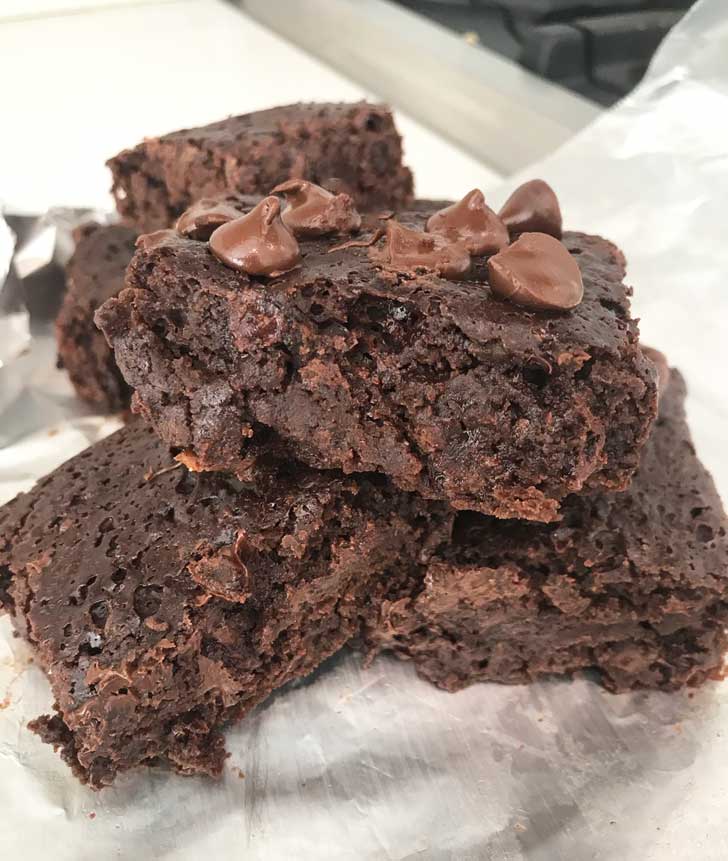 Dr Pepper Brownies Texture Flavor
I was skeptical at first, but even without the fat they are pretty good. They are moist, cakey (but not at all dry) and have a soft texture punctuated by bursts of chocolate from the chocolate chips. You will be able to tell they are low fat, but that doesn't necessarily make them bad. They just have a different texture. Be sure to let them cool for a bit because the texture improves as they cool.
Flavor
As for the Dr Pepper flavor, if someone served these and didn't tell me the secret ingredient I would have no idea it was Dr Pepper. But the brownies do have a good flavor, so it does add something. The Dr Pepper does its magic by adding air and sweetness. You could probably use any flavor of cola here and get a similar result. Maybe even an orange cola if you like the chocolate-orange combo. Hmm...or use Pepsi and swirl in a little peanut butter for a Southern theme.
Loaf Pan or Muffin Pan
So far I've only tested these in a 9x5 inch loaf pan and in a 6 serving muffin pan. I have not tried the original 8 or 9-inch square pan size version. If you want to use a square pan, just double the recipe. You will most likely have to bake it a little longer in the 8-inch square pan, and perhaps for a little less time in a 9-inch since since it will be shallower. But maybe try the loaf pan version first to see if you like the low-fat texture.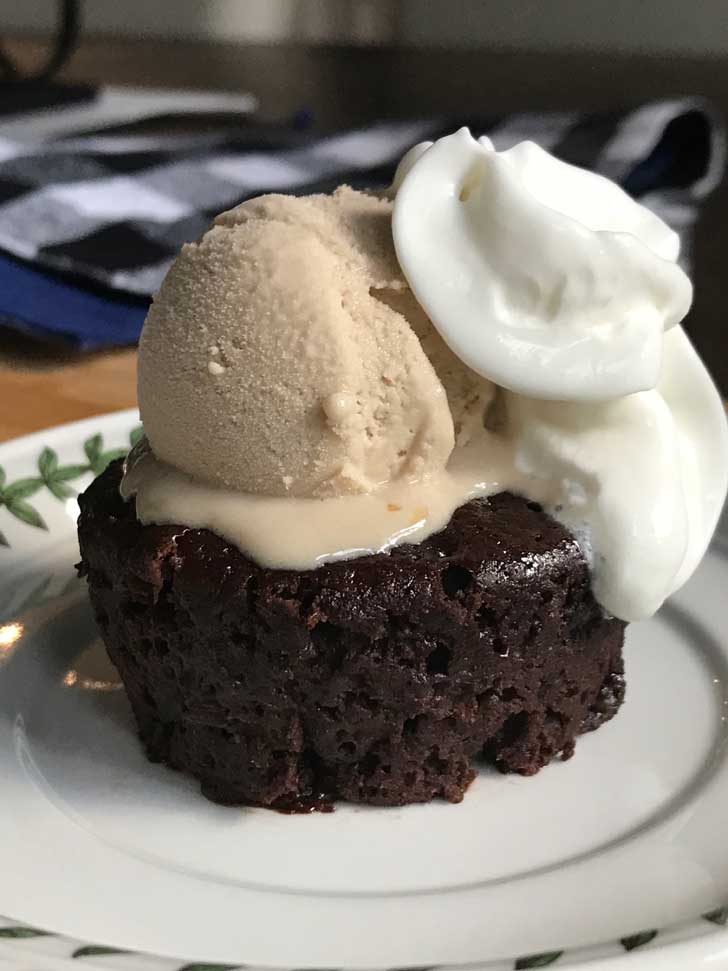 Gluten-Free Dr Pepper Brownies
For the muffin pan version, I made the brownies gluten-free by using 84 grams of gluten-free flour (King Arthur Measure for Measure) and baking in silicone muffin cups. My Aldi (Crofton) silicone muffin cups are slightly larger , so the yield was six rather than 8. For the gluten-free version, I lowered the heat and baked the muffin pan brownies at 325F for about 25 minutes.
Nutritional Values
I put this recipe through a calculator on My Fitness Pal and it says each brownie (⅛ of a pan) has 112 calories, 3 grams protein, 4 grams of fat and 20 carbohydrates. I don't know how accurate that is, but I almost always get requests from people asking about nutrition counts and that is what the calculator said.
Serving Low Fat Dr Pepper Brownies
You can eat these brownies as they are or use them as components of light desserts by topping with a cookie scoop size ball of ice cream (light or full fat) or pairing with light whipped cream and fresh fruit. Or maybe add light whipped cream and bourbon soaked cherries! Combined with the other textures, the low-fat texture is less noticeable.
I had so much fun making these, but the recipe also motivated me to re-make the old Dr Pepper Chocolate Layer Cake recipe that I posted years ago. The chocolate frosting on that cake is a really good one, similar to Ermine. I feel like it's a bit crumbly so I'm going to re-do that one too.
Recipe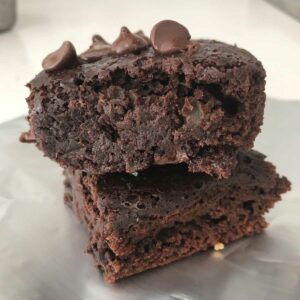 Dr Pepper Brownies Oil-Free Version
Easy oil-free brownies with Dr Pepper
Ingredients 
½

cup

plus 2 tablespoons all-purpose flour

(84 grams)

½

cup

sugar

(100 grams)

⅓

cup

natural cocoa powder (I haven't tested with Dutch)

(28 grams)

½

teaspoon

baking powder

⅛

teaspoon

salt

⅓ to ½

cup

chocolate chips
Instructions 
Preheat oven to 350ºF. Line a 9x5 inch loaf pan or loaf pan whose bottom measures 4 inches by 8 inches with foil and spritz the foil with some cooking spray.

Combine flour, sugar, cocoa powder, baking powder and salt in a mixing bowl and stir well.

Pour in 6 oz (either weigh it or wait for the fizz to settle if measuring by volume) of Dr Pepper. Stir well. It will be very bubbly. Stir in the chocolate chips and pour in the pan.

Bake for about 28 minutes or until the top appears set and looks like cake. Let cool for about 10 to 20 minutes or however long you can stand to wait, then lift from the pan and cut into squares.