Happy holidays are on their way, and so are some new desserts! The first one is called Salted 2 Way Brownies. They're fudge brownies with cookie dough baked in to make chocolate brownies filled with chewy chocolate chip cookies. They're super easy, and I think once you buy your ingredients you'll have a good time making them.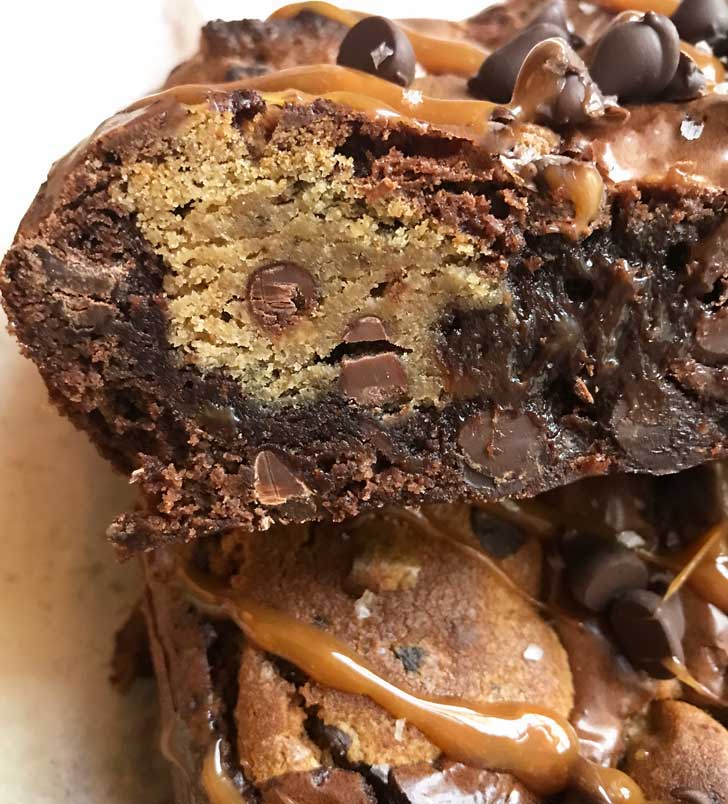 Package Brownie Mix and Cookie Dough
I like to call these kind of recipes "beach house recipes". They're perfect for when you're staying somewhere temporarily and need a recipe that doesn't call for a lot of ingredients and equipment.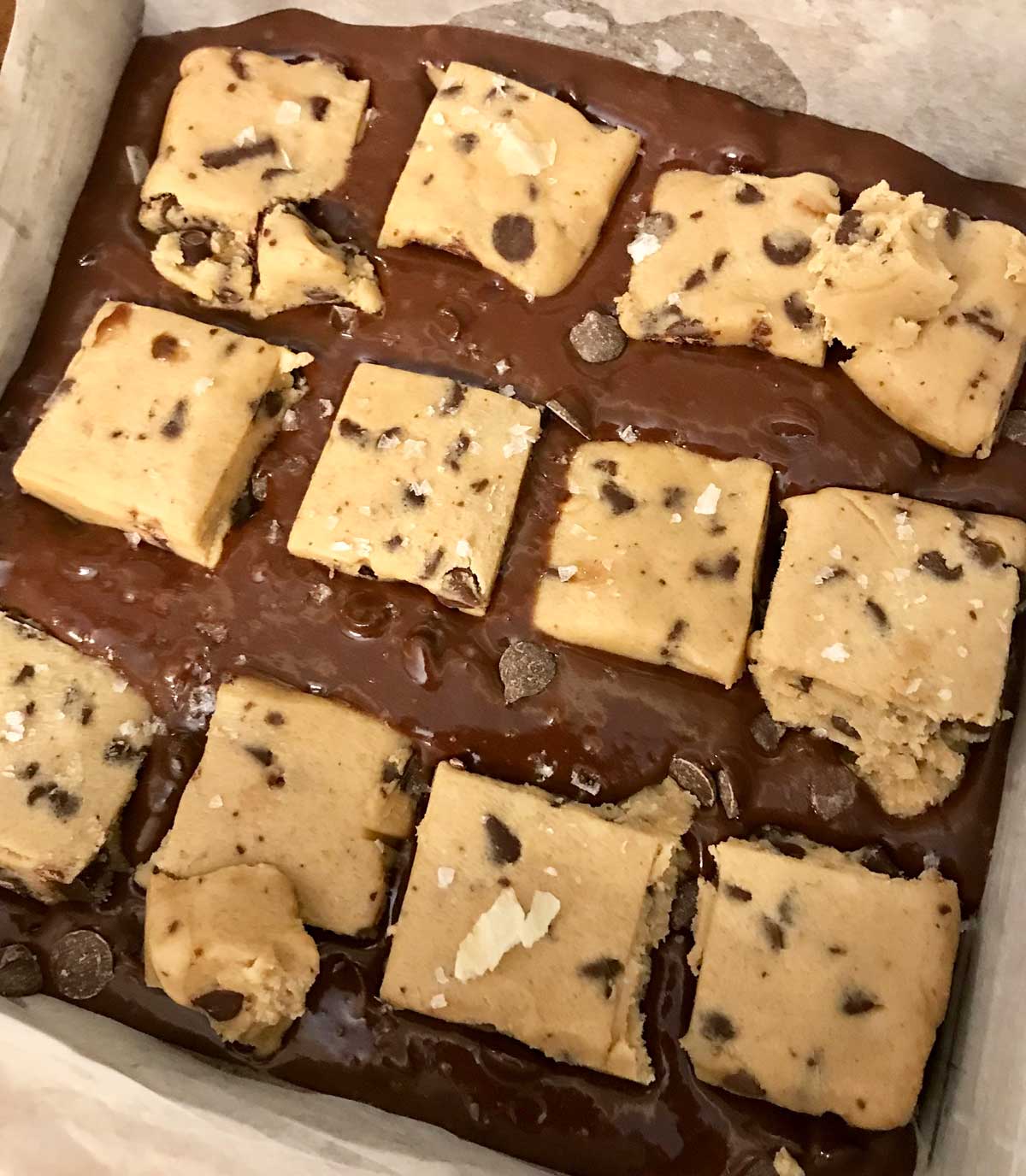 North Carolina State Fair Winner
And not only are these convenient, they are special because the brownies won first place at the North Carolina State Fair. The original recipe is by Emoni Jennings, who wrote exactly which brands of brownie mix and cookie dough to use for perfect results. Me being me, I improvised a bit. My changes were to use a different variety of Betty Crocker brownie mix, a different cookie dough and I drizzled the baked brownies with some melted Werther's Originals, which took an extra 2 minutes.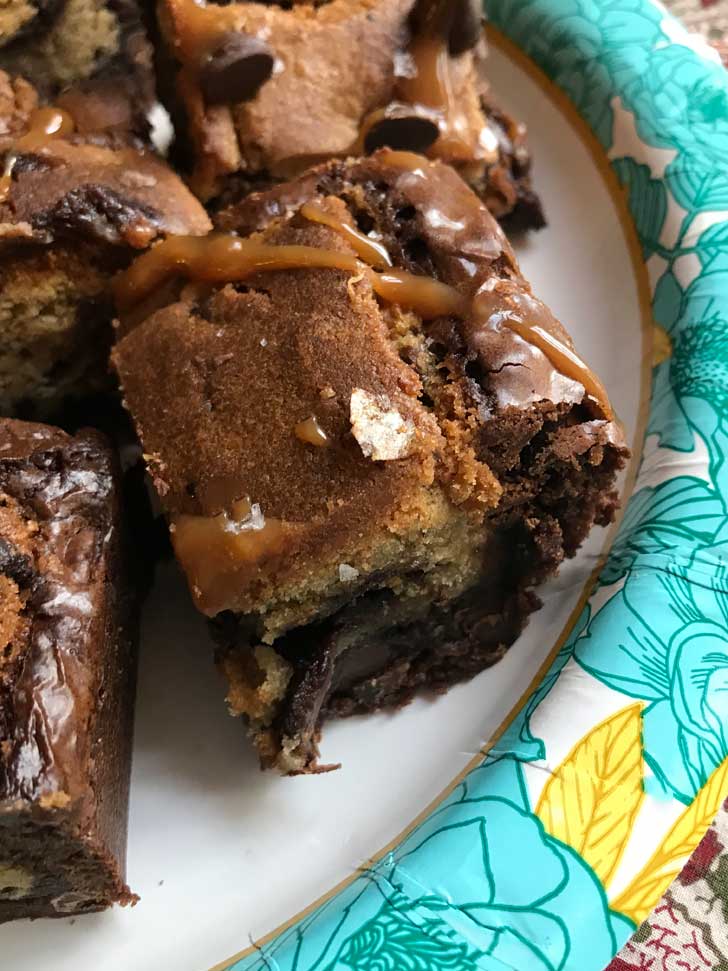 Despite going off the recipe, the brownies were good. I like the flavor of homemade brownies and packaged brownie mix brownies, so using a mix was a benefit --- especially in my transient kitchen situation. I plan on making these again with mixes, and experimenting with a scratch version. But if you don't want to go wrong the first time, I recommend trying it with the brownie mix and packaged cookie dough.
Salted 2 Way Brownies Ingredients Notes and Tips
Fudge Brownie Mix -- The original recipe calls for 1 box of Betty Crocker brand fudge brownie mix which you prepare and bake in an 8 inch square pan. I used Betty's Triple Chunk, which worked well, but might have a different bake time, as mine took longer than the original recipe. In addition to the mix you will most likely need an egg, oil and water or whatever the mix calls for.
Nestle Cookie Dough - You can cut it off a roll or use the pre-formed squares as you see in the photo. Using the squares was a breeze! The only drawback to the cookie dough is that it browns faster than the brownies bake, so you may need to shield the brownies with a sheet of foil along the way.
Chocolate Morsels -- You can use a full bag of milk chocolate chips or semisweet chips. One of theses days I'll try with the milk (probably sooner than later), but I used good quality semisweet and they worked just fine. Because I used brownie mix with chips already in it, I didn't need to use the full bag.
Caramel Drizzle -- Added because I had a bag of Werther's Soft Caramel in the house. All I had to do was mix about 5 pieces of caramel with a teaspoon of water and microwave until melted. This made the perfect caramel for drizzling.
Maldon Salt or Any Salt -- Big flaky salt really adds some character to this recipe, but if you just have some kosher salt around, that should work too.
Recipe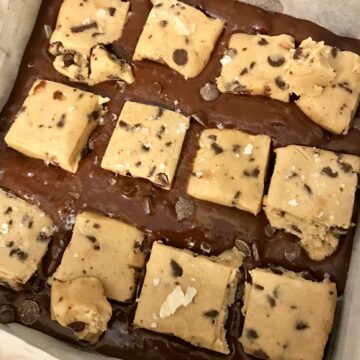 Salted 2 Way Brownies from the NC State Fair
A state fair winning recipe for brownies with chocolate chip cookies baked right in!
Ingredients 
1

package

Nestle Toll House Cookie Dough Log or a 1 pound pack of the pre-shaped Nestle dough.

2

cups

milk chocolate or semisweet morsels
Instructions 
Preheat oven to 350 degrees or if your brownies mix say otherwise, use that heat. Line a lightly greased 8 or 9 inch square pan with parchment paper.

In a large mixing bowl, prepare brownie mix as directed on the box using egg(s), oil and water as called for. Stir in the chocolate morsels.

If using a roll of cookie dough, slice 1-inch thick pieces of cookie dough into roughly 8-10 slices. For smaller cookies, cut the 8 to 10 slices in half. If using the pre-formed cookie dough, you can skip this step. So far I have only tested with the pre-formed dough.

Pour brownie batter into the baking dish and spread evenly. Arrange cookie dough pieces evenly across top of brownie batter.

Bake as directed on the box for the size of pan you used. Again, if using an 8 inch pan the cookies may brown faster than the brownies bake, so you may want to shield the pan with a sheet of foil. I used a box of Betty Crocker Triple Chocolate and it took 38 minutes. I did not shield the pan and the cookies were very brown (but still delicious!).

The best way to check if the brownies are done with with in instant read thermometer. Mine topped out at 180 degrees F. and were very soft in the center. I think you'll be okay with an internal temperature anywhere between 180 and 210 F.

While brownies are still hot, sprinkle sea salt evenly across top of brownies Set brownies aside for 10 minutes to cool. If using caramels, put the caramels in a small microwave-safe dish with a teaspoon of water. Heat on high for 20 seconds. Stir. Repeat if necessary until caramel is melted, then drizzle over brownies. Add a little more sea salt.

Let the brownies cool for several hours or overnight. Cut and serve.
Notes
The original recipe calls for Betty Crocker Fudge Brownie mix, an 8 inch pan and a bake time of 20 to 25 minutes at 350 degrees F.  I haven't tested this yet, but I do not think the brownies would be done in that amount of time in an 8 inch pan.  That sounds more like the time and temp for a 9x13 inch pan.