I'm stepping out of the cookie zone to share a recipe made with a pepper that is wildly popular here in Austin during the month of August, the Hatch green chile. Named after The Hatch Valley in New Mexico, Hatch green chiles are lighter in color, slightly sweeter and skinnier than poblano peppers. During Hatch season we use them in just about everything, which in this case is a creamy baked penne dish called Hatch Chile Baked Penne.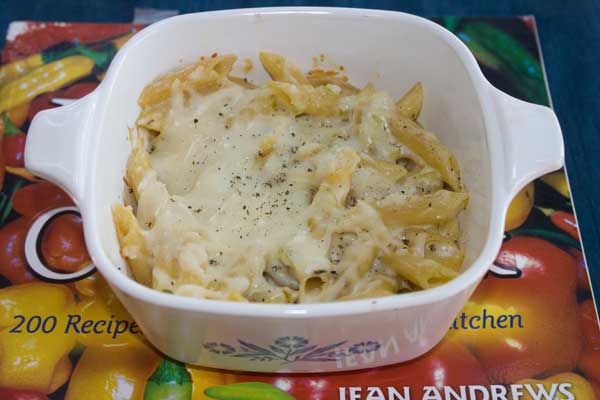 This recipe is from the late Jean Andrews, aka Austin's Pepper Lady. I never got to meet her, but always felt a connection because we appeared in the newspaper the same day. I'd won a cooking contest, and she was promoting The Peppers Cookbook. A day or two later, during a visit to my ear doctor, he commented that two of his patients had been in the paper. It was yet another "Austin sure is a small town" moment.  If you live here you know what I'm talking about. Everyone knows someone you know.
Anyhow, I went out and bought The Peppers Cookbook the next day. The recipe is adapted from one in the book which called for poblanos.  As you can see by the photo, I made a fraction of the dish, which is another nice thing about this recipe -- you can halve, quarter or even eighth it!    But don't worry.  The full batch Hatch Chile Baked Penne recipe is below.
Recipe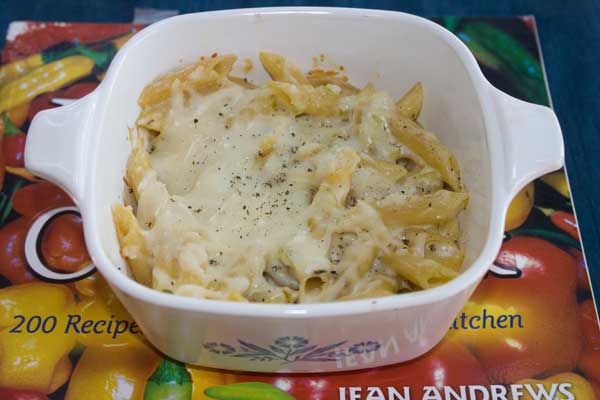 Hatch Chile Baked Penne
Creamy baked pasta dish made with Hatch chile peppers
Ingredients 
3

hatch chili peppers

mild or spicy

10

cups

of water

1

teaspoon

chicken or vegetable soup base

14 to 16

ounces

of penne pasta

2

cups

of sour cream or a mixture of sour cream and good yogurt

¼

cup

heavy creamy

completely optional!

2

cups

Mexican style shredded cheese

Monterey Jack etc.

Salt and pepper to taste
Instructions 
Roast the peppers. Slit the chili peppers down the center, scrape out the seeds and arrange on a large foil lined baking sheet. Bake at 450F for about 10 minutes or until the pepper's skins have blistered. Turn and bake for a few more minutes. Remove from the oven and using tongs, transfer to a heavy duty freezer bag or a bowl with a lid. Seal the hot peppers in the bag (or cover bowl) and let cool. When cool, remove from bags, peel away skins, chop.

Bring 10 cups of water to a boil. Stir in the soup base. You can also add a little salt to the water if you want. Add pasta and boil until al dente (7 to 12 minutes depending on type).

Meanwhile, in a food processor or blender, process the sour cream, and chopped chile peppers.

Drain the pasta and toss it with the sour cream mixture and 1 cup of the shredded cheese. If you feel like it, add a little cream. At this point you can add some salt and pepper to taste, but I never do.

Arrange in a greased 9x13 inch casserole dish and cover with foil. Bake at 375 F. for about 10 minutes, then sprinkle remaining cheese over the top. Bake uncovered for another 10-15 minutes or until cheese is melted.
Notes
To halve the recipe, halve all ingredients and bake in an 8 inch square casserole dish (1 to 1 ½ quarts). The amount of hatch peppers is a suggestion. Use however many you want! Also, the soup base just adds a touch of flavor to the pasta. You can skip it if need be, but if you skip it make sure to salt the water.