For the past year I've been baking and cooking with grapeseed oil – not exclusively, but "on and off" in pan-frying and baking. It has a high smoking point, so it doesn't smoke and splatter, and I'm convinced its viscous quality helps lock moisture into baked goods.   As far as health properties go, it's low in saturated fats and being touted as one of the healthier oils. We'll see about that.  What is true is that a lot of chefs are recommending grapeseed oil. And based on the success of these Chocolate Avocado Muffins, I would too. They were fabulous.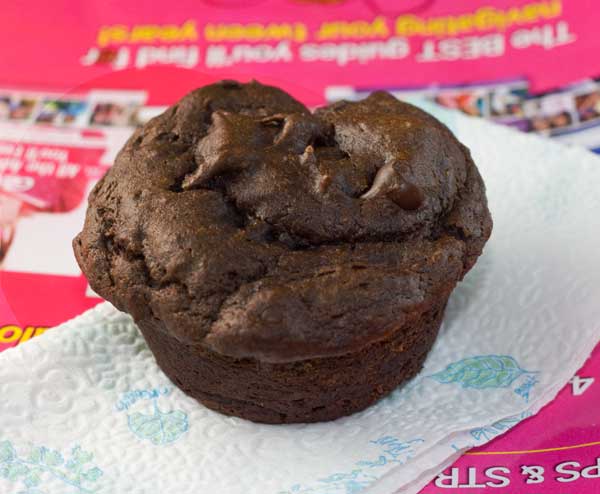 This recipe is from Carrie, who sells Wildtree brand grapeseed oil and was nice enough to give me a sample to use in the recipe. Along with avocado and maple syrup, the grapeseed oil gives these a wonderful texture and structure. Wild Tree calls them chocolate cupcakes, but I find them to be more like rich, delicious, chocolate muffins similar to the ones I bought a few years ago in London.
Flavor of Grapeseed Oil in Muffins
Grapeseed oil is advertised as having a neutral flavor. I was able to taste it, but my daughter said she couldn't. The sweetness in the recipe comes from maple syrup and dark chocolate chips, and while I did like the maple syrup, I can't wait to try these again with some agave. And finally, if you use a vegan approved brand of chocolate chips, these are vegan. And because there are no pesky eggs to halve or quarter, you can just as easily make ½ or even ⅓ of a batch of muffins. Let me know what you think!
Recipe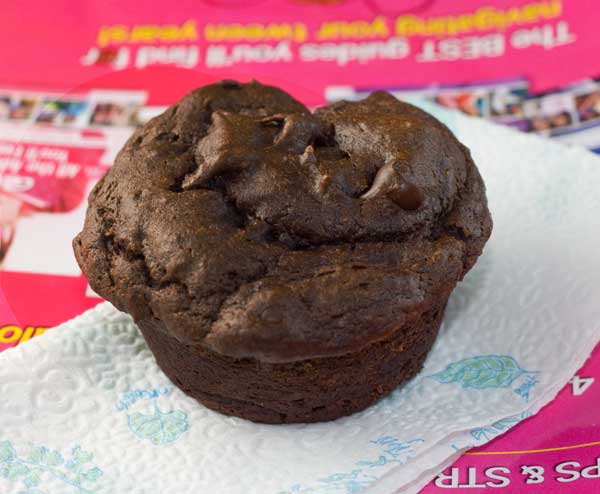 Wildtree Chocolate Avocado Muffins (Vegan)
Chocolate muffins perfect for breakfast or dessert
Ingredients 
1 ½

cups

6.8 ounces all-purpose flour

¾

cup

unsweetened natural cocoa powder

1

teaspoon

baking powder

¾

teaspoon

baking soda

¾

teaspoon

salt

1

large avocado

1

cup

pure maple syrup

¾

cup

plain soy milk or almond milk

⅓

cup

Wildtree Natural Grapeseed Oil or your favorite oil

2

teaspoon

vanilla extract

1

cup

dark chocolate chips

vegan approved if making vegan
Instructions 
Preheat oven to 350ºF. Line a 12 cup muffin tin with paper muffin cups or just grease and dust with cocoa.

In a large mixing bowl bowl, stir together flour, cocoa powder, baking powder, baking soda, and salt.

Puree avocado in food processor until smooth. Add maple syrup, milk, oil and vanilla, and process until creamy. Stir the avocado mixture into the flour mixture. Stir in the chocolate chips.

Divide batter evenly between the muffin cups and bake on center rack for 25 minutes.
Notes
I used Guittard extra dark chocolate chips. Not sure if those are really vegan, but I wasn't too worried about it in this case. For the maple syrup, I used a really mild tasting brand (Maple Grove) and for the milk, I used almond. These were very easy to throw together, but a food processor or blender is necessary.