Today's experiment was to see what would happen if I made an old Amish oatmeal cookie recipe with oil instead of shortening and used whole grain flour in place of all-purpose. In addition, I wanted them to be One Bowl Oatmeal Raisin Cookies, with one bowl and no mixer required.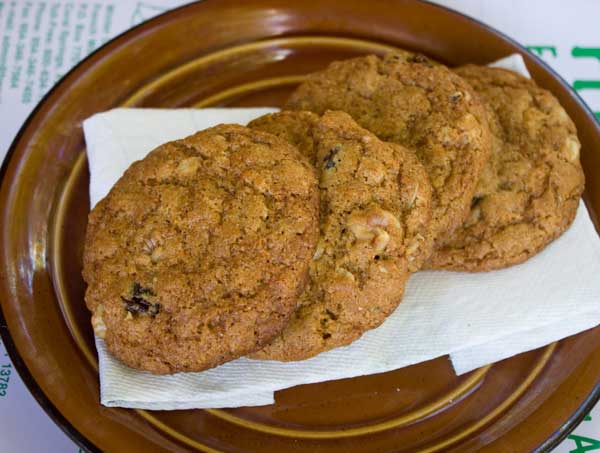 Hooray on both accounts! The oil (grapeseed) made the cookies dense and chewy, and I was able to throw them together fairly quickly.
As far as brands go, I used Ultragrain for the flour. It's similar to all-purpose, but with more fiber. You can just use all-purpose or white whole wheat if you can't find the Ultragrain. Update: I'm not sure they make Ultragrain anymore. I haven't seen it on grocery shelves in years. All-purpose works just fine, as does white whole wheat.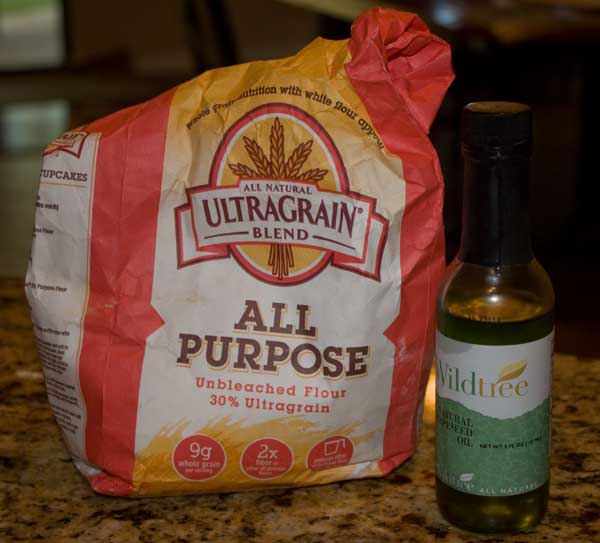 One Bowl Oatmeal Raisin Cookies are thick, chewy and have a firm shell. I was worried they wouldn't have enough flavor due to the fact they don't have butter, but the spices, vanilla and Greek yogurt made up for it. They have a ton of flavor and I can't wait to make them again...maybe with cranberries and a little shredded coconut.
One Bowl Oatmeal in a Bar Cookie Pan
I recently made a batch of these using a bar cookie pan, and here's what they looked like! They're big, just *slightly* cakey, crumbly square shaped oatmeal cookies. All I did was shape into balls (as in the directions) but pressed slightly in well buttered bar pan holes. The cookies spread and baked up as squares.
Recipe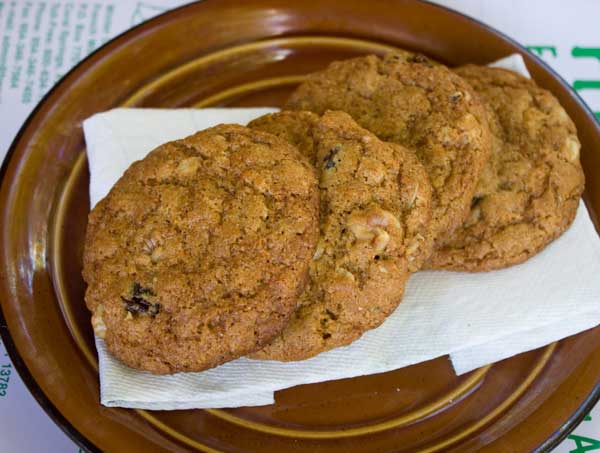 One Bowl Oatmeal Raisin Cookies
An easy oatmeal raisin cookie you can make in one bowl. No mixer required!
Ingredients 
2

cups

all-purpose or Ultragrain flour

250 grams

1

teaspoon

baking soda

1

teaspoon

baking powder

¼

teaspoon

plus an extra pinch of salt

1

cup

granulated or "natural" granulated sugar

evaporated cane juice

½

teaspoon

cinnamon

more if you really love cinnamon

¼

teaspoon

freshly ground nutmeg

optional

⅔

cup

old fashioned oats

½

cup

grapeseed oil, olive oil, coconut oil or your favorite

2 ½

tablespoons

mild molasses

1

large egg

⅓

cup

Greek yogurt

1

teaspoon

vanilla extract

½

cup

toasted and chopped walnuts

½

cup

raisins
Instructions 
Preheat the oven to 375 degrees F. Line a couple of baking sheets with nonstick foil.

In a large mixing bowl, thoroughly stir together all dry ingredients (flour through oats).

Make a well in the center and add your oil, molasses, egg, yogurt and vanilla.

With a mixing spoon, stir the liquid ingredients together in the center of the bowl. Add the walnuts and raisins, then stir everything (liquid and dry) all together. You should have a thick, smooth, dough.

Using a generously rounded tablespoons (equal to 2 level tablespoons), scoop up dough and shape into balls. Arrange about 10 to 13 balls 2 ½ inches apart on each baking sheet. Press the balls down slightly to make ¾ inch rounds.

Bake one sheet at a time on center rack for about 10 minutes or until the cookies are set. Let cool on baking sheet for about 3 minutes, then carefully transfer to a wire rack to finish cooling.